The MGA With An Attitude


MGA Guru Is GOING MOBILE - (Apr 27 - May 13, 2014)

April 27 - May 13, 2014 / May 14 - May 31, 2014 / Jun 1 - June 15, 2014 / June 16 - June 30, 2014 / July 1 - July 15, 2014 / July 16 - July 31, 2014 / Aug 1 - Aug 15, 2014 / Aug 16 - Aug 31, 20141 / Sep 1 - Sep 15, 2014 / Sep 16 - Sep 30, 2014 / Oct 1 - Oct 15, 2014 / Oct 16 - Oct 31, 2014 / Nov 1 - Nov 15, 2014 / Nov 16 - Nov 30, 2014 / Dec 1 - Dec 15, 2014 / Dec 16 - Dec 31, 2014 / Jan 1 - Jan 15, 2015 / Jan 16 - Jan 31, 2015 / Feb 1 - Feb 15, 2015 / Feb 16 - Feb 28, 2015 / Mar 1 - Mar 15, 2015 / Mar 16 - Mar 31, 2015 / Apr 1 - Apr 15, 2015 / Apr 16 - Apr 30, 2015 / May 1 - May 15, 2015 / May 16 - May 31, 2015 / June 1 - June 16, 2015 / June 16 - June 30, 2015 / July 1 - July 15, 2015 / July 16 - July 31, 2015 / Aug 1 - Aug 15, 2015 / Aug 16 - Aug 31, 2015 / Sep 1 - Sep 15, 2015 / Sep 16 - Sep 30, 2015 / Oct 1 - Oct 15, 2015 / Oct 16 - Oct 31, 2015 / Nov 1 - Nov 15, 2015 / Nov 16 - Nov 31, 2015 / Dec 1 - Dec 15, 2015 / Dec 16 - Dec 31, 2015 / Jan 1 - Jan 15, 2016 / Jan 16 - Jan 31, 2016 / Feb 1 - Feb 15, 2016 / Feb 16 - Feb 29, 2016 / Mar 1 - Mar 15, 2016 / Mar 16 - Mar 31, 2016 / Apr 1 - Apr 15, 2016 / Apr 16 - Apr 30, 2016 / May 1 - May 15, 2016 / May 16 - May 31, 2016 / June 1 - June 15, 2016 / June 16 - June 30, 2016 / July 1 - July 15, 2016 / July 16 - July 31, 2016 / Aug 1 - Aug 15, 2016 / Aug 16 - Aug 31, 2016 / Sep 1 - Sep 15, 2016 / Sep 16 - Sep 30, 2016 / Oct 1 - Oct 15, 2016 / Oct 16 - Oct 31, 2016 / Nov 1 - Nov 15, 2016 / Nov 16 - Nov 30, 2016 / Dec 1 - Dec 15, 2016 / Dec 15 - Dec 31, 2016 / Jan 1 - Jan 15, 2017 / Jan 15 - Jan 31, 2017 / Feb 1 - Feb 15, 2017 - - Supplimental photos and notes index



Sunday, April 27, 2014
MGA Guru is going mobile in a big way. I bought a laptop computer to replace my old tower cabinet PC and large desktop screen and separate keyboard. I bought a new digital camera, a cell phone, Bluetooth earpiece for hands free chat, and a miniature external hard drive for data backup, all of which can recharge from the USB port(s) on the computer. I also have a couple of Universal Car Chargers that plug into the cigar lighter and have switchable voltage output to recharge the laptop and to power a low voltage scanner. I will have to give up my beloved laser printer, but I haven't quite decided what to do for a portable low voltage printer.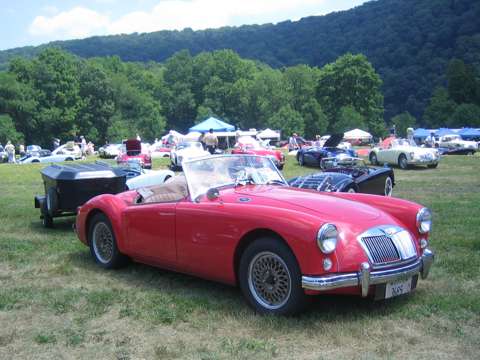 Why all this change and preparation? I have just officially retired, have picked up my first Social Security check, and I am going on vacation. The kicker is, I will not be "coming home". To be sure it is nailed down firmly, the house has been sold, and the last day in my prior home of 35 years will be May 4, 2014. So where am I going on my retirement vacation? Nowhere in particular, just to wander around where the wind blows and wherever my urges may take me. Not needing to be anywhere on any given day there is no rush, so I plan to travel in a leisurely fashion, perhaps little or no mileage in any given day, or perhaps more travel if I actually intend to go somewhere in particular. There is a golden opportunity here for all those people who have said, "If you may ever be in the neighborhood stop in". So there will once again be a red MGA with a little black trailer following carrying camping gear, tools, a few car parts, some personal belongings, and this time communications equipment. The word is, home is where you hang your hat, and my hat will be in the MGA most of the time, wherever it goes.

Meanwhile I will remain a member of Chicagoland MG Club, and I intend to carry on my duties as Webmaster for the club, as well as maintaining my own web site MGAguru.com. These functions have always been carried out by remote access to the internet. Now that my computer and other equipment is portable, that remote access will not change, no matter where I may be. Just that I may not be attending so many local club membership meetings. For anyone concerned, my prior land line will be disconnected after May 4, my new cell phone number is 630.946.3841, and feel free to call any time.

I will definitely keep in touch. I will post regular updates on my activities on the MGA forums, and will be maintaining this communications page on MGAguru.com. Most people who visit MGAguru.com and send email and make phone calls would likely not notice any difference in the world. My snail mail address is changing to:


Barney Gaylord


PO Box 2652


Naperville, IL 60567


Cell Phone: 630-946-3841

As we travel, if you would like a visit we need at least address and a phone number for contact and preferably email address as well. So far we're not sure where we will be 24 hours in advance, and it is tough to make connections promptly without a phone number or email address. City and state are usually available on the BBS. Email is only available if you post it (more often not). Phone numbers almost never on line. To send us your personal contact information, send email to barneymg@mgaguru.com, or call 630.946.3841 -- Thanks,
Barney
---
Friday, May 2, 2014:
This has been a real hectic week, closing house and preparing to hit the road. I also removed a dent and painted the LR fender of the MGA, and two fenders on the trailer, one last hurrah for the old workshop before I have to give it up. I rented a 8-ft x 20-ft locker to store some personal belongings and ALL OF MY TOOLS. A truck load of furniture will go to a resale shop, and some other stuff will simply be abandoned when we leave.
---
Monday, May 5, 2014:
We are officially out, off and running. First stop is the garage of Dave Woerpel just east of Burlington, Wisconsin. First order of business here is to drop off a few items for care-taking which we cannot pack along indefinitely while traveling, and which I did not want to bury in the storage locker. The first is one panoramic photo of 103 MGAs (and a few other cars) from NAMGAR GT- 13 in Marietta, Ohio in 1988 (the car's first GT). The second is a silver cup Cecil Kimber Enthusiast Award from MG Drivers Club of North America circa 2007. The third is a framed Mac Spears Founder's Award from NAMGAR circa 2011. Dave Woerpel has agreed to serve as custodian of these items for the indefinite future.


Tuesday (after a good night sleep for change) we tackled some problems with Dave's MGA 1500 (not charging). We gave it a minor carburetor tune up first to have good regular idle. Then the twin 6-volt batteries proved good, and generator testing good, so it must be the (new) control box at fault. Never assume anything works just because it may be new. The cut-out relay was not cutting in, and the regulator relay was out of adjustment making about 11 volts only. After some adjustments it was charging properly, so the fix was done, mission accomplished. Time to relax and chat some more, then dinner followed by more chat, and finally some free time to check email and BBS.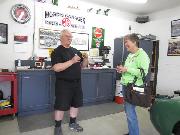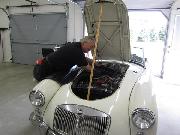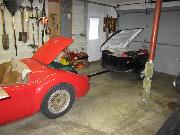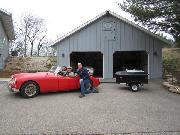 ---
Wednesday, May 7, 2014:
Where were we yesterday? Oh yes, some other state I think. We took the opportunity to drop by MGs Unlimited in Greenfield, Wisconsin to visit Dick Luning and crew, check out a passel of MGs in the sheds and one MGB GT doing a full restoration in the shop. We then hit McD's for a late lunch and to tap their WiFi hot spot to check email and BBS in late afternoon. My older brother #1 (whom I hadn't seen for nearly 3 years) was teaching a class in retirement planning near his home in Des Plaines, Illinois. Quick clock check, hit the expressway south, and crash his class at 7 pm. Interesting, but nothing to write home about. But after class some graduation certificates were distributed, and the whole gang moved to his house for PARTY. The students left about 11 pm, giving us bros a chance to chat about old times and new times, until 3 am when we thought it prudent to get some sleep and take the matter up again later.

Thursday pushing noonish (when eyelids can be propped open again), brother is taking a day off, so we expect to hang out, b.s., shoot some pool, waste some time. MGA is running like top (as usual), but I forgot to clean the windscreen of a smidge of paint over spray from last week. I'm sure the first oncoming sun will remind me again soon.
---
Tuesday, May 13, 2014:
Thursday late night through Monday morning in Hanna, Indiana, visiting brother #2. Some interesting rolling stock here, but nothing to do with MGs. Family drops in on Sunday for Mother's Day (and brother's birthday a couple of days late). A good time by all, and one more night to snooze before hitting the road again.

Monday night camping in New Lenox, Illinois, surviving a sudden rain and wind storm (nothing new). Visited the storage locker to measure books, then Home Depot to buy boxes.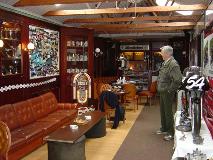 The Jaguar Lounge


Today (Tuesday) I will be shipping the printed copy of the MG Tech encyclopedia to South Carolina en-route to Germany (stuff gets around). As it turns out, Giovanni Delicio has a place for these books. He says, "Be assured it will come to people "living for MG"! It will have a place in the former "JAGUAR LOUNGE" of the Nuerburgring. We were able to dismantle the whole Lounge before the complete Paddock Building was destroyed". This is a partial view of the Lounge reassembled, to be used as the "rest room". (I'm sure this lost something in translation). The "lounge" is really only for enjoyment, not for business. We (MG Corner Kelkheim) are a bounge of enthusiast that race MGA's and other cars.

Tonight I will be attending Chicagoland MG Club's Natter 'n' Noggin North in Schaumburg, Illinois


(Click the green arrow for next page).