The MGA With An Attitude


MGA Guru Is GOING MOBILE - (November 1 - November 15, 2017)


Wednesday November 1, 2017: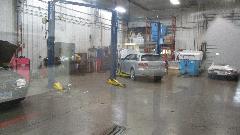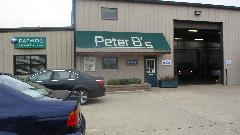 Getting back to business, went to visit Peter B's in Urbana, Illinois. Yes, they do work on vintage British cars, mechanical and electrical work, no paint or body work.

The out in the country to visit Mantell Motorsport in rural Sidney, IL. Boy, do they work on vintage British cars!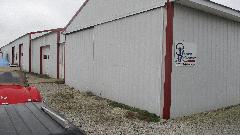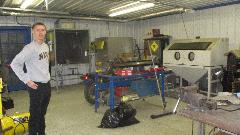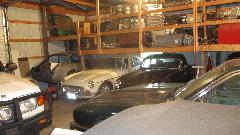 Seems they like stuffing Ford 302 V8s into MGBs. There are a few in process and several more on hand. They may have a monopoly on spare MGBs in central Illinois.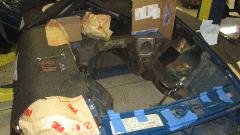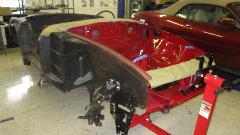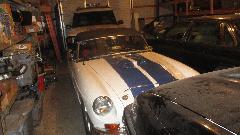 Not sure why the Magnette is there, but they work on some non-British cas as well. Couple of Italian jobs in the back building are pet projects of the business owner.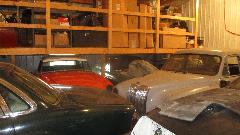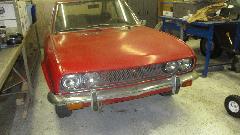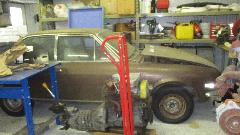 We had in mind to perhaps visit Rick Ingram at/of Pieces Of Eight in Saint Joseph, IL, but he was gone for the SEMA convention in Las Vegas (along with the owner of Mantell Motorsport). He has a web site and a Facebook page for Struts and custom seats for MGs.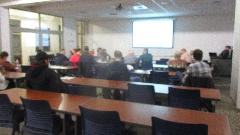 Not much special about this next picture, but it was the reason for hanging around central Illinois for the past few days. We dropped in on a meeting with Champaign County Sports Car Club, an affiliate of SCCA, big on autocross, and occasional TSD road rally. This is the primary club I was hanging out with from 1991 to 2002 (or there about). That association resulted in a lot of experience breaking and fixing my MGA while beating it to death regularly in serious competition. It has a lot to do with development of technical information on this web site, much of it derived from "The School of Hard Knocks". Just thought we would drop in on these guys to see how many of the them might still be hanging in there and remember us 15 years later. At least a half dozen old friends out of 25 people in the room, and a jolly good time was had by all.

Thursday November 2, 2017:


Monday and Tuesday night hard frost. Wednesday cold rain. 40 miles east across the border into Indiana, not so cold overnight, and 50 miles south in Terre Haute, it was 70dF today. But tonight, raining again. Go figure.


I thought we only had one appointment today, a visit with Bill Adams in Terre Haute, IN. There was a story behind that sign, "Willy's MG Speed Shop", but I don't recall that we ever got to the bottom of it.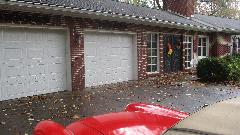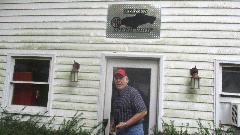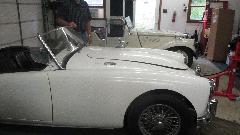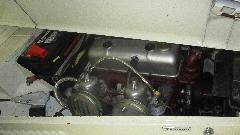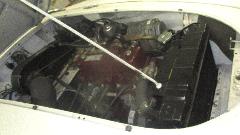 Inside was an MGA with supercharger (go, go), and an MG TF with a broken crankshaft, very worn gearbox, and a whine in the differential (broken, x3). A bit beyond our mission statement, but will keep an eye on the progress.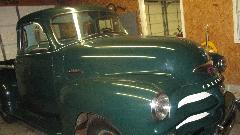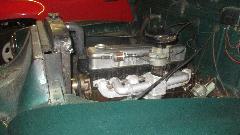 In the second bay, a nice 1954 Chevy 3100 half-ton pick up truck that has been in the family for a few generations. I remember when those were brand new, state of the art classy, when I was 5.


After a little car talk, we had time to chat about old times. Then Bill was mentioning the shop that worked on the truck, and on the MGs, ... uh, say what? A shop in Terre Haute that works on vintage British cars? Yep, sure enough. One phone call, and a few miles around town brought us to visit Tony Bowen at Collectable Auto Restoration Services (who knew about me from my web site). It doesn't look like much on the outside, used to be an old machine shop. But inside it has all the right toys. Start with the Austin Healey in the nude.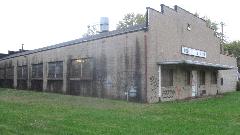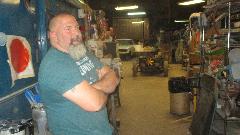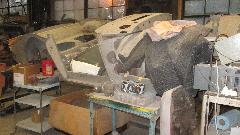 There was an MGA in restoration. Well actually more like 3 or 4 MGA if you look in the right places. And an MGB GT that seems to have been here for a long time, but must keep falling down the priorities list.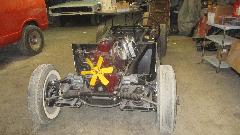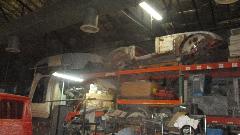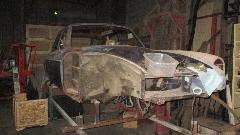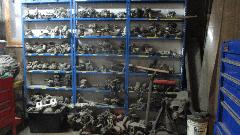 They really like working in vintage British cars here, and would be happy if that's all that ever came into the shop. They have tons of spare parts, bought up in bulk whenever it is available. Must be at least a ton of the stuff in tote boxes that has not been cataloged yet. If you peak in the corners of some of the pictures you may notice some non-British stuff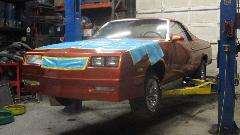 sneaking in. The red van is a 1964 Chevy snub nose (get the scaffold to paint the roof). The white beast is a Ford Galaxy 500. The hybrid hot rod is a Chevy El Camino truck with Monte Carlo front clip, Corvette rear valance and rear lights, and a big block stroker engine. Not my cup-o-tea, but I can appreciate the thought. Tony will be happy when these 20-foot long beasts are out of his shop to free up space for more LBC's.


All good fun, and good to find another shop that works on our favorite vintage cars. After a late night stint on WiFi to post these photos and notes, we we headed east on I-70, bounced off of Indianapolis, then south a bit on I-65. Zzzzzz.

Friday November 3, 2017: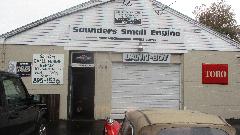 Last day of the week for shop hopping during business hours, so off we go. Two south down I-65 out of Indiana, our first stop was Crescent Hill Imports, Inc in Louisville, KY. Well, not to be. Current owner of the small engine shop remembers the prior auto shop, but the engine shop has been here for 10 years, no more Crescent Hill Imports.

Next was a half-hearted shot at Car Art Work, Inc in Louisville, KY. We had two addresses for this one, presumably an old address and a new address. Both turned out to be UPS drop boxes. We have seen this before. The company has an attractive web site, but no publicly accessible physical store. It is strictly an internet mail order business. They do have a few brushed stainless steel MG and Union Jack emblems.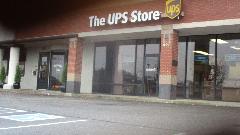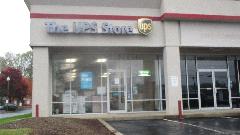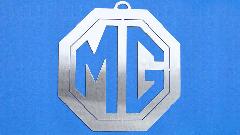 Another hour east we were planning to visit Browning Sports Cars in Lexington, KY. Unfortunately we had no street address, and a phone machine said to "call back later" with no provision to leave a message, so we cruised on by. Perhaps it may still be in business, but we will have to continue to try calling.


Another two hours east, we were looking for Motorworks in Flatwoods, KY. It didn't look good, wrong name on the building (C.A.R. Pro) and closed. A sign in the window directed us to larger facilities a few blocks away where "Complete Auto Repair Professionals" was indeed flourishing. They had been in this location for two years, had removed the previous tenant's name from the building, but had not yet posted their own name there (although there was a "CAR PRO" sign at the curb). The can provide mechanical and electrical service for all vintage cars, so if your vintage British car is in this area and needs service, these guys may be your best bet.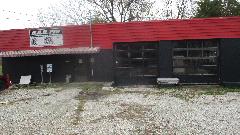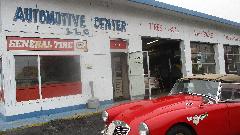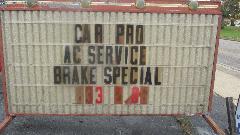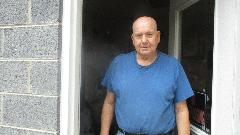 Heading east across river into Ohio, then back crossing river into West Virginia. Ten miles more brought us to J&N Foreign Automotive in Huntington, WV. The owner used to have a formal shop in town, then downsized and moved the service into his home shop, and then retired. These days he works on his own projects, and a few others for family and friends. He was rather fond of the big Healey he restored just before retirement, but no more J&N Foreign Automotive.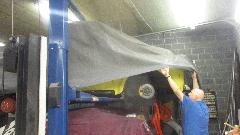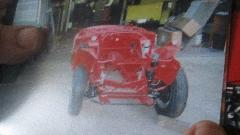 Out of business hours for the week (Friday evening), so no more shop hopping. Off to a local WiFi spot to catch up email, and some hours to make a hard drive data backup. Late night run due south, 3-hr 45-min I think, crossing into Tennessee at 3-am? Wow. Found a rest stop. and parked about 50 feet away from a modern Lincoln. Noticed the Lincoln was running and had backup lights on, like in reverse. A little later, same thing.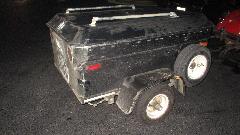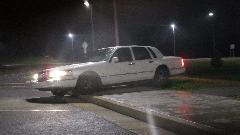 A little more later the Lincoln backed up in a big arc, smacked our little trailer moving it over a few feet, continued on to backed over a curb and sidewalk before coming to rest. Now the trailer has another dented fender and another small smudge in the paint, no big deal. The Lincoln had two people inside, young lady in the driver's seat, young gentleman on the other side, both asleep. I rapped on the windows pretty hard but could not wake them. Doors locked. If the car would back up a little more it would go into a water retention pond. I think someone called the police. A bit later there were two squad cars and a tow truck, the Lincoln being picked up to be hauled away. Nothing wrong with the car that I could see, but apparently impounded. The cop was telling someone they would have to show up in court. Stuff happens. The trailer is still serviceable, almost losing count of the number of times it has been hit, at least the forth time for the RH fender and four times on the rear end over the years. Well built, tough nut to crack. The steel fenders I installed in 1998 hold up better than the original fiberglass wings.

Saturday November 4, 2017:
Day off, meaning I get to work instead of travel and play. Sitting in Johnson City, TN. Catching up photos and notes and updating the Shops list. Finishing the data backup and deleting a couple of old save sets from the remote backup hard drive, time consuming, not hard to understand why people don't do it often enough.

Sunday November 5, 2017:
Sitting in Asheville, NC today. More outdated data backup deletes, and a few tech questions. Lots of time lining up the ducks in a row, routing for more shop hopping. Some of the shops have a phone number but no street address. Some of them have not been answering the phone. Web searches sometimes help, sometimes not. Nothing is easy doing this kind of research.

Monday November 6, 2017:
Time to get serious. Started the day in Hendersonville, NC, making phone calls. Called shops in Hendersonville, Flat Rock, and Lenoir, NC. Two no answer, and one left message, no call backs. But we do have a couple places to go, back north a bit.


By mid afternoon we found Blacktop Studios in Morganton, NC. They do restoration of vintage cars, including British cars when they may wander in. Say hello to the owner Ken Coffey. The E-type outside was pretty spiffy.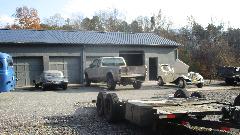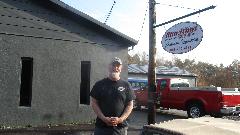 The yellow thing was a MiGi, one of the VW powered MG-TD style kit cars, not worth much by anyone's standards, but still running. Notice the rear hood raised for engine service. Indoors there was a very nice Lotus Elite in restoration with the original Coventry Climax engine sitting at right side of the picture. Of course you don't have to ignore the nice Ford roadster. The TR4 was in for some mechanical work (and a couple Porsche 911's). In the back there was a TR4a with a hardtop, an Austin Healey 3000 MK-III with some rust but otherwise a regular daily driver. Farther back in the shop there were a few larger American cars, including a Rambler Classic station wagon with a big block Chrysler engine shoe horned in under the hood (erp).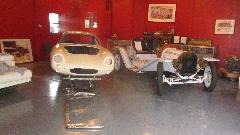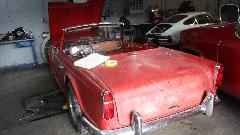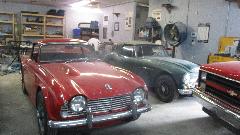 Enough fun there, time a wasting we headed north again, to another shop, the fifth in a row that didn't answer the phone (but we my have had the wrong number). At 4:30 pm sharp we arrived at Swedish Werke in Boone, NC. Reported to work on a variety of older European cars, including vintage British cars. Seemed to be a preponderance of BMW and a few Mercedes, just a few British cars (a Mini and a couple Land Rovers), but possibly matching the number of Volvo in site. The shop was closed when we arrived (supposed to be open 9-5 week days), and no clue if it was open earlier or might be open tomorrow. So we took some pictures and moved on. Will see if they might answer the phone later.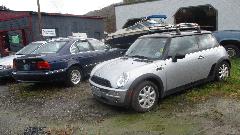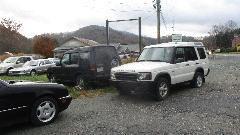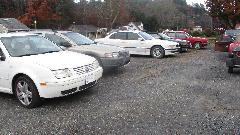 Sitting in Boone, NC this evening, likely to head southeast toward Statesville tonight, staging for tomorrow.

Tuesday November 7, 2017: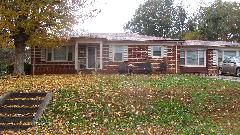 Beginning to be another tough day, a stop for British Restorations in Statesville, NC turned up no one home, a garage that was converted into living space (no other garage on the lot), and a discontinued phone number. Mark this shop gone for some time.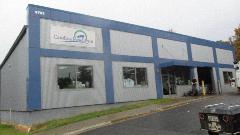 Then we tried My MG Import Shop in Charlotte, NC, no luck, gone more than seven years.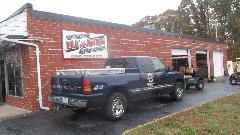 Not getting any better, Strictly British in Winston-Salem, NC is now (for two years) a golf cart repair shop, occupying a building that used to be the British car shop, but was vacant for several years in between.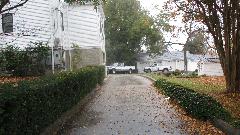 Looking for Hinkle Restorations in Thomasville, NC, we found a big house with some promising looking garage buildings behind, and some building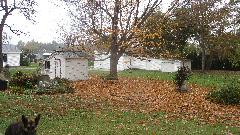 maintenance people with an interesting story. Yes, this used to be the car shop, very busy in its day. Some years ago the largest building in back burned down, to be replaced by a slightly lesser building. The shop owner later retired from the restoration business, but can be found a few blocks away at "Randy's Store". That would be a gas station/convenience store, and indeed we did find William Hinkle there.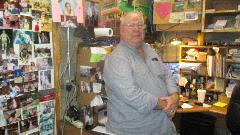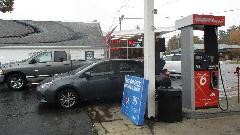 Then he began chatting about 40 years in the restoration business and all the cars he worked on. He was pulling out old photos and talking about the old cars as though they were his grandchildren. All jolly good fun, but we had other places to go.


Sooner or later wee were destined to get a little luckier. Looking for H.P. Imports in High Point, NC we ran across Mike Byer Autoworks. This one has nothing to do with British cars, however, they do rent out space in the back (same address) for H.P. Imports, so this shop is still in business. The owner was out to pick up or deliver a car, but we did find a few British cars on the site, along with some other vintage import models.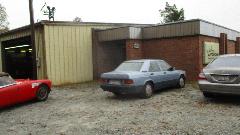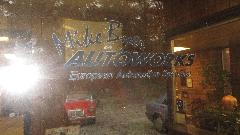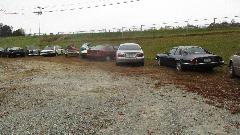 Wednesday November 8, 2017:
Mixed success today. By mid afternoon we had made out way to Raleigh, NC looking for Carl Cason. At first we ran into a discontinued phone number, and were considering taking a picture of a possibly defunct business.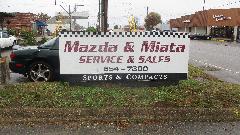 A bit of detective work on the internet turned up the same name at a different address, so we gave that one try first. What we found was Sports And Compacts in Raleigh, NC, specializing in Mazda and MX5 (Miata) cars. But indeed we did find Carl Cason there (on the left) with his partner (on right). Seems like the partner is the Mazda specialist, while Carl is still heavy into vintage British cars (when the business is available). So score one for the good guys. And the older address is still used for storage.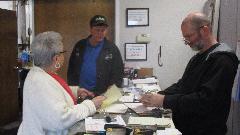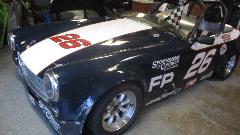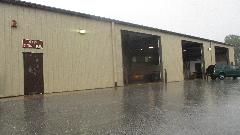 Rain, rain, go away. You might recall this picture from October 14th when we were hit with 7.1 inches of rain in one day. Now four weeks later, it has been dribbling regularly, maybe one half day of sun a week ago. Good day to sit it out, so I used the remainder of the day to post the CMGC November newsletter on line. Late night continue driving south, maybe get lucky and drive out of the dribbly stuff. Somewhere after midnight we crossed into North Carolina and gave up, still dribbling.

Thursday November 9, 2017:
Catching up loose ends of text messages, BBS, email, and plotting appointments in South Carolina and Georgia (with a possible reverse diversion back to North Carolina and Kentucky?). Got an early afternoon phone call, encouraging us to push our schedule up a day, so we hit the road again. About 3-pm we arrived for a visit with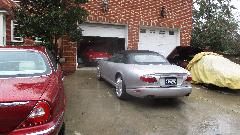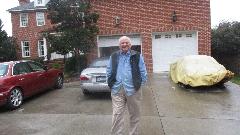 Elliot Cox in Columbia, SC. Been here a year earlier, November 2, 2016. He has since gotten rid of a couple "other odd cars", and is now down to a hand full of Jaguar. Last time I did some carburetor adjustments on the red E-type Coupe. This time there is a "new" E-type DHC with hardtop that hasn't run for a few years, and we intend to do something about that. Today it still dribbles, and we will need to get the car inside, and there are some schedule conflicts, so we will defer the fun stuff until tomorrow.

Friday November 10, 2017:
Today we got busy with Elliot's E-type recently purchased, but hasn't run for four or five years. Initial complaints were no fuel flow and no starter cranking. There was a new battery and new cable terminals, so not long to hook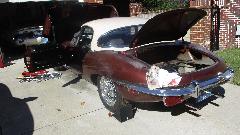 it up. Disconnected coil wire to save coil while testing the fuel pump. Fuel pump ran immediately, but did not pump fuel. Disconnected hose from tank and dropped it into a can of fuel, but no pumping. Disconnected hose going forward from fuel pump, dropped that into a bucket, but no pumping. On the chance that someone may have switched the hose connections on the pump, I swapped hoses between fuel can and bucket. That resulted in blowing bubbles in the fuel can, so the fuel pump was pumping air. Fuel not going into the pump, but air coming out, means there is an air leak on the inlet side of the pump. Disconnected both (plastic) hoses from pump for inspection. Both hoses checked out okay, but this revealed a missing seal washer on the pump inlet banjo bolt.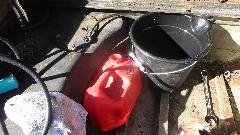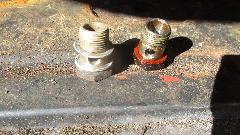 Tapping the magic trailer for parts, found a copper washer that almost fit. Also found fiber washers intended for MGA carburetors, correct size but kind of thin, so elect to use two thin ones in place of one thick one. After reassembly, still sucking air. Bummer. Have to remove the fuel pump for inspection.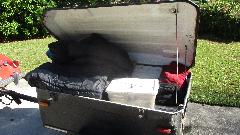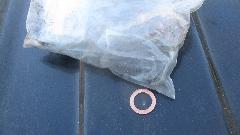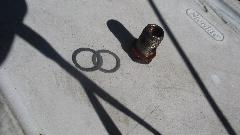 Plugging the outlet port and blowing into the inlet port revealed a huge air leak coming from the fuel chamber cover. Removing the cover revealed a thin cork gasket dried up and shrunken, pulled away to leak at one side.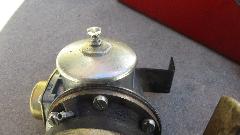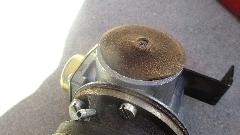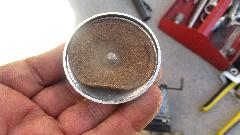 Back to the magic trailer for a cork sheet, and cut a new gasket. All reassembled and back in the car, it pumped fuel. Score one for the good guys (and remove replacement fuel pump from shopping list).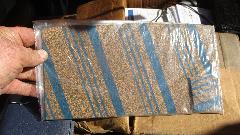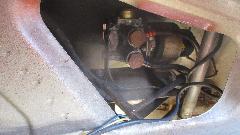 We dressed the plastic pipes back into place in the boot space, then took the bucket and a hose up front to pump six gallons of stale fuel out of the tank. Noticed rotten hoses on the T-connector at the carburetors.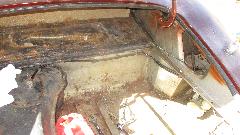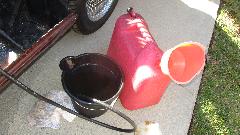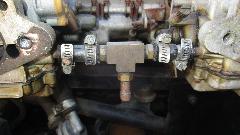 A few minutes later we had fresh hoses in place, switch on, ticky, ticky, ticky, then no ticking, fuel in the filter and the carburetors, no overflow. Air pistons in the Stromberg carburetors moved freely, no sticking, oil in the dashpots, dampers working properly, all good. On to the starter motor problem. Switch on, click. That was nice. Switch off, click. Switch on, click. Starter relay working, so look for wire from relay to starter solenoid. Found wire disconnected from relay. Doh! Reconnected wire, and it cranked, tensions and expectations were rising. Reconnected wire to ignition coil. Pulled full choke, cranked it over a few times, first a pop, then a sputter, and then it was running. Check the look on Elliot's face.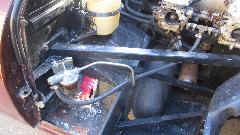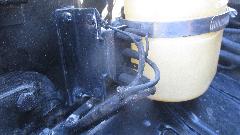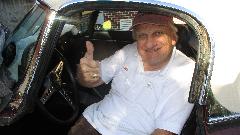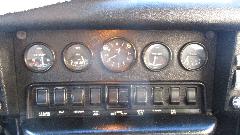 Alternator charging, oil pressure good, coolant temperature okay, Will need more fuel before driving it.


Elliot thought the clutch didn't work, said it would "free wheel". Huh? Sounds strange for a malfunctioning clutch. Disconnected wire from ignition coil so it wouldn't start, selected 1st gear, turned key to crank, and the car moved forward up the hill a bit. Oh? Pushed clutch pedal own, and the car rolled back to the wheel chocks. Okay, Reconnect coil wire, fire it up and see if it drives. No go. What? The clutch was open circuit? Immediately suspect clogged hose going to the slave cylinder so fluid would not return. Elliot had a new slave cylinder handy, so if we were going to pull it out for inspection (and maybe change the hose) we might as well install the new one in the process.


Then the not-so-much fun began. Jack up left side, install two jack stands, crawl under, find slave cylinder on right side. Rats. Stands out, jack down, other side, jack up, stands under, then can work on the slave cylinder. Slave cylinder has a short metal pipe going to a bracket on the engine sump where it connects to the flex hose. Unfortunately the bracket was not bolted down, so the metal pipe would flex. Bad, bad, bad. Vice grips on the bracket, unscrewed pipe nut from hose (drip, drip).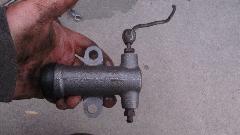 Stuck clevis pin in pushrod, spritzed it with carb cleaner, twisted a bit, pin out, remove pushrod. Two slightly knuckle busting bolts in the bellhousing, and the slave cylinder was out. Bad news was, fluid dripping on me. Good news was, fluid dripping means the hose and pipes were not clogged, so maybe the sticking fault was in the old slave cylinder. Removed pipe from slave cylinder, and the pipe also was not clogged. New slave cylinder had metric wrench flats on the fittings. Curses to the cheap source factories using metric hex stock to make new fittings. Moved pipe and old bleed fitting to new slave cylinder, and installed it all back in the car. Raided the magic trailer again for a new bolt to attach the hose bracket to the engine so the metal pipe would not flex.


Hit the clutch pedal, slave extended, released the clutch, slave retracted. Tried it again, more of the same, so we had a few seconds of warm fuzzy feeling. Then noticed that each time it was cycled the pushrod came to rest a bit farther forward, until the clutch was once again open circuit and would not re-engage. Big bummer. Cracked the bleed nipple, big squirt, and the slave returned. Next thought was that the clutch master cylinder has an internal problem. Elliot had a clutch master repacking kit (not knowing if it would work or not), but no new master cylinder in hand. Also ran out of daylight and were working with flashlights after 6-pm (missing daylight savings time), so called it time to quit for the night. And we were that close to a test drive.


And guess what. No rain today. Sunny and warm (up to 65dF) most of the day, cooler again after sundown. Cleaned up a bit, grabbed a quick dinner, then sitting here posting photos and notes well past midnight.

Saturday November 11, 2017:
Out of town by mid day, we were heading 100 miles southeast to Moncks Corner, South Carolina (just shy of Charleston). We were here to visit an earlier acquaintance, Ron Neal. He was in the process of installing a convertible top on an MGA 1600-MK-II, but running into problems. The car had the appropriate MK-II style top frame (slightly wider metal bows), and he had a new front wood bow from Moss Motors, the correct wider bow for the wider MK-II canopy. Problem was, the vinyl top he ordered was apparently the correct part number, but turned out to be the incorrect narrower early style canopy. Since installation was already in process, and the packaging material had been tossed out some time earlier, it as decided to give it a go at trying to make it fit.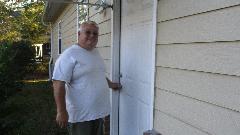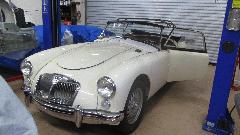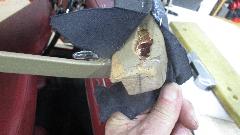 First move was to shorten both ends of the front wood bow to revert to the earlier stye to match the narrower canopy currently in hand. That part was easy enough, and we soon had the front wrap installed.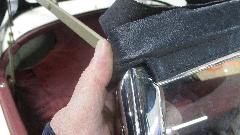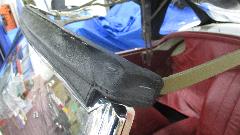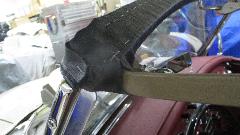 Then install the 1600-type center latch, quite easy. Clamp the center of the front bow securely to the windscreen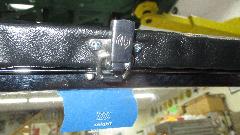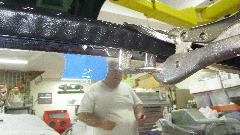 frame, hold the latch in place, drill two small pilot holes in the wood bow, and install two #6 wood screws. Oh, about that neat little "MG" octagon logo? This is a reproduction part, and they have it wrong. Original parts had the MG logo upside down (because it came from a different original application).


Then we had a spate of head scratching and fiddling, too busy to take pictures. The idea was to make the metal top frame somewhat narrower to match the narrow early style canopy. This eventually involve a wide cargo strap to squeeze ends of the cross bows inward, while holding the center of the bow with a few smaller cargo straps to prevent buckling upward, a few choice "words of encouragement", and we though it might be close. It didn't help that one of the vertical legs of the frame was bent slightly to skew the whole frame slightly to one side. In retrospect, I'd say this procedure is not recommended, you should endeavor to begin with matched parts.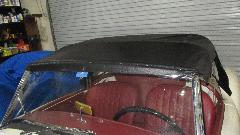 Next, a single picture makes this look easier than it really is. Pull tension on the top canopy, staple it to the front wood bow, and trim off any excess material. This involved a 3-inch wide Vice-Grip clamp, two guys pulling, one guy stapling. Attach the center point first, then pull ends tight and attach working from sides to center. Then pull out the first center staples to re-tension the center bit and re-staple it. The end result is nice.


Then a bit of finesse is required to trim back excess material and fit up the front corner hemming. Here we use a razor blade to trim off excess material just below the staple line. Also split the material at the ends between the staples and the edge hem. Pull the edge hem upward and trim it to lie just short of the multi-layer joint in the canopy. Align the hem to finish where it will hide along with the staple line. The left and right eyelids finished a bit different, which I suppose as due to material length difference, likely a result of the bent frame leg making the whole assembly slightly asymmetrical.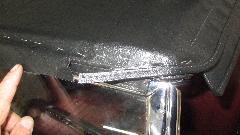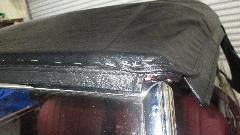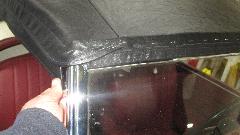 Time to install the Hidem strip in front. Here we have a design change in the metal trim cap. The first one is an earlier part from my car (slightly tarnished), the second one a "modern" part from Moss Motors (like we're not supposed to notice the difference). The larger later issue part leaves a significant gap at the open and, where the earlier smaller part fits better. We both like the smaller part, so this will be left off while Ron goes looking for the more origin parts. Meanwhile we went ahead and installed the Hidem strip.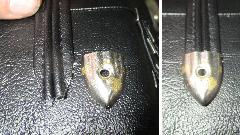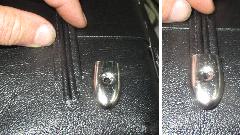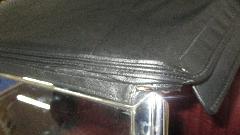 Enthusiasm began to rise a bit as we were sneaking up on the assumed finish line, and we began to install the Lift-The-Dot fasteners. The first four went quite well, but then we found the rest of the fabric was somewhat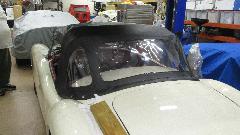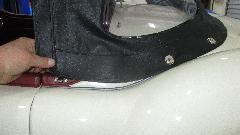 too short to reach the required final position. This must be a result of the rear metal bow of the later stye top frame being too wide for the early style narrower canopy. There ensued some discussion on whether it might be possible to heat and stretch the vinyl fabric that much, and how to go about it. Otherwise it was late evening, time for a break and dinner, so we will set this aside for later consideration (good time to sleep on the problem).

Sunday November 12, 2017: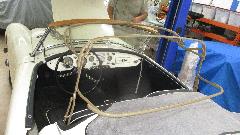 Ron was busy much of the day, giving us some time to catch up with paperless work. Met back at his place about 3-pm to take up where we left off the day before. However, there was another MGA sitting in the wings, another friend's restoration project nearing completion. It dearly wanted a convertible top installed, but was missing some key pieces, like brass sleeves for the front wood bow and the steel strap for the rear edge.


While the top installation was on hold we gave it a tune up, adjusting choke and throttle linkages and the pedal stop. The throttle pedal had an annoying hitch in its git-along, which was due to a misadjusted throttle arm on the carburetor shaft. The arm was way too low so the cable was pulling almost in line with the arm, requiring lots of force to get it moving. Easy adjustment to rotate the arm a bit. While reorienting the throttle arm, I found a lot of slop in the joint between the cable stop and throttle arm. While adding some flat washers to take up the excess space, I also relocated the tab for attaching the return spring to same side of the arm as the pull cable. Collectively this reduced slop in the joint considerably, and should also reduce wear on the throttle shaft.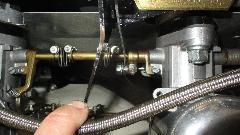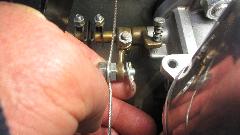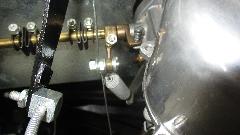 Notice above right that the new bracket for throttle cable has the welded stop piece in the wrong location, so it does not hold the cable anchor in correct orientation. Another adjustment put the part upright for straight pull on the choke cable (below left). Proper adjustment of the pedal stop allows the carburetor to pull full open without undue stretch or stress on the cable. And we put a strain relief loop in the temperature sensor pipe and tied it securely to avoid undue stress on the pipe as the engine vibrates.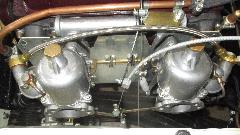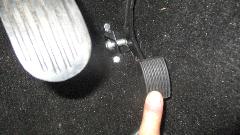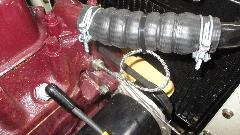 As we were adjusting fuel mixture the thing sputtered and gave problems. Does not run well without fuel, but putting a little more gas in the tank got us going again. Oil in the carburetor dampers also helps, and in the end it was purring like a kitten. Late start, late finish, but good day anyway.

Monday November 13, 2017: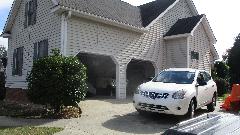 Back up the road north today to visit George Lawson in Lexington, SC. George has a very nice MGA 1500 that has been (slowly) under restoration for about 25 years. It is very near completion, has been floundering some recently, but we hope to get him motivated to get moving again to finish it soon. The dash was mostly assembled, but the dash harness wiring needed a bit of sorting out. Will leave it to the observant viewer to figure out which wires needed to be shifted about.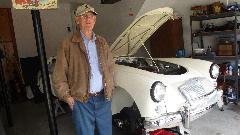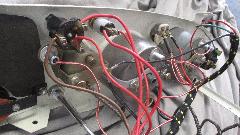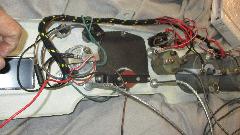 Some of this was a lesson in what can happen when a restoration spans a quarter century. Ten year old wiper arms have incorrect splines that will not fit on the spindles. New painted wire wheels and new tires are 17 years old and never touched the road. New 20-year old Moss Grille doesn't fit the nose of the car very well, and has never been installed. Front suspension trunnion rubber seals are perished, never having been in contact with any grease (but the swivel pin seals seem to be okay). A pair of new 6-volt batteries, possibly decades old, may be okay because they were shipped dry and have not yet received the acid fill.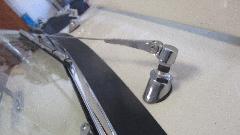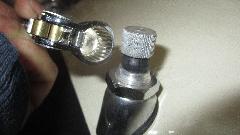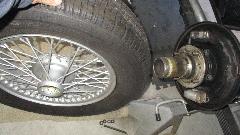 We spent some time discussing what needs to be done to get it running, which is not a lot. The distributor needs to be reassembled (or replaced), it needs fuel and coolant, maybe new brake rear slave cylinders. Installing the dash panel is optional (plug the temperature sensor port in the cylinder head). I gave the engine a turn with the hand crank, so for sure not frozen. Give him a little time to order some parts, and we may be back later for another look at this one.


Before we left we had a look at Dave Daniel's MG TF, which happens to be parked here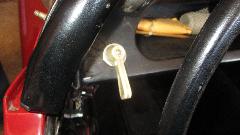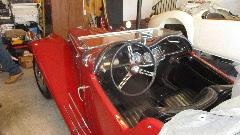 for the time being. This is the one that got a new wiring harness a year earlier. Report was some kind of problem with the turn signal switch, like it would not stop blinking when the switch was returned to rest. A quick test showed everything working normally, so I can't claim to have fixed it. Looks like it will have to wait for another day when it might fail again.


Daylight failing, it was time for dinner, a WiFi break, and some phone calls. There were three more people with MG problems we should see, but no one was answering the phone tonight. So late night we were heading north again, landing a bit past Charlotte in North Carolina for the night.

Tuesday November 14, 2017: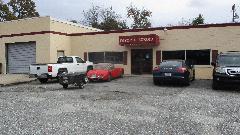 A good morning to sleep in, but we need to be moving. Around noonish we rolled into Imports Europa in Burlington, NC. The place is still here, but Butch Mckenzie retired in 2013, and Buddy no longer works on vintage cars. The older cars sit in the shop too long waiting for parts, so now only modern cars please. Okay, done. Point it west and keep rolling.


We rolled into Hickory, NC at 5:30 pm for a meeting with Catawba Valley British Motor Club. Being fairly early arrivals, there were a few British cars in the car park.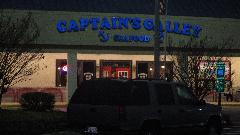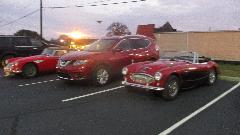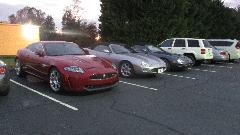 It was an impressive club meeting with at least 42 people squeezed into a long narrow dining room. I must have missed some of the British car arriving later. Nice dinner, one or two new members and a couple visitors (us), typical club business discussions. After the meeting, another British car was stuck in the car park. The ignition switch on the TR6 was stuck. The key worked, would insert and turn a small amount, but the switch was otherwise stuck and would not rotate. After several minutes we were in the process of jump wiring the ignition coil when the switch gave in and worked so it started. Sometimes you just have to threaten it.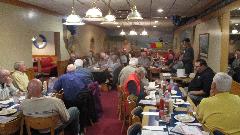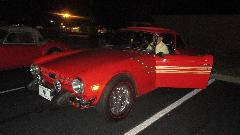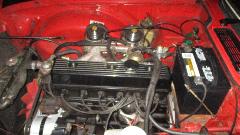 Heading west on I-40 through Asheville, out of NC, into TN to bounce off of Knoxville. Then north on I-75 out of TN into KY, get some gas, and find a place to sleep.

Wednesday November 15, 2017: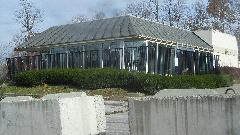 Up early, heading north on I-75, sunshine and decent weather (or so we thought). An hour later, this happens occasionally. Permanently closed, move on. Another 15 miles on we stopped in Lexington, KY for breakfast, a WiFi check, and some phone calls. One shop in Lexington was determined to be defunct.


Heading west again in late afternoon, weather turned sour with heavy rain, idiot drivers, and a few key accidents. Eastbound a small car apparently met a barrier and mashed the RF corner. Then we ran into a creep and crawl jam for a few miles westbound on I-64, just to find out it was only a gapers block. On the eastbound side there was a semi truck rolled over in the ditch with all lanes closed for the emergency vehicles (like two large tow trucks). A few miles farther on another small car drove down into the ditch on the right side, just stuck there I guess.


Next was an evening stop to visit a highly recommended shop, Unique Automotive LLC in Louisville, KY. We arrived at 4:30-pm. Sign on the door said business hours are 8-am to 6-pn Monday through Friday. Door was locked. Go figure. Have to call later to see what's up.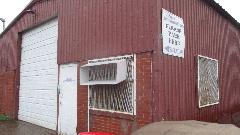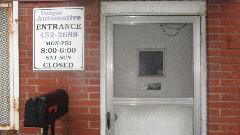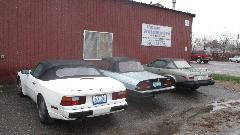 Plenty of British toys outside. Not sure about the Miatas; they may belong to the shop next door. I've seen plenty of Metro delivery trucks in years past, but this is the first time I've ever seen a Metro S120 school bus.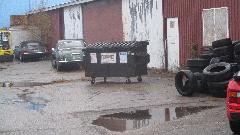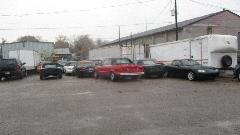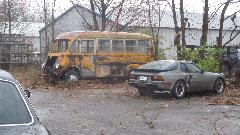 Then we had to fight our way through more city traffic to cross the river into Jeffersonville, Indiana for a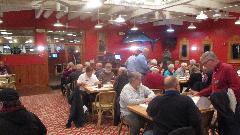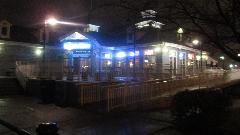 meeting with about 35 members of British Sports Car Club Louisville. We were a little early, so had a bit of time to do some photos and notes. During the meeting the Guru got to do the typical dog and pony show, which seemed to be well received. Planning dictates a route west in the morning, but from the meeting place we drove south across the river into Kentucky, then north back across the river into Indiana again, something about the quickest way to the interstate north.