The MGA With An Attitude


MGA Guru Is GOING MOBILE - (May 16 - May 31, 2017)


Tuesday May 16, 2017:
Making excellent progress on the cross linking from the Clubs list to the travel log photos and notes. So I kept it up for another half day and finished the task (2 full days total). This would be a good opportunity for you to check out the Shops list, and let me know if there may be some shop you know about that is not yet on the list. Just those that are pertinent to vintage British cars please.

This evening we had an appointment for a club meeting with Sorry Safari Touring Society in San Leandro, CA,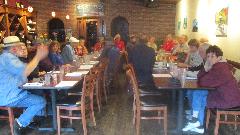 (A Gathering of MG Enthusiasts) with about two dozen people present. They do a lot of what the name implies, touring with their MGs, a couple times per month. It helps that there are lots of interesting roads in the hills east of the city (and all around western California). This time some of the gang knew in advance that we would be there. The rest seemed to be genuinely slack-jawed at the explanation of what we have been up to for the past three years. Some of them had the impression that it was just a long yarn, until a couple of them looked at the MGAguru web site. Cheers, grins, and good wishes all around, and we have an additional shop to add to the Shops list, Foreign Auto Service in Hayward, CA.

Wednesday May 17, 2017:
Now over the mountains to the east to visit Karma Creations in Rancho Cordova, CA (east side of Sacramento). We picked up this business card at a club meeting a week earlier. I recon the best business card is parked out front, the owner's MGB with the custom interior and matching hardtop.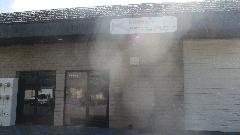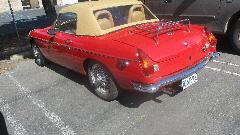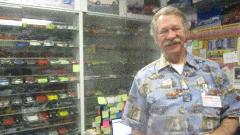 They do Custom Interiors for cars and boats, and from what I can see, lots of seat covers. The Ford hot rod was just a passing curiosity, an example of the work going on next door.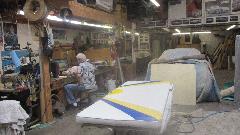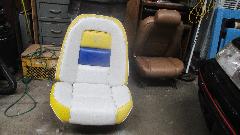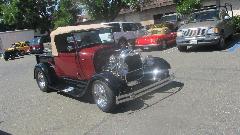 Then we were off to visit Michael Brady in Woodland, CA (west of Sacramento). He has a nice old house that was condemned when he bought it, now restored. He swears he only bought the place for the barn out back where he has a workshop and likes to restore vintage British cars.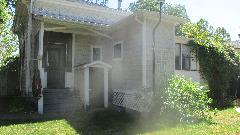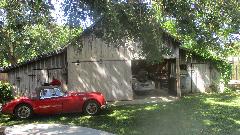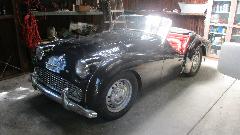 He bought the TR3 when he was looking for an MGA. Then he found the MGA he really wanted, and is now in the final stages of restoration. Easy to spot the luggage rack mounting was upside down, and not long to rearrange that. After some social chat there was dinner, and then more chat until it was late, so we will take this up tomorrow.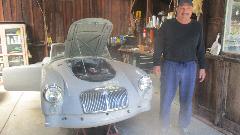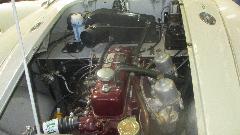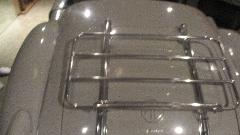 Thursday May 18, 2017:
We were going to do some work on Michael's MGA, but he was unexpectedly off on business for a few hours. We did visit a few parts stores in late afternoon looking for a fuel pump and some alcohol to flush out the brake lines. Then it was dinner time, and then chat time, and then a visit to the barn for an extended discussion about a short list of things still left to do to get his MGA back on the road. Time flies when you're having fun. Good night.

Friday May 19, 2017: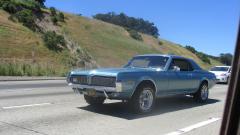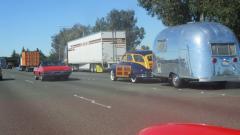 One appointment today, up fairly early and head west back into San Francisco. Two hours to fight our way into town, and another hour to fight our way back out. In spite of the nasty traffic, we find there is some redeeming social value in California.


We did this to visit Foreign Auto Service in Hayward, CA (on a recommendation from the Tuesday club meeting). Say hello to the owner, Dave Pelton. He has been here for years (decades I think), working mostly on vintage British cars. He races the yellow Elva Courier occasionally (not as often as he used to). All kinds of mechanical and electrical repairs done here, usually not body and paint restoration work. However, he did recently disassemble the white MGB, sent it out for body restoration and paint, and is now reassembling it.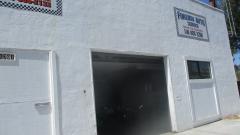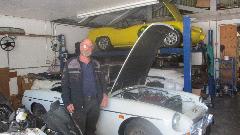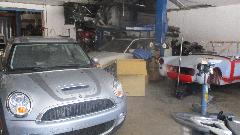 Zowie! Got something done this afternoon. In the Clubs list, updated all of the club affilliations with NAMGAR, NAMGBR, and NEMGTR. Now heading south, and we have to drive at least 300 miles after 9-pm. Go figure.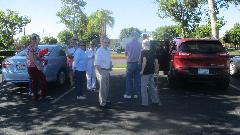 Today's mission was to attend a rally with Long Beach MG Car Club starting in Monrovia, CA. The first photo shows lots of surprised faces as we arrived. It also shows all of the MGs that the club members drove today (none). This was to be a TSD rally (Time, Speed, Distance), and it had a few "issues". The most significant problem was that all "Average Speed" specifications were set to about 90% of the posted speed limits. Then throw in a lot of traffic lights and stop signs in the city, followed by slow traffic on mountain roads, and a thousand bicycles on the narrow 2-lane roads in the hills, and it was of course impossible to maintain anything close to the specified speed and time. We could not even get to the odometer check point in the time allowed.


Then throw in a gimmick that only the home team would know about, a 10-minute "Pause" just before the first checkpoint. If you knew about this in advance, you could arrive there late, calculate the proposed arrival and departure times, and proceed on schedule as you cross the checkpoint. We had no clue, so were regularly exceeding speed limits (whenever possible trying to stay on schedule. At the Pause point we figured we were more than 10 minutes behind schedule, so no pause, and we were still four minutes late at the checkpoint. Some of that was our fault for missing a turn and adding six miles to the route.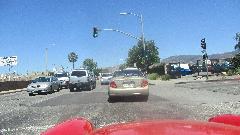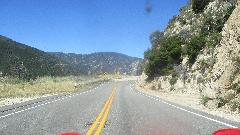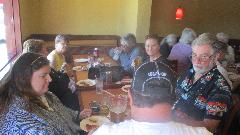 This was followed by a lunch break at a pizza place before the final stop at the Nethercutt Museum in Sylmar, CA. This place is loaded with restored multi-million dollar vintage cars, and vintage clocks and automated music machines and variety of other classic art collections. No flash allowed, so I had to toss a lot of blurred pictures, but plenty left to give you a flavor of the place. We started on the ground floor (the cheap seats)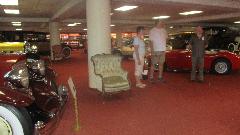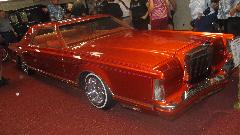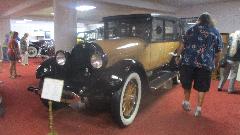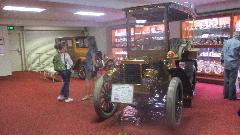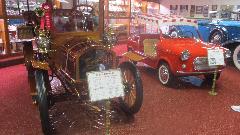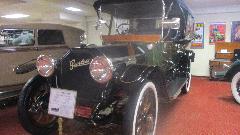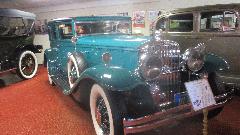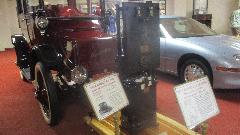 Then we moved upstairs to see the nicer stuff.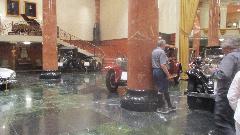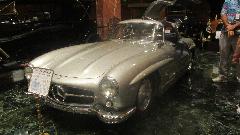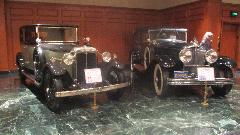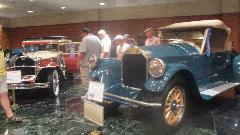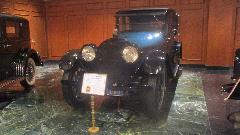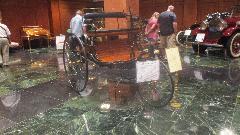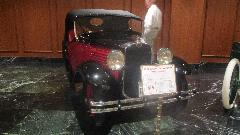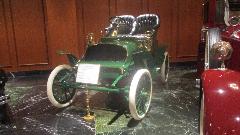 Another flight up to the mezzanine gave us the bird's eye view of the 2nd floor automobile display. Up here we found more collectibles, like vintage furniture, lapidary art (polished rocks and marbles), more than 4000 hood ornaments, and the Spirit Of America ship sculptured from several hundred pounds of silver.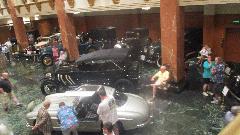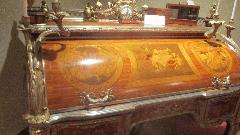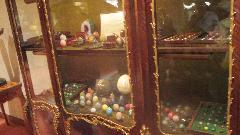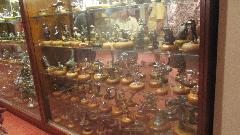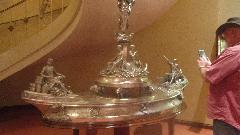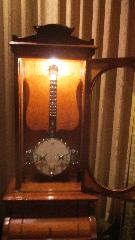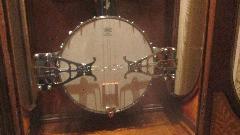 There were music machines all over the place, and everything here works. The first was a self-playing banjo, another a trio of violins. Most of these machines work on air power, pressure or vacuum created by bellows and a small electric motor. There were music boxes, phonographs, nickelodeons, player pianos, and pipe organs. The queen of the machines was the mighty Wurlitzer concert organ that could play a complete orchestra of instruments from the keyboard. This is not an electronic synthesizer, but a completely mechanical device that triggers and plays many instruments and pipe organs embedded in the walls of the studio. The It was originally used in a theater to supply music and sound effects to go with silent movies. It can still be played manually, but is also completely automated so it can record and play back anything that is played from the console.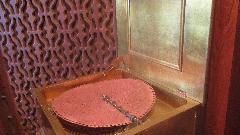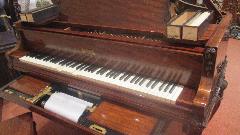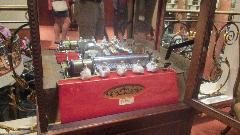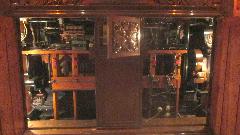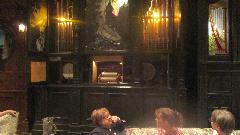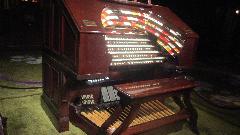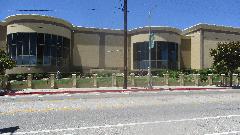 Then we moved on to the "garage" which is a building they built to display all of the left over cars that were not previously deemed necessary to show to the public. We did not get to see the restoration shop.

This is when my camera battery died, but I'm sure there were more than 100 cars here, followed by a restored steam engine and top of the line Pullman car parked out back.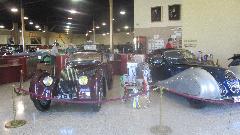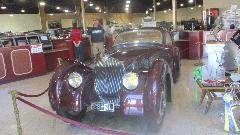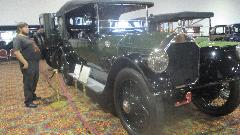 Remember we are not tourists, not normally interested in Museums (without MGs), but this was a car club rally, wasn't it? Play time over, back to work.

Sunday May 21, 2017:
Today we were off to visit the Automobile Driving Museum in El Segundo, CA. Yes, this one does have MGs in it. Would you believe I passed on the offer of a ride in the Ford? Most of the cars inside are driven regularly, and visitors are encouraged to touch and sit in the cars (gently).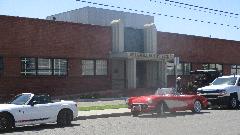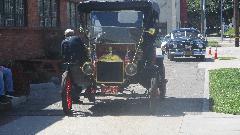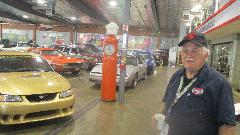 The real reason for being here was to visit Jim Plowden, who happens to be a docent here, and also happens to have his MGA on display here. It was the highest finishing MGA in the 1962 Sebring race. Here I had the chance to crawl around it, scratch, sniff, ask questions and take pictures. Find more information and more pictures of this car in article VT-104H1 in the Variants section of MG Tech.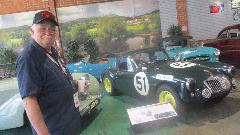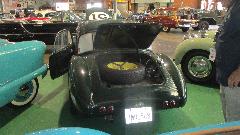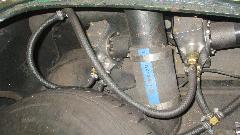 The large poster was for an upcoming British car show to be held at the museum a few weeks hence. The rest of the cars shown below belong to the museum, except possibly a few loaner cars on display.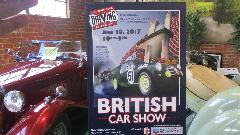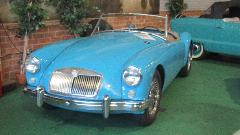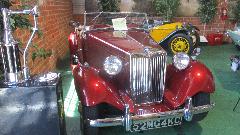 MGA, MG TD, AH 3000, and an Austin Bantam roadster (American built Austin 7) that had just returned from a car show bearing a new ribbon.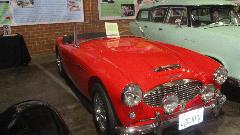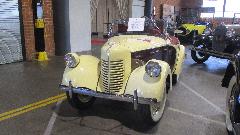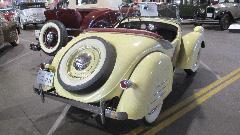 The Nash Metropolitan was also American built, carrying an Austin engine similar to (but not equal to) the MGA. The Benz Patent-Motorwagen is a replica of a very early model, maybe 1886, think 0.6-hp and 10-mph (later improved to 2-hp 15-mph). The Frazer Manhattan convertible (about 1949) was a top of the line model (above the less expensive Kaiser Manhattan).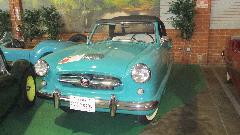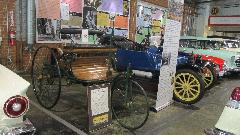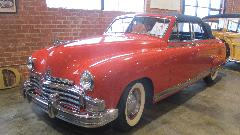 Up front in the glass showroom were some nicely restored vintage cars. The grey one is a Stutz with fabric covered body (for light weight). Close at hand, the V-12 Lincoln.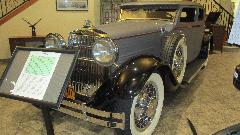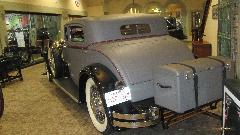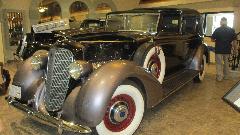 Out back were more buildings containing shops and storage space not usually open to the public. Out front the scenery would change occasionally as some of the museum cars (and a few passing visitors) were out for a drive.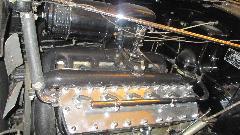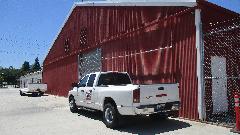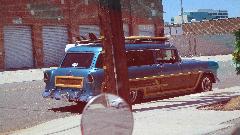 Monday May 22, 2017:
Don't expect too much today. It would be nice to be visiting a club or shop hopping, but we are way behind on documentation, still have to file a monthly report for the Chicago club, and haven't done any future planning yet. Already past mid day before I got caught up with the photos and notes above (much of which was done late night last night). There goes the whole day down the drain (but we do have a quiet place to work (in Camarillo, almost 60 miles west of yesterday's museum visit).



Monday May 22, 2017:
We are still alive, just very busy. Will have to catch up with notes soon.