The MGA With An Attitude


MGA Guru Is GOING MOBILE - (June 16, 2015 - June 30, 2015)


Tuesday June 16, 2015: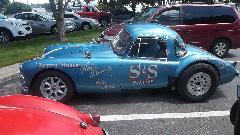 Early morning breakfast time, I bumped into "'Rotten' Robert". This car has been on my web site for years, so it's nice to see it first hand and chat with the owner. Click for more information.

Since this web site has loads of pictures of MGA, I tend to pay more attention to the odd or lesser seen stuff. Here is an MG 1100 (similar to the Austin America I used to own), a couple of MG "Z" Magnettes (variants of MGA), and the 1954 Morris Minor Traveller woody "estate car".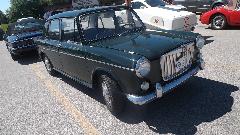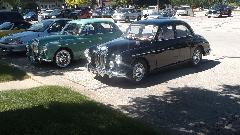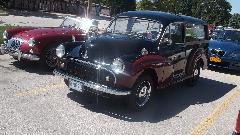 Here we have the "Chickens 'R' Us" special (which took 3rd place in the MGA 1500 Wire Wheel class), the classy MG TC (ladies first please), and a host of small luggage trailers (in addition to mine).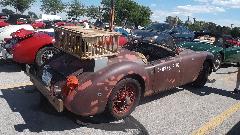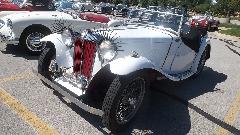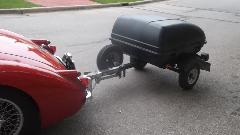 I believe the MG VA Tickford took first in class in the "Other MG" group. The purple MGA is sporting a very slick 2.8-liter V6 engine transplant with 5-speed (first in class in the "Modified MG" group). The Parish Plastics hardtop for MGA was part of the event long Rowdies Raffle.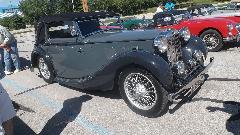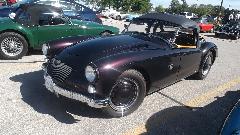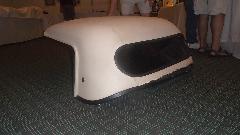 Somewhere inside, some of the ladies were enjoying classes in Pretzel Cooking and Strudel Cooking (a couple of times daily), parts vendors were hawking their wares and offering helpful advice, and a few times daily the Bavarian Belle would set sail. None of that for me, as I was busy with other things. There were two tech sessions on Electrical issues for MGA, and Tires (presented by a very knowledgeable career tire designer). Enjoy valve cover racing or a sail on the Bavarian Belle or pretzel and strudel cooking classes. The late evening Hospitality Suite is always a favorite.

Find more photos and notes for NAMGAR GT-40 on a following page.

Wednesday June 17, 2015:
Car show is the main event today, more MGA than you can shake a stick at about 150 of those I suppose. There was a large "Other British" class (other than MGA), some of which was entertaining. There was the Altered MGA class. I was particularly interested in the V6 engine transplant.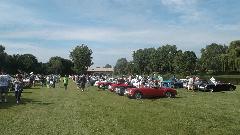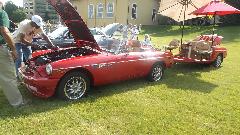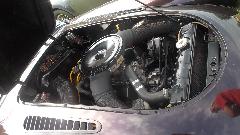 There was the Magnette class, several of those in good form, and the Premier class, always eye candy. On the side you could enjoy Arts and Crafts display and valve cover racing (enter your own if you have one).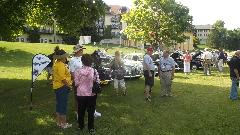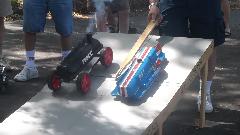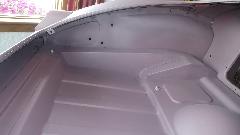 Later in the day we had tech sessions, one being a 1955 MGA 1500 Walk Around Tour. On display was a 1955 MGA to show some unique features of the very early cars.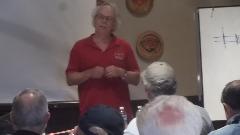 Then another session on shock absorbers presented by Peter Caldwell from Worldwide Auto Parts in Madison, Wisconsin.

There was a Frankenmuth Brewery Dinner that I missed, but I enjoyed a quicker dinner with friends at the Chicken buffet across the street.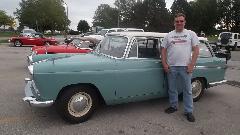 After dinner, in the cool of the evening, I had a surprise visitor. Brock Dittrick drove about an hour to see me. He brought his family along in his 1963 Austin Cambridge Countryman. Brock had seen my pictures of another Austin Cambridge I had visited a few weeks earlier in Fresno, California. Apparently he uses my web site quite a lot, as his car shares a lot in common with MGA.

Find more photos and notes for NAMGAR GT-40 on a following page.

Thursday June 18, 2015:
Off to an early start with a driving rally. I got to be navigator for a change, hopping into an MGC with a GPS. I don't suppose the GPS made any difference in the outcome of the rally, but as long as we didn't let it know where we were going, it remained quiet. Not convinced yet that I need one; still considering if it may be an attractive nuisance likely to cause an accident, or if the benefits might outweigh the problems. I think we answered all of the rally questions correctly, but we likely blew some of the "trick" extra credit questions at the end. We got not even honorable mention (pretty much as expected).

In early afternoon I attended the NAMGAR chapter contact meeting. Not my job, but our CMGC coordinator wasn't there, so I was sitting in for him. There was a special presentation by a representative from Haggerty Insurance. Much of that centered around youth initiative, trying to get the younger generation involved in the classic car hobby. This was followed by some discussion of how NAMGAR is trying to get the local chapters more involved in the national organization, and what benefit the club can offer to the members.

Then I stuck my nose into the Rolling Tech Session where John Twist works his magic to fix problems on the cars. I couldn't count the number of times John was crawling under the front of an MGA to check and set ignition timing with a strobe light. I managed to be a little helpful a few times (more than I interfered, I hope). When John broke a screw while adjusting a carburetor, I magically pulled a #4-BA screw out of my pocket to fix it. I don't profess to work miracles, but occasionally I can take advantage of the odd coincidence.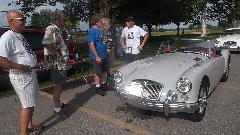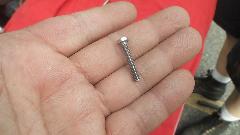 The evening Awards banquet was entertaining, lots of awards to go around, some door prizes, the 50/50 raffle, and the Hard Luck Award. Late night brought the Hospitality Suite, and when that closed the party continued past midnight on the patio. Then places to go and things to do, so we headed southwest after midnight to put down some miles while the adrenalin was still flowing.

Find more photos and notes for NAMGAR GT-40 on a following page.

Friday June 19, 2015:
We high tail it back to Illinois, as I need to renew my drivers license which is expiring today. First stop at the bank in Naperville to collect the special letter which will show my new (official) residence address, so the DMV will believe I still live in Illinois. Then hustle west a bit to Sandwich IL to collect a friend who will sign an affidavit for the second item to prove that I really live here (yeah, well, whatever works). Then a quick dash to Plano IL to the DMV, who after a little coaxing accept the documents and finally issue my new drivers license. Whew. Now I can get on with business.

By coincidence there was a cruise night going on in Sandwich, just as the daughters were getting together for a bit of celebration. So I dropped in just long enough to take some pictures.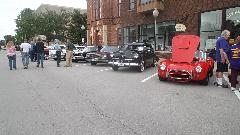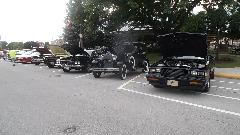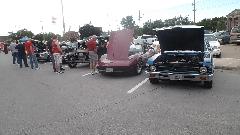 It is tough trying to find anything that looks like a sports car in rural Illinois (think farm country). Sorting through a flood of muscle cars and pick-up trucks and a few vintage big cars (mostly American). Well, there was a Cobra clone and I don't know what that three-wheeler thing was.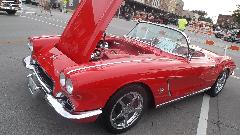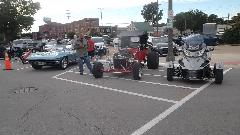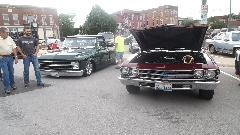 But I finally found one little British car, a Lotus Elise (and boy did it look out of place here). At least a number of people were circling around my dirty MGA, trying to guess what it might be, and wondering how it could possibly tow the trailer.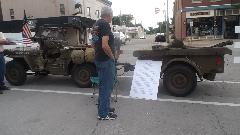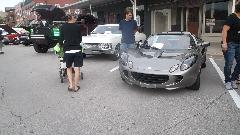 Off to a WiFi hot spot for a while, then back to daughters to enjoy what was left of a long day turned short.

Saturday June 20, 2015:
Finally a day off (so to speak) to catch up (mostly) with several days worth of photos and notes and email and tech questions and BBS and new web pages and (well you know how it goes). I guess it rained today, but I wasn't out to enjoy it. Pushing midnight before I could upload the digital stuff and hope to get some sleep.

Sunday June 21, 2015:
Navigator had a day with his friends while I was catching up a backlog of email tech interests, a few tough questions. Hard to believe how many tech pages were added or updated today.

Monday June 22, 2015: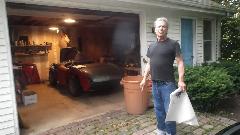 Got to play with an Austin Healey 100 (early BN2) today in Wheaton, IL. After reading an 11-page instruction booklet to "make things simple" (line 358 at bottom of page 7 of 11), we made templates and drilled holes in six ceramic board insulation pieces for the left side firewall. White primer and clear coat enamel, left to dry, intend to install tomorrow. Not the first time I have worked on this car. Chassis and underbody finished, needs fuel line and exhaust installed, very close to going for final outside paint.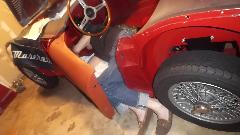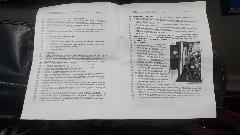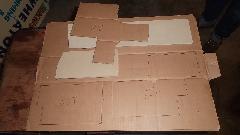 Tuesday June 23, 2015: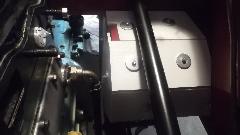 Working on the AH 100 some more. Got the insulation boards installed. Also installed brake fluid and bled the brakes. Sure glad that the master cylinder works, as it had been sitting nearly two years with no fluid in the system since assembly. Front drum brakes do not adjust; adjusters go round and round with no affect; couldn't get the drums off to look; ran out of time.

Evening WiFi, picked up navigator 10 pm, heading seriously southwest, no interstates, US-34W to Oswego, IL-71S through Ottowa, over the Illinois River, through Starved Rock State Park (yee-haa roads in the dark), I-180 bridge over the Illinois River (again) past Hennepin, then south on IL-29, landing in Peoria, IL at 1 am.

Wednesday June 24, 2015:
More southwest today, still avoiding interstates. US-24W along the Illinois river, rain today, lots of empty roads, then IL-100 and US-67 south over the Illinois River again (with bridge construction) just before lunch break in Beardstown (this place looks familiar).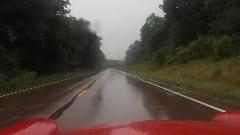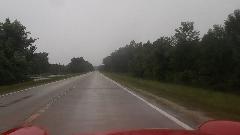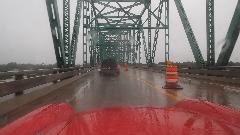 Then the rain stopped, and we put the top down to offset heat and humidity, passing over the Illinois River a couple more times, US-67, IL-100, US-36 (I-72), and then US-54, crossing the Mississippi River at Louisiana, Missouri, then crossing the Missouri River at Jefferson City, and all the way to Nevada, MO, by 9 pm (580 miles in 23 hours including a sleep over). The photo on left is just a mailbox in Illinois; honest.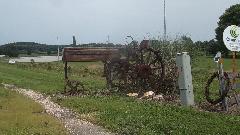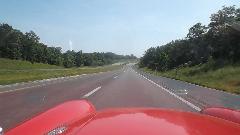 Thursday June 25, 2015: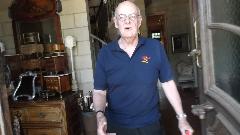 A more few hours southwest today. In case you were wondering where we have been headed, we had an appointment with Anatoly "Toly" Arutunoff in Tulsa, Oklahoma. He happens to be current owner of the 1960 MG Savoy (bizarro) "created" by Michael Pistol in 1997. I was here to visit this special car, as well as many other collector cars owned by Toly.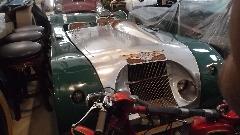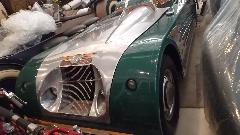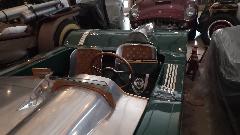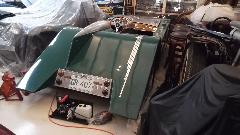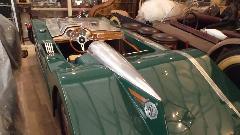 This is Toly's Dodge roadster (1925 if I remember right), just about bite you on the ankle, and very LOUD.




The Ducati motorcycle is somewhat special using automotive type front suspension. A good idea with a few problems in execution, like it takes four hours to change a tire.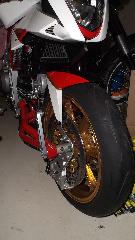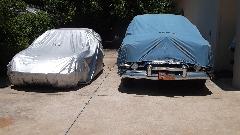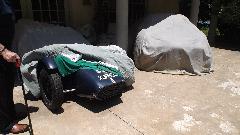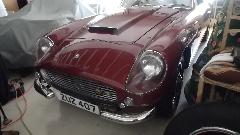 Then we wandered over to his friend's place, complete with race track, go-carts in several sizes, and this MGA that was resurrected from very dead and rusty to better than new condition. There is an interesting story about this shade of yellow. The car on right behind the MGA was ordered new with special metallic gold paint. Then it was sold on later. The current owner didn't like the color and asked that it should be repainted. While sanding the car some yellow paint was found underneath the metallic gold (which the factory apparently sprayed over top of the prior original yellow paint). That car now wears the original undercoat yellow color, which was later adopted for the MGA.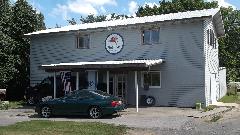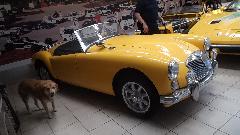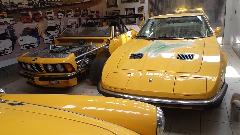 There was this Ford GT-40 type with benefit of a new engine.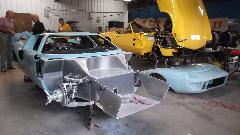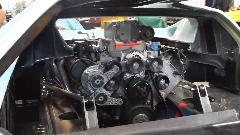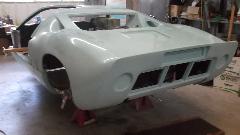 A Triumph Spitfire with a Triumph engine. Huh? Oh, it's a Triumph motorcycle engine. A couple of go-carts on steroids, running snow mobile engine with continuously variable belt drive. And a Mercedes Benz 190SL (1959 perhaps), which was one of the first sports cars I may have lusted over in the mid 60's.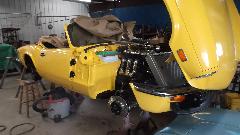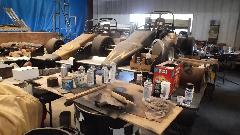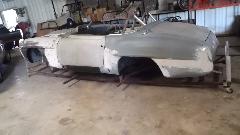 By day's end we landed 110 miles northwest in Blackell, Oklahoma.

Friday June 26, 2015:
A bit of morning maintenance, as the engine had bad idle lately. Points did not need adjusting, but I sanded the points a bit while I had the distributor out. Pulled the valve cover and found #1 Exhaust valve with no rocker arm clearance, implying valve seat recession or wearing valve. 30,000 miles since engine repairs in August. Note to self: check and adjust valves a little more often. But it runs better after valve adjustment.

Spent most of the day catching up computer work. Bumped into a very friendly McDonald's restaurant owner who happened to be a car guy, likes the MGA, just returned from Hallett Motor Racing Circuit where he was running laps in the afternoon. Late night run to Dodge City, KS (50 miles short of intention).

Saturday June 27, 2015:
Morning WiFi session, beginning to post CMGC July newsletter on line. Bored by mid day, moving west "getting out of Dodge". Ten miles out of town there was a mild "POP", I got a few drops of something hot on my left leg, temperature gauge off the scale, shut it down to investigate. Fan belt broke, not terribly surprised, have a spare in hand. When it boiled momentarily it blew the snap cap off of the coolant overflow bottle (source of the noise). Twenty minutes to install new fan belt, top up with two liters of water, and drive on, no harm done. Good time to clean the bugs off of the radiator (again).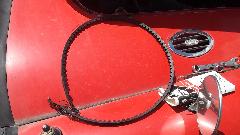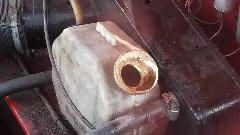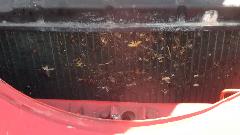 Fuel and lunch stop in Garden City, KS (where we intended to stop the night before). Did I say it was hot here? Warm temperature humidity, and full sun at mid day. I can tell you there is a lot of nothing in much of Kansas, roads straight and flat, see for miles. Well, not exactly nothing. Wheat fields and some corn crops, and oh yes, lots of cattle mostly in somewhat smelly feed lots. Will likely spend rest of the day on the club newsletter before moving on.

Sunday June 28, 2015:
Stayed over in Garden City, Kansas. Resumed posting of the club newsletter, and got it on line by noonish. Data backup to remote hard drive ate a few hours (every few months). Deleting a year-old data set from remote hard drive took another half hour (sheesh). Drove another 100 miles west to Laymar, Colordo, stopped for a break from the mid day sun. More of the same in eastern Colorado, flat, straight, crop land and feed lots, a few historical markers. Rolled on in the evening, making Pueblo, Colorado by darkish. Intended to go north another hour, but stopped short due to nasty storms in that direction. Need to check weather radar, maybe get early start tomorrow.

Monday June 29, 2015:
Headed north today along the eastern side of the Rocky Mountains. First destination was Pikes Peak. I've been there a couple times before. Last time navigator was there was June 1989, three months before he was born.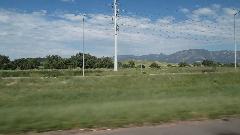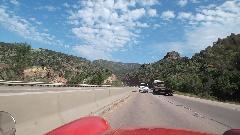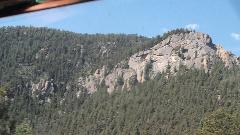 Drop the trailer at the entrance gate (not allowed on the hill). This time the road is different. Day before was the running of the Pikes Peak Hill Climb races. The road crew was beginning to dismantle the artifacts, but much of it was still here this morning. I recon this is as close as I will ever get to running the Pikes Peak Hill Climb in competition. Start line is at mile 7, finish at mile 18, summit at mile 19. The fences were to restrain spectators. Don't hit the straw bales.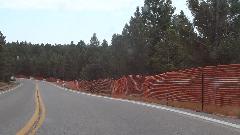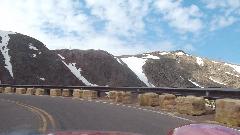 Pity the road is now paved all the way up. In 1989 it was sand from Mile 7 to summit, no guard rails, and a delight to drive with vigor. In 1997 what used to be sand was hard and full of pot holes, kind of miserable to drive. I think it was loaded with lime and water to solidify the road base in preparation for paving. Now tarmac all the way with guard rails, kind of a casual drive, overloaded with tourists. It must make for an entirely different kind of hill climb racing, lose the knobby tires and run race slicks.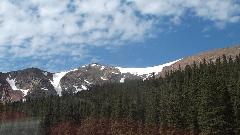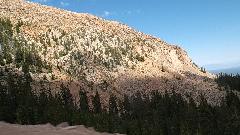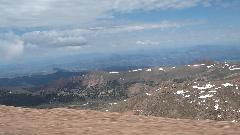 First seven miles easy, mostly 3rd gear just because traffic is slow. Farther up the grades get steeper, mostly 2nd gear as the air gets thinner and the engine loses torque, and a few 1st gear switchbacks around 10-mph.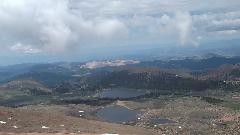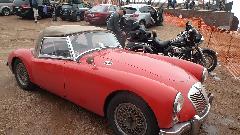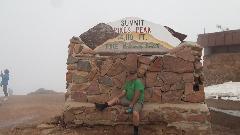 At the summit, search for a parking space. I don't recall seeing this many cars up here before, like a hundred or more vs. two dozen previously. Then the Cog Railway train arrived with three large cars full of more visitors. Now elbow to elbow people in the gift shop, but the donuts are still tops. Nearly three miles up, half the air, walk slowly. Notice T-shirt, shorts and snow. Must have been about 60dF today, melting snow rapidly, not cold but a pleasant reprieve from the heat in the valleys below.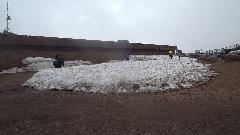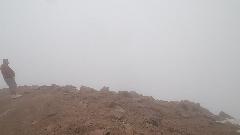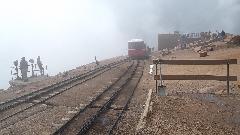 A more casual drive going down, still a lot of 2nd gear to prevent cooking the brakes, and most 30-ish in light traffic. If you have a fear of heights try not to look down at the wrong time.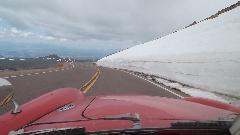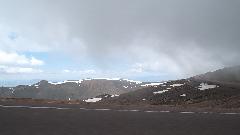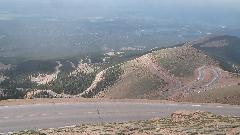 Around 11,000 feet we stopped for the Mandatory Brake Temperature Test. Infrared thermometer reports front brake drum 103dF. Chuckle. I guess I should learn to use my brakes more to reduce wear in the gearbox? Return to start of Hill Climb section at mile 7. Pretty uneventful trip. Pick up the trailer at the gate and carry on.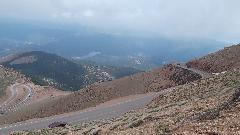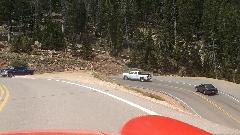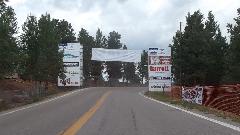 Several miles north up US-24 to Wooodland Park for lunch break and a WiFi. This was followed by 2-1/2 hours more driving to the north, first 23 miles up CO-67, then 25 miles more on County Highway 126 (a continuation of the same road) through winding hills and valleys of the mountains. In several places we saw what looks like older forest fire burn-off with varying amounts of growth recovery. Then 25 miles on US-285 N (more traffic and less twisties), several miles up CO-470 (brisk expressway), a few miles on US-6 W (transition road), and 17 miles up CO-93 (mostly 2-lane with some substantial hills). A bit of dodging around, then 5 miles on CO-157, and 7 miles on CO-119.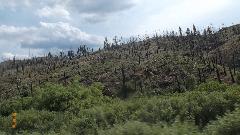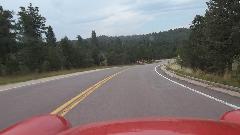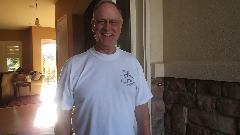 Near the end it was traffic and heat, but in the evening we stopped to visit Charley Robinson in Longmont (several miles north of Boulder, CO). He has a late model MGB and an MG TF which I think we will get to tinker with tomorrow. Get the priorities right, chat about MGs first, then dinner, then a bit more chat about MGs, and when all gets quiet it's WiFi time for a while before snooze time.

Tuesday June 30, 2015:
Had a brief look at Charley's MGB today. Needs not much, just passed Colorado emissions and picked up new registration. A mysterious rattle at back end is likely to be loose baffles inside the muffler (not urgent to fix). But the TF needed some attention, as it would not idle below 1500-2000 rpm. This turned out to be an easy adjustment, as the intermediate throttle shaft clamps were misaligned preventing one of the carbs from closing. That solved, we gave it a tune up and took it for a test drive (running much better now).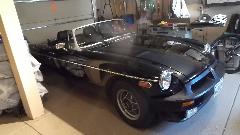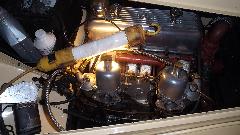 Then we spent a little time on the left side door latch, reinstalled the latch and a new striker, placed a few flat washers behind one edge of the striker, and a few shim plates behind the latch. With working door latch, now he can ditch the bungee cord. Then back to the carburetors where both of the main jets were sticking down, meaning running always on choke. For this we had to R&amp'R the carbs for partial disassembly, polish the jets, oil the jet seals, and cycle the jets in the seals to get everything free moving.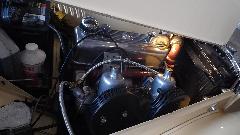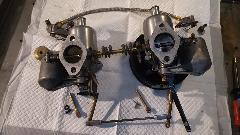 Reinstalling the carbs was not too tough, except installing the front bolt for the front air cleaner was a bear. Otherwise back together and properly adjusted, runs like an MG again. Follow with some MG chat, a nice dinner, more MG chat to late night, and a bit of WiFi work before 2:00 am. Good night all.