The MGA With An Attitude


MGA Guru Is GOING MOBILE - (March 16 - March 31, 2017)


Thursday, March 16, 2017:
Having arrived a day early, we could take care of a little nagging issue. Time to apply for passports, for which we may have a use a few months later. Kind of a thankless chore that ate up half of the day, but we hope it came out okay. Then navigator was off to visit some friends while I was catching up email.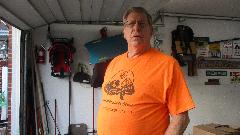 In the early evening I was off to visit Jim Michel in Glen Ellyn, IL, thinking he may have a differential we can use. He had two. First one turned out to be a 43/10 (4.300:1) with 25-spline sun gears, looks like standard issue from an MGA 1600. Second one was a 43/11 (3.905:1) with 25-spline sun gears, standard issue from early MGB. This was the target. Unfortunately the ring gear teeth were badly pitted on the working surfaces, so not suitable for continued service. Bummer.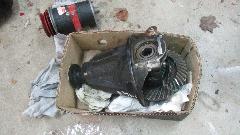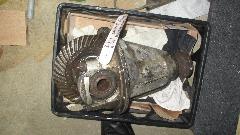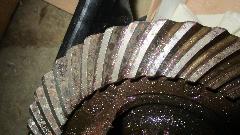 I recon that puts the next day in limbo, as plans to change the differential just evaporated.

Friday, March 17, 2017:
Better luck today. A friend Bob Brownlow in Niles, Illinois saw the prior message and called to say he had a spare early MGB 3.9 differential. So today I was off to Niles with fingers crossed. This one was a recognizable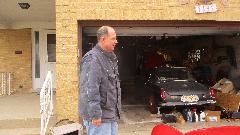 beauty from the offset. Notice dirty and dry, but all buttoned up in a complete rear axle that still had oil in it, nothing exposed to atmosphere. It didn't take too long to kock off the brake drums, pull the halfshafts, drain the oil and extract the pumpkin. And we have a winner, looks like low mileage, minimal wear, all oiled up and no rust. Drain it, rag it, bag it, and toss it in the trailer for future use. Now that I have everything I need to rebuild the rear axle I'm not so much concerned if the existing one might break.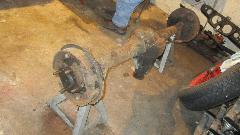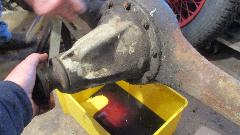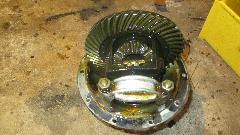 Then just for fun we pulled an interesting part off the shelf. Bob is sitting on a rare original Judson Supercharger valve cover with built in oiler. These things are more rare than the Judson superchargers, many of which go wanting for this part. He hasn't decided yet if he will keep it or sell it.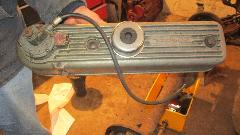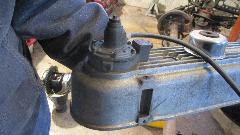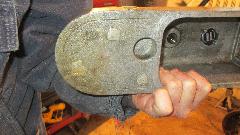 Saturday, March 18, 2017:
Not a lot happening today, mostly relax and catch up email and tech questions. Come evening it was time to haul tail up to DuPage County Fairgrounds to help set up for tomorrow's All British Swap Meet and Auto Jumble. Follow with a light dinner with old friends before turning in to get a little sleep before early rising.

Sunday, March 19, 2017:
Swap Meet day, early start at 5:30-am to open shop and begin letting the vendors in for set-up. Lots of pictures to be found on the CMGC web site here: www.ChicagolandMGclub.com/photos/swap2017. A few posted here just to whet your curiosity.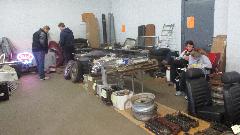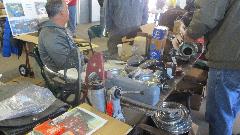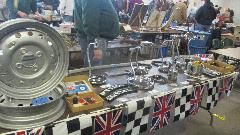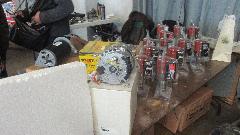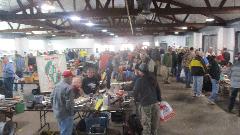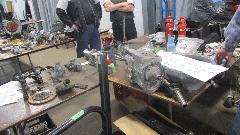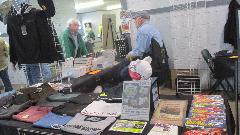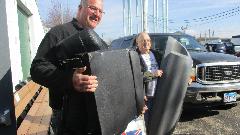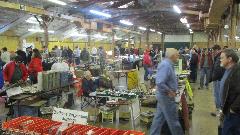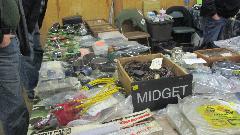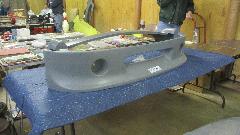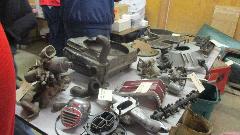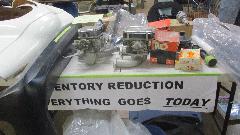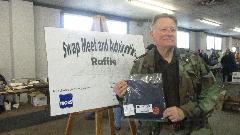 Mid afternoon as the swap meet was breaking up, got an offer of a used speedometer cable that looked promissing. Weather had warmed up, and sun was out, so not a bad time to jack up the car and replace the cable. A noble effort, but to no avail as the replacement cable was not turning at the top end. Bummer. Maybe a disconnect at the gearbox drive gears. Mild task for another time.

Monday, March 20, 2017:
On a mission today. Received the offer of work space for a day from Chuck McCallum in Plainfield, IL. Quick stop at the storage locker in Romeoville, IL on the way over, pulled a replacement speedo drive spindle out of a spare gearbox. Navigator needed a quick stop to pick up lunch, while I was too busy to eat. And then, ah, work space. Grab the bench. First task was to open the 4.3 differential with rusty ring gear to retrieve the 10-spline sun gears. Remove bearing caps from the main carrier bearings pop out the differential, hit the locking pin with a 3/16-inch drill bit to open the pinch crimp, and drive out the locking pin from the other side using a long nail. Then tap out the pinion shaft to release all of the differential bevel gears.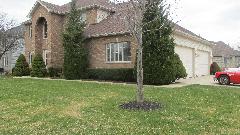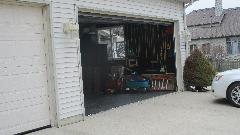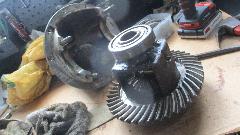 Next up was to open the 3.9 differential to replace the 25-spline sun gears with the 10-spline parts. By now I had a variety of thrust washers to choose from, so used the least work parts (not much wear on any of them). Next up was to remove the front yoke, remove the old rubber seal, and pop out the front bearing to adjust the preload shims. I found 0.024" shim stack, which I reduced to 0.020" to achieve the intended preload on the input bearings. Given the proper preload, then install a new rubber seal and put it all back together. Then jack up the car, remove rear wheels, brake drums, pull out the halfshafts, remove propshaft, and ten nuts in front gets the damaged differential out of the housing. A bit of grunt work to clean away remnants of the old gasket, pick a few broken shards of the housing, and mop it out clean.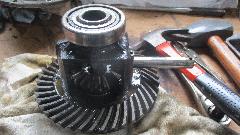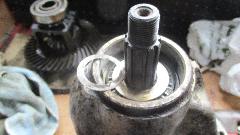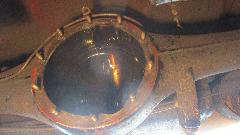 No idea why I couldn't find two differential gaskets that I had bought recently but ended up making a gasket out of a donut box card stock. We had it back together in short order, including the replacement 10-spline half shafts. Nice improvement here with all new (or good condition) 10-spline shafts and sun gears to significantly reduce backlash. Got it down to about 1/8-inch backlash at the differential input flange. 1.3-quarts of EP80W90 gear lube (slow squeeze) and it was ready to go.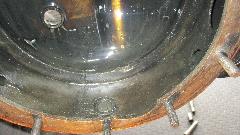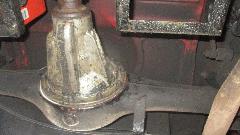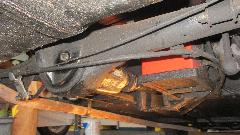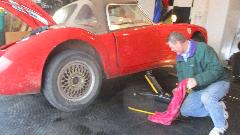 With just a bit of time to spare there was a slight diversion. Jack up the right side for better access to the gearbox speedometer drive spindle. Disconnect the tail end of the speedo drive cable, and pull the driven gear and spindle out of the gearbox. This one was a nice original steel gear with nothing apparent wrong with it. Really? Put the spindle onto the cable and turn the gear by hand to turn the cable. Turning the bottom end, but no turning at the top end. Rats. Pull the broken cable out of the jacket in two pieces. Bummer. All this mucking around because the used replacement cable was broken. Grrrr. Reassemble the driven gear and spindle back into the gearbox, reattach the empty cable jacket at the bottom end, and off we go with still no working speedometer. Live and learn. -- Okay, for the curious, here is what was bugging the noisy differential. We found one very large fragment of broken gear tooth from the input pinion gear. This would give the characteristic gear tooth chatter with each rotation of the input shaft. Nice that it held up as long as it did, as it has been making unsettling rattling noises for more than six weeks, at least 4000 miles.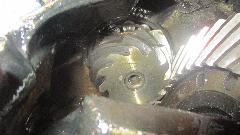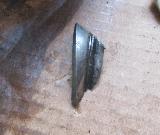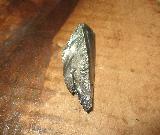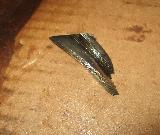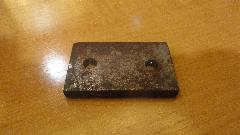 While Chuck and I were messing around with the differential and speedometer cable, navigator was installing a new tapping plate for the passenger side door latch striker. He seems to get a little incentive when his right ear is freezing while blasting down the expressway. Stripped threads be banished, and the door latch works again. Finally after packing up the trailer with tools and two duff differentials, we were off post haste for the evening club meeting at Mack's Golden Pheasant in Elmhurst, IL. Nice meeting, but oh what a motley crew. I had to come up here all the way from North Carolina to get the mug shots of the club officers because no one else would take the pictures.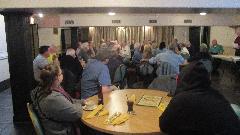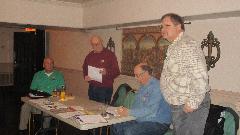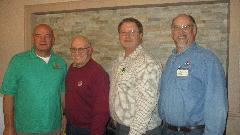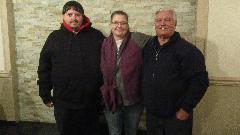 One last blast. That would be navigator's youngest sister Honey in the middle. Dang, we don't get back here often enough these days. Okay then, off to late night WiFi work to bring you up to date on photos and notes. Do go back and check out the Swap Meet photos on the club web site. You will always find some interesting "stuff" in those pictures.

Tuesday, March 21, 2017:
Late breakfast, followed by a stop at Walmart to pick up a couple of large plastic tote boxes. Stop at storage locker on way out of town to toss out some junk, and a few things we haven't used for a long time, pick up a few more tools, and reorganize the trailer. Good going, a bit of extra space now, still toting a pair of new trailer tires to be installed sometime soon, which will free up a bit more space. As the trip evolves we carry more tools and parts, and a few less personal gadgets. Still looking for a new speedometer cable. Heading south, by 9-pm we crossed the Mississippi from Cairo, IL into Missouri for second fuel stop, about 400 miles on. May not be done yet, seriously thinking about doing stuff in Memphis, Tennessee tomorrow (after a short pass through NE Arkansas).