The MGA With An Attitude


MGA Guru Is GOING MOBILE - (October 16 - October 31, 2016)


Sunday, October 16, 2016: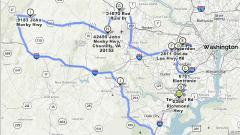 Beginning to make good use of the Shops list. Looks like about 16 shops to visit in VA (those we haven't done yet). Any odds on us being able to do this in two days? Not a lot of total distance, but may have to limit it to 20 to 30 minutes per visit. We are about to go "shop hopping".

Monday, October 17, 2016: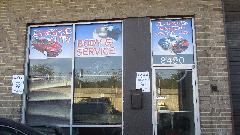 Done well for day one I think. Struck out on the first stop. Ken's Auto Repair Service in Lorton, VA has changed to "Japanese Auto Body And Service", and the door was locked. Scratch one vendor from the Shops list.

Next stop was better with Seatco in Springfield, VA. They do upholstery, interiors, tops, tonneau covers, .... and they do work on little British cars. There was of course some additional redeeming social value present.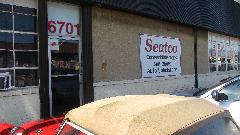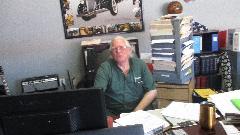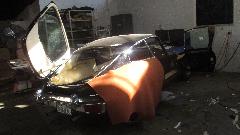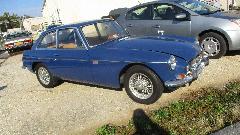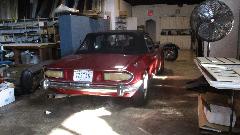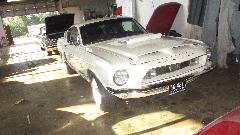 Then we were off to London Auto Services in Falls Church, VA. Plenty of British cars here. Also some Italian, German and Japanese mixed in, but all very nice company. Lots of vintage cars here, and also the modern Jaguar with service for the electronic stuff. Nice clean shop, and a good place to get your LBC serviced.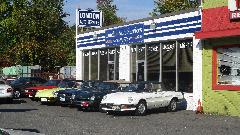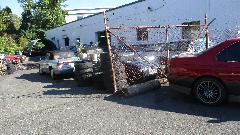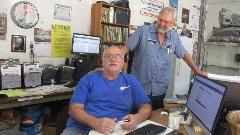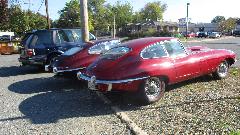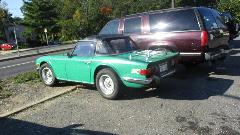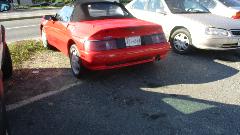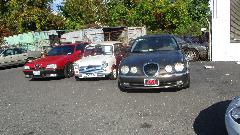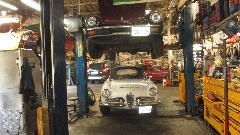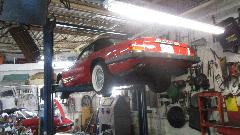 Next up was British Standard Motors in Fairfax, VA. A few years ago the long time owner of the shop decided to retire, so three of his employees bought the business and continue the tradition in the same location. Bully for the next generation. These guys have lots of experience to service your car well.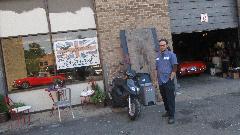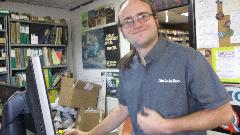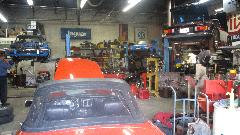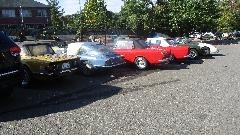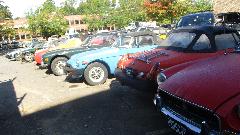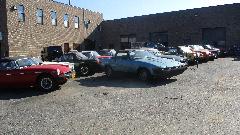 Another part of this excursion is verifying shops that no longer exist or may have moved away. Attempted contact with Blue Ridge Motorwerks in Manassas, VA (with no street address) fell through with a valid phone number, left a voice message, but never got a return call. Then a stop to visit British Classic Cars in Chantilly, VA came to a building occupied by a different business. A phone call and voice message did work, and a call back verified that the business has moved to Marrieta, GA, so we my yet get to visit him later.

Then we dropped for a brief visit at The Dent Shop in Ashburn, VA. This was almost a two-fer with two businesses under one roof. It is strictly body and paint work, and they seem to have a hard time remembering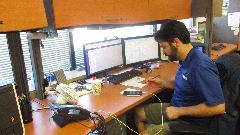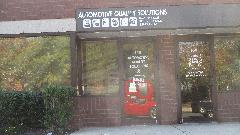 last time there was a LBC in their shop. When I asked if they work on vintage cars, they mentioned a Chevelle (Chevy) recently. Their ad appeared in one of the local British car club newsletters, so they must be soliciting for this business (maybe).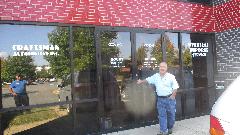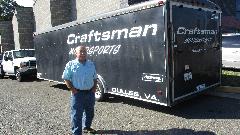 The next one may be a three-fer. I was looking for Overseas Import Service when we blundered into Craftsman Motorsports and Craftsman Automotive Inc under the same roof. Apparently OIS is a Jaguar specialist, while CAI deals in everything fast, and CM serves as the competitions division. The owner of CM and CAI has a few more companies, has had several hundred cars pass through his hands, and currently has about 200 cars to play with.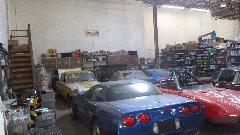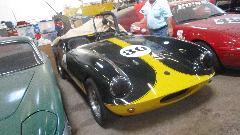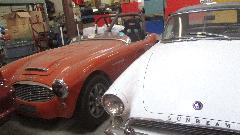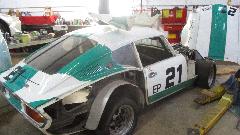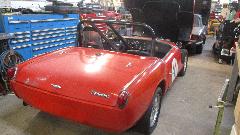 If you can't find something you like here, you're not looking close enough.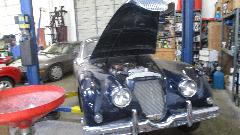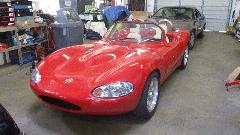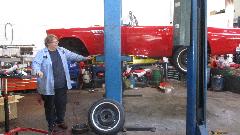 Pushing closing time for most businesses, we're not finished yet. Right on 5:50-pm we rolled into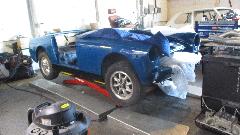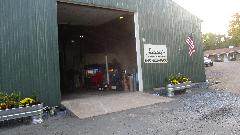 Downey's Vintage Garage in Upperville, VA. This place is replacement for the prior shop British and Classic Car Doctors, again taken over a few years earlier by a prior employee. And yes, Downey does like British cars.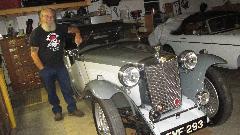 If that wasn't enough, after a quick dinner (and email check) we had a late night appointment with Tom Ford in Luray, VA. This is kind of a two-fer, because he has a few LBC of his own and he works on LBCs for others fairly often. The red MG TD just finished restoration for a customer and is about to go home. The TC, MGA and MGB are resident here.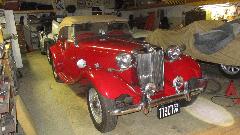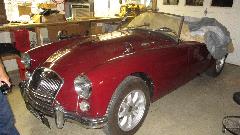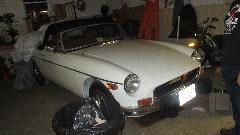 Enough for one day, as we were pushing the time window. I recon that was at least eleven shops off the check list in one day, two defunct, one moved out of state, eight in person still servicing British cars. These photos and notes are happening three days in arrears. (Busy, busy, busy).

Tuesday, October 18, 2016:
Start today with a visit to Classic Car Solutions in Stafford, VA. The word "Classic" covers a lot of ground here, cars from around the world and decades in time. This guy also works on British cars, and he will come to your place to service your car.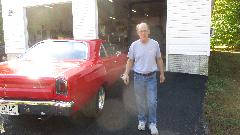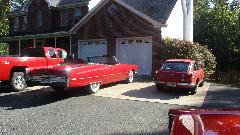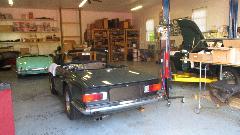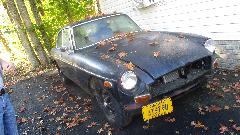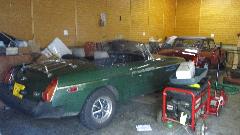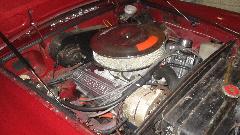 Some folks have different tastes. How about a BIG straight eight with overdrive?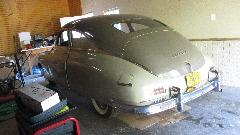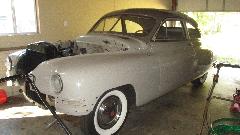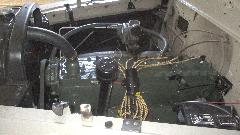 Next visit today was to Classic Car Center in Fredericksburg, VA. Find high end classic cars, and service and restoration here. The shop for customer car service and restoration work is around back.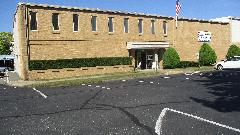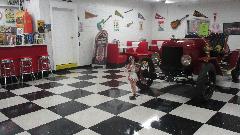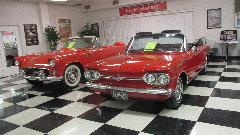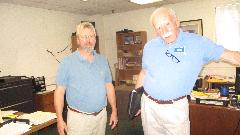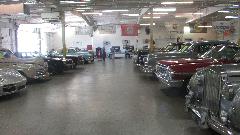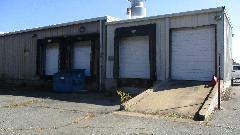 Next stop was at the Moss Motors warehouse in Petersburg, VA. This was a bit out of our way today (like 90 miles), but we needed to refresh some supplies. Not much changed since last visit, just a few cars missing from the museum. A stop here always kills a couple hours as I browse through the catalog to list what I might need, then search through the trailer to see what parts I may already have in stock, then back inside to place the order and wait a bit for pickup. One notable item today was, I finally bit the bullet and bought a few square feet of tan leather to recover the door top trim rails (sadly over due). Back in the car park it was a good time to install few parts so we don't have to stash them and carry them around. I soon caught the navigator working on the car again, installing tail lamp gaskets and dash lamp bulbs.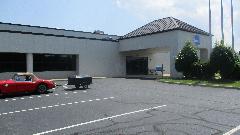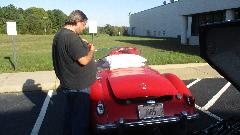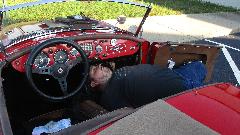 I was changing a wobbly latch striker that had been bugging me for a while. Nice they have gone back to welding the part rather than staking a thin washer to hold it together. The new one was not exactly the same dimensions, so it needed another shim or two for alignment. I wasn't finding the shims immediately, and Moss had already locked the doors after 4:30 pm, so I used a couple of steel flat washers to get it together.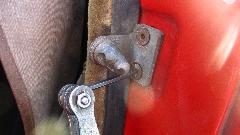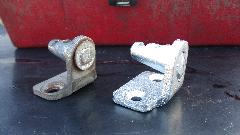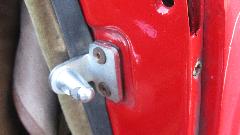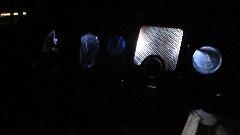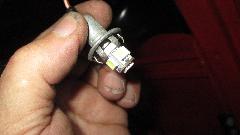 This was an opportunity to try the brighter LED bulbs for the smaller dash instruments. Later night we had a bit of surprise. Certainly plenty of light in the instrument dials, but WAY TOO MUCH light spill over through the radio speaker blanking plate (silvered card stock) and under the dash. Will consider what to do about that later.


We only hit a couple of the workshops today, but needed some time in the evening to catch up some WiFi work. Tomorrow's going to be a slightly different day.

Wednesday, October 19, 2016:
Morning WiFi with breakfast, then a bank stop to replace a damaged bank card, so we were off to a late start. First (official) stop tody was at Gassman Automotive Products in Waynesboro, VA. This turned out to be a two-fer again, as it is also Waynesboro Auto Upholstery (with the same phone number).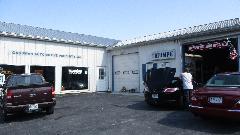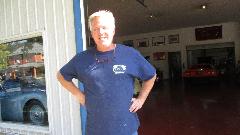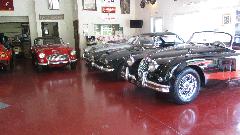 Big place with lots of personnel, things happening all over the place. Start in the show room and work back to the shop. There is a trick here to stacking three cars with two lifts. Apparently they like TR's.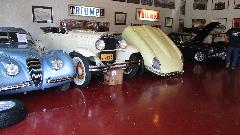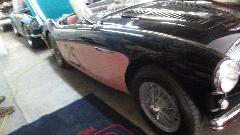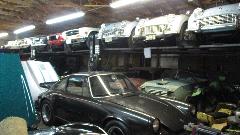 Mechanical shop, restoration shop, upholstery shop, several cars in process at once.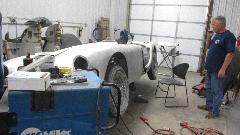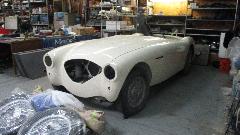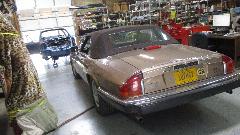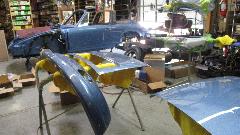 Also a parts distributor, and they have lots of New Old Stock body parts. That is a NOS rear body clip for MG Midget (in case anyone may be interested). And a tire shaving machine, because it seems current replacement vintage style tires are never round when new.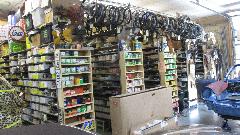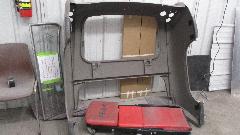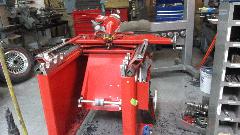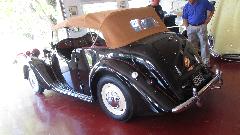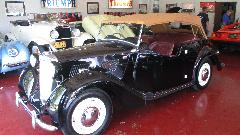 Back up front. this freshly restored MG Y-type just returned from a test run, waiting for the owner to come pick it up. Some lucky soul is going to have a big grin on his face today.
Then we were heading for the mountains, literally, following roughly along the Blue Ridge Parkway for a while (even on it once). First stop up here was to visit M.G.'s Only in rural Lexington, VA. Did I say "rural"? How about the size contrast? This is a small shop, one man with not a lot of time, so only available occasionally for MG shop work. He was out of town on business, while she was about to do a pickup run. Apparently the "transportation business" is hogging most of their time these days. Could be a nice shop for MGB work, but do call ahead to check on a time slot.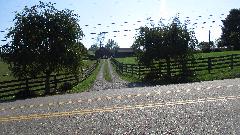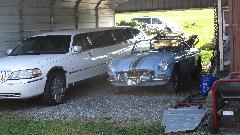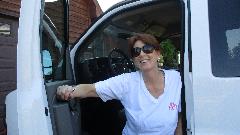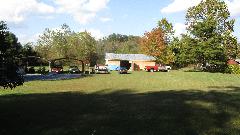 Next stop was M.G. Works in rural Eagle Rock, VA, another one man shop running part time (behind a regular day job). Clearly an MGA and MGB here, but do call ahead to check on a time slot.

Then I couldn't resist a few road pictures. It has been absolutely delightful cruising weather for rural roads in Virginia the past few days.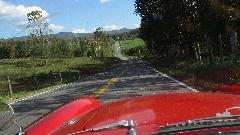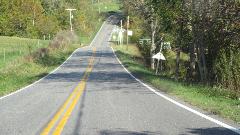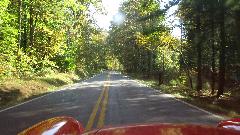 Last official stop for the day was at M.G. Matters in Goode, VA. This shop has been in business here for decades. While it used to have a few employees, it is now a single man operation, still full time with very personal service (and loving every moment of it). "It's good to be king", kick back on enjoy life when appropriate.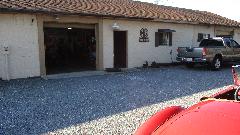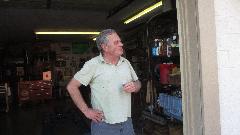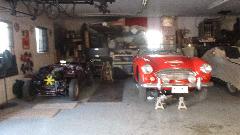 Just as we were about to leave, this very nice 1955 Chevy pulled in, some minor problem that would undoubtedly be fixed post haste. Must have been a dinner appointment.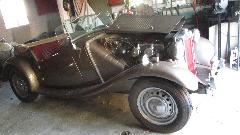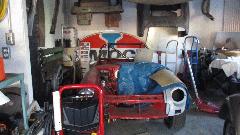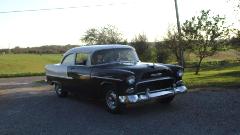 We had to scratch one other possible appointment for Gabor's Import Car Service. I have a few different possible addresses for this shop, possibly in Blacksburg, VA, or Fincastle, VA or Christiansburg, VA, all with the same phone number. Unfortunately the phone number seems to be defunct, so I (rashly) assume the shop must also be defunct (with no means of contact). I hesitate to remove it from the Shops list, but no way to verify this one way or the other without driving to various locations just to likely find no one there. The day was waning and we have things to do, so just post a note on the Shops list and move on. Sometime after dark I picked up a jug of oil and a filter, as the car is nearly 1000 miles overdue for it's 4000 mile oil change. Then a late night WiFI session, to be continued next day.

Thursday, October 20, 2016:


While cruising down the expressway this morning, we were being followed for about 20 miles by some non-descript road appliance. Speed up, slow down, change lanes, no matter what we couldn't shake him. Last ditch effort was a rather sudden lane change and duck off an exit ramp, but that didn't do it either. When we stopped for breakfast the appliance followed us into the car park. This was followed by show and tell and a two hour chat with a very nice fellow who was tickled pink and very curious about the MGA. Perhaps the guy may end up buying one.


The rest of this is simple. All day into late night for computer work, catching up with photos and notes and updates to the Shops list for the past three days. Not unusual that documentation takes more time than the official daily activities. Also caught up with BBS and email and tech questions, so it looks like we will be roving a bit farther south late tonight.

Friday and Saturday, October 21-22, 2016:
Much of two days (into late night) was spent reviewing our trip log from start in May 2014 to make note in the Clubs list and the Shops list of the clubs and shops we have visited. This is done to collect and add to the Shops list any shops we have visited that hadn't made the Shops lst yet. Tic marks in the lists now note the places we have been, while absence of tic marks will show places we still want to visit (some day). So far about 60% of the way through the review process (18 mo's down and 12 mo's to go), so at least one more full day will be required (whenever I can find another free day).

Sunday, October 23, 2016:
Hussling to compose our monthy trip report for the CMGC newsletter. Not quite enough time to get the photos attached when the phone calls started coming. Heading an hour south and a bit west for a return visit with Dave Daniel in Lexington, SC. Welcome is nice, but this may be a bit overboard. Time for a little follow-up work on his MG TF, as he has picked up some parts. New air cleaners first, easy enough to assemble with part in the kit, but no-go for installation for lack of the Whitworth bolts needed for attachent to the carbs. Add those to the next parts order.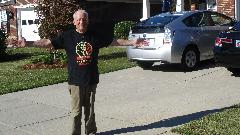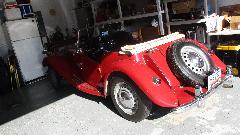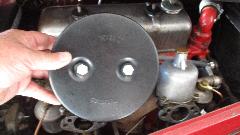 How about installing a battery cut-off switch? No go there either, as it was designed to connect on the negative battery post. We could stretch it to fit onto the larger positive post, but the ground cable clamp end could not reduce far enough to tighten onto the smaller post of the shut-off switch. Bummer. Not likely to convert this car to negative earth, but maybe consider installing the shut-off switch on the hot battery post. As the day was waning we took the TF for a short test run for evaluation. Some regular thump, bump and wobble point to need to replace the tires, which seem to be old enough to have no production date code (prior to 1990). Yeah, they're overdue. And no tail lights? Bummer. Chore for another day.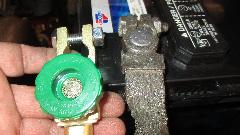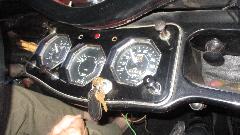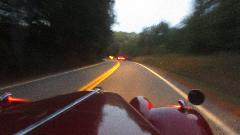 Late night WiFi was not enough time to get caught up, so editor back home is getting antsy.

Monday, October 24, 2016:
Catch up day. First priority was to finish the monthy trip report, attach a bunch of pictures, and fire it off to editor back home (a few days late but squeaked in). Then an interesting tech note about an MGA Twin Cam CKD car originally built in Mexico, currently sitting in central California, and another tech article on rebuiding door hinges.

Tuesday, October 25, 2016:
Early morning hussle over to the Walmart Superstore for an oil change. This one was substantially overdue like 5400 miles instead of the planned 4000.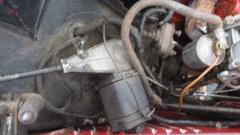 Today was the day to begin tearing into Daniel's TF. Five months earlier working on it in mid May we had nightmares over the bodged up wiring so Daniel bit the bullet and bought a new wiring harness. Today's task would be to remove the old hacked up wiring from the car. Start by dismounting the wiper motor for access to two wires on the outboard end. Some P-clips had to be dismounted, and a large number of crimped on male/female in-line connectors had to go.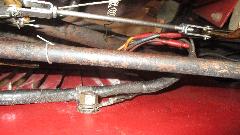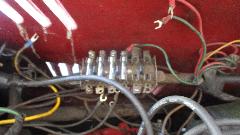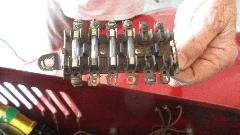 The 6-position fuse block screwed to the left side chassis brace had to go, The 4-position fuse block screwed to the left bulkhead had to go. The grounding wire screwed to the chassis number plate had to go. Pull and shove stuffing fists full of loose wires back through the bulkhead, no harness covering on any of it.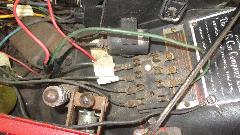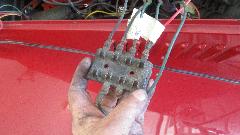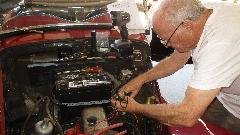 In mid afternoon a short break to order some rubber grommets and lots of wire connectors, then back to work. Dismount and pull out rear harness underneath the car. Disconnect everything in the cockpit, and pull all of the wiring out from under the dash. We finally found one inch of braided cloth harness cover under dash near the steering column, but even that ripped apart with light finger pressure. Probably not three original snap connectors in the whole car. By day's end we had a pile of tattered old wiring "junk" on the floor. The nice impression then was, this car looks so much cleaner without all that trash inside, and no more wondering which wire goes where. We are a little concerned that there don't seem to be any bulb holders on the new replacement harness, so save the old ones for now.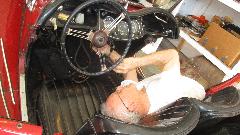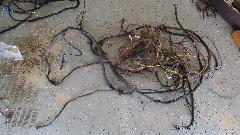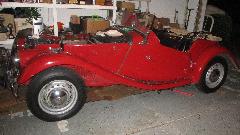 Wednesday, October 26, 2016:
Had a few of interesting discoveries today.


(1) I have wondered for about 15 years why replacement turn signal pilot lamp for MGA has 8-mm thread on the Jewel (lens) when the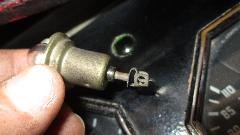 original had 9-mm thread. The answer is, the 8-mm version is a standard part for MG TD/TF cars. Not a good reason to supply the wrong part for MGA, but that's how it works.


(2) We found in the TF a couple of creative design indicator lamp sockets having a spring loaded clamp for the wire connection. Neat way to connect a wire with no tools required, and real easy to transfer these fixtures to the new wiring harness.


(3) We found a novel accessory part, a cigar lighter with built in map light. Looks like a good idea, except for the next item.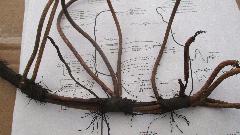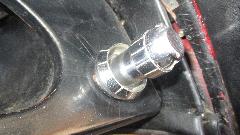 While comparing old dash harness to new dash harness, and transferring bulb sockets from old to new, we found a burned wire. This would be the 18-gauge wire normally used to connect glove-box lamps in the TF. Best guess is it was connected to that interesting map light cigar lighter and when someone pressed the lighter the high current draw fried the wire. That incident may have been the impetus for someone installing up to 10 additional fuses in the old hacked up wiring harness (just speculation).


Spent some time stripping all the new wire ends that had no terminals attached. Then a quick trip to the store to pick up a small clamp and some resin core solder, and got to work transferring bulb sockets from old dash harness to new one. Easy enough to unsolder the wire tip from old harness, slip the bulb socket onto the new wire, and resolder the wire tip (which serves as the bulb base contact). By late afternoon the new dash harness was ready to install, hanging on the face of the dash just about where it will be located behind when finally installed. While I was stripping and soldering, Dave was correcting the cooling fan that had been installed backward.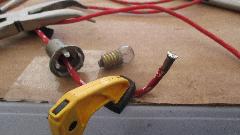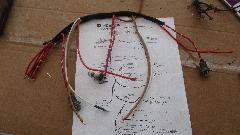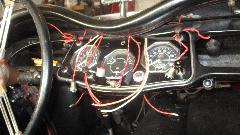 Late evening trip to parts store for a fuse holder and heavy wire to connect that novel cigar lighter. Hoping to make better progress on the harness installation tomorrow.

Thursday, October 27, 2016: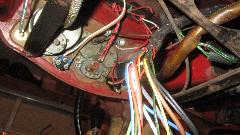 Picked up an in-line fuse and some heavy wire for the cigar lighter last night. Today the cigar lighter turned out to be duff. Bummer. Somewhat late start today, but got the small dash harness installed in short order. I carry a fair assortment of wire terminals, but it has been many years since I installed a complete wiring harness. This TF harness was missing a lot of wire end terminals, and I came up short on ring lugs for screw posts, so had to make a run to parts store for an assortment of ring lugs. Picked up a new cigar lighter at the same time. UPS delivery mid afternoon brought the firewall grommet set, good timing.


Got the main harness routed through the cockpit and into the engine bay on both sides. Finished wiring the control box and fuse box (all two fuses) less one wire that will be in the rear harness. Also the turn signal flasher and relay unit, less three wires that will be in the rear harness. Headlamp and parking lamp wiring (not part of the main harness) was pretty hacked up. After removing DPO wiring the headlight wires only needed one bullet connector while the parking lamp wires needed to be extended. That done the LF harness connections look good. Large ring lug for LF lights body ground is on the BIG fender bolt left side of photo (below right).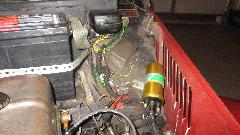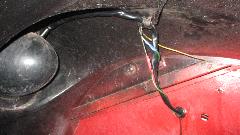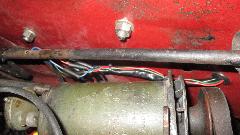 The temperature sensor pipe had copious loops along side the engine, looked a mess. Spent a little time re-routing the pipe along side the engine with a flex loop at the bulkhead, and the excess pipe pushed through the firewall (underneath the ignition coil) where excess will be wound up out of sight and out of harms way (above left).


Obvious start for tomorrow is RF lighting (will need bullets), wiper motor (once we find the wiper switch and the striped wire), and the main harness at back of dash. Then on to the rear harness. Not sure if it will get done tomorrow, as everything on this car seems to fight every step of the way with slow progress.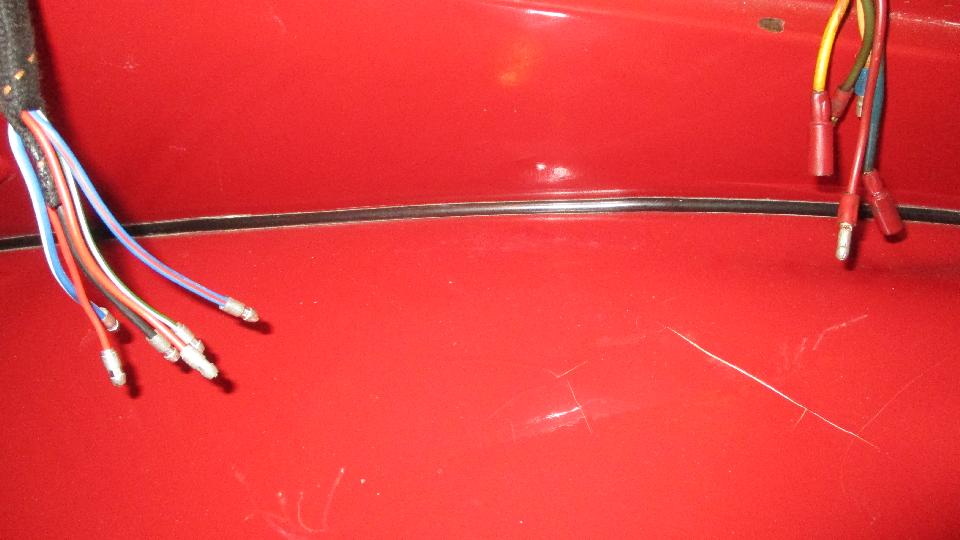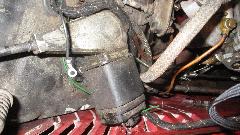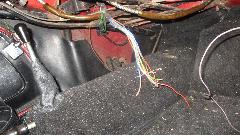 Friday, October 28, 2016: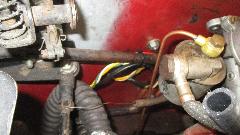 Some progress on the TF new harness today, although nothing is easy and it is slow going. The new main harness did not include sub-harness (pig-tales) for headlight and corner lamps. The LF lamp harness had been changed recently, so no problem keeping that one. The RF lamp harness had been hacked up badly when the DPO was splicing in lots of extra fuses. After removing the excess wires we set about splicing the best of the original wires back together (then order a new replacement).


The new dash harness included none of the ten bulb holders required, so we set about reclaiming most of those from the old harness. By day's end we had most of the dash harness installed except a few wires for indicator lamps (which we did not have), as well as the dipper switch and most of the main harness in the cockpit.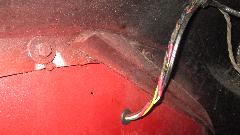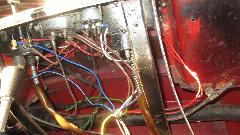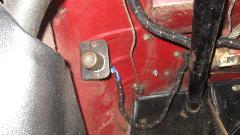 Saturday, October 29, 2016: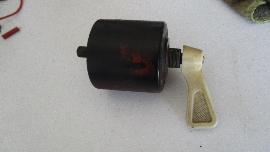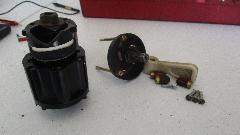 Shorter day, and somewhat of a blur (trying to recall five days in arrears). We spent some time restoring function of the pneumatic time delay turn signal switch. I'm sure there was more, but was apparently too busy to take pictures.

Sunday, October 30, 2016: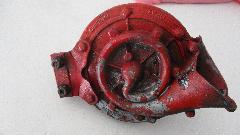 A little more progress on the TF. Dan had a new pair of cheap electric horns, but decided not to install them. The original Windtone horn still works, so that was re-installed (in spite of the fact that it has multiple cracks in the mounting brackets). Not sure exactly the original location of the harness attachments, but tie-wraps are a lot easier than original P-clips.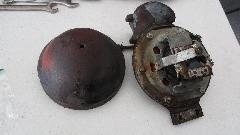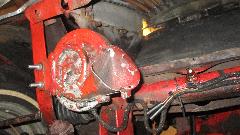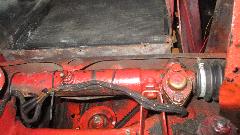 Spent some time wrapping and dressing out the temperature gauge sensor pipe and the harness in the cockpit. No rear harness yet, but at least some of the electrical stuff was beginning to function. That pile of crap under the rear end is most of the remains of the old harness.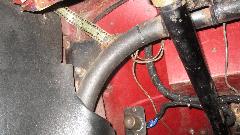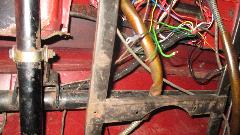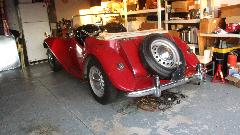 Monday, October 31, 2016: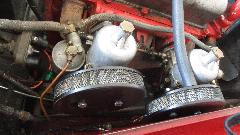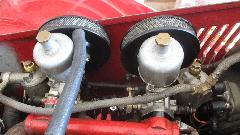 A parts order had arrived (with some Whitworth bolts), and having dressed out the front harness fairly well, we got to install the new air cleaners (beginning to get used to skinned knuckles).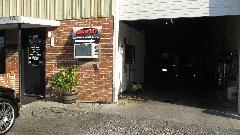 Then we took a little trip to Carolina Auto Salon in Columbia to retrieve Dave's MGA, where it had been "at the spa" for a little wash and buff. They are big on British cars here, so must add them to the Shops list. Please forgive the Packard, as some "odd" things will sneak into a high end detailing shop from time to time. But there were a Morgan Plus-4, Mogran 4-4, and a couple of Jaguar.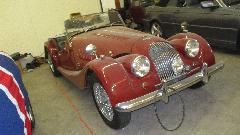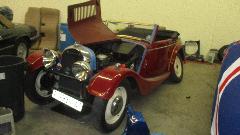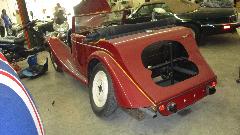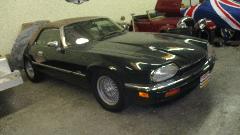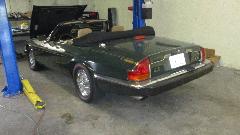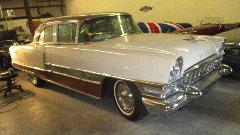 Having installed the rear harness in the TF, and putting finishing touches on the rear lamps and harness dressing, it was nice to see the sisters together again for a bit.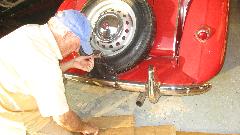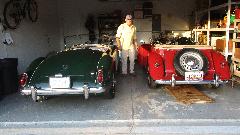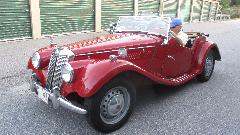 Then we were off to put the TD to sleep (temporarily) in its new bedroom (nearby storage locker).