The MGA With An Attitude


MGA Guru Is GOING MOBILE - (September 16 - September 30, 2017)


Saturday September 16, 2017:
Early start again today, heading south to Osoyoos, BC by 9am, as we had a breakfast meeting with Gary Dell, Harold Lang, and Rick Cook. These are avid MG and Brit car enthusiasts, each with a number of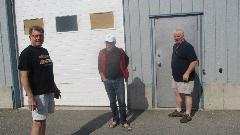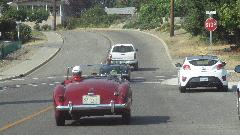 collectible cars. After breakfast we headed over to Harold's warehouse workshop where he keeps a XK120, an E-type, a Bug-eye Sprite and a few other interesting non-British cars. Sorry, but no pictures this time.
Then we were off to see some of Gary's toys. You may ignore the '68 Chevelle 490-CID drag car (if you can). No one can ignore the very original period correct Lucas driving lamps.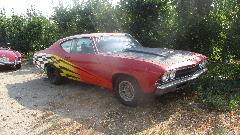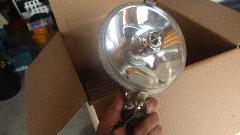 Then came some left over parts from Gary's MGA Twin Cam ex-race car. The oversize fuel tank (and matching boot lid) were remnants of some long distance rally days. The pistons are 1600 and Twin Cam competition parts (both with proud scars form past battles). The Twin Cam cylinder head is an early model with tappet liners added before the factory got around to it.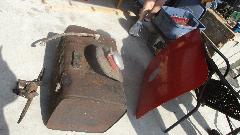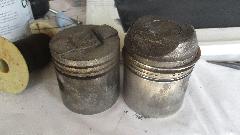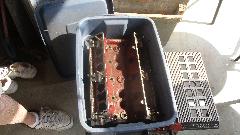 Next up was an early Twin Cam in 1500 type body without the (later) removable inner fender panels.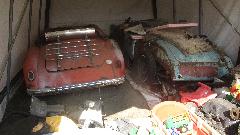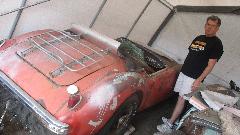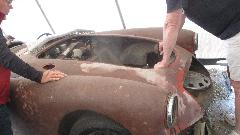 The louvered bonnet and the boot lid had the inner braces removed for lightening. The center tunnel seems to be a mismatched part, having spot welded tunnel cover it would be from a much earlier 1500 car.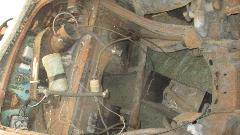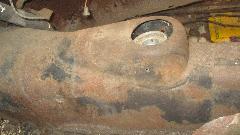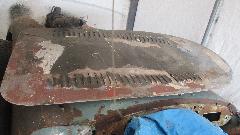 A couple spare Twin Cam gearboxes, and a nice photo from their younger days. The green car is a car that was converted from a 1600-MK-II type car into a Twin Cam. This was done by transferring all of the Twin Cam specific parts from a real Twin Cam, moving the radiator and steering rack mounts forward, and remodeling the heater shelf to accept the Twin Cam heater.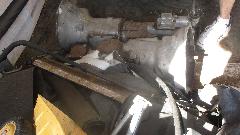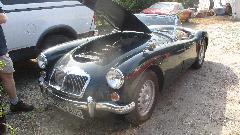 Later on the Twin Cam engine was replaced with an early MGB 1800 3-main bearing engine but the rest of the Twin Cam conversion features remain (including the now inconvenient left handed heater box).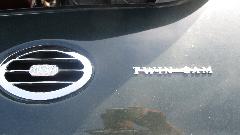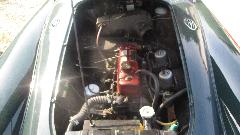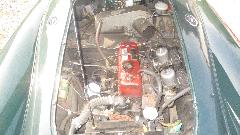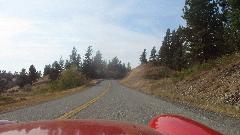 All the chat ran a lot longer than intended, but by 3-pm we were heading north with determination and a heavy foot. At 6-pm sharp we landed in Kamloops, BC for a visit with Ken and Lorraine Finnigan. The open garage greeted us with an MGA Coupe, MGA Roadster, and an award winning MG TD. We had some nice chat time, and dinner, and a quick look at a beautiful Austin Healey 3000 nearing end of restoration.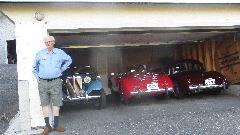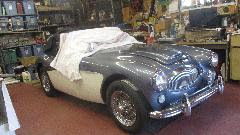 Sunday September 17, 2017: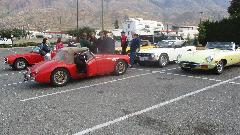 Start the day with a 10-am meeting with Old English Car Club, Kamloops branch, in Kamloops, BC. There was a very brief drivers meeting, and off we went with eight cars for a 50 mile express run to Vernon, BC, for a rendezvous with more than a dozen cars from Okanagon British Car Club from Kelowna, BC. In a bit of a rush we blew right past the rendezvous point an let the others catch up.

When the rallymaster in the lead car misses the very first turn, you may have a few concerns. Then when some folks get their heads together to discuss a road closed sign, you may have a few more doubts. But when we dead end into the cement barricades at a closed bridge, all doubts are removed.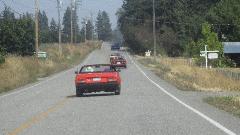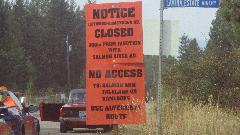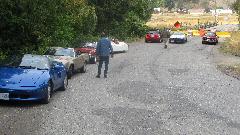 After 60 miles or so through some nifty back mountain roads we ultimately arrived at Barley Station Brew Pub in Salmon Arm, BC, where we met some more people with a few more British cars (and maybe a few that weren't British). Once inside it was reported to be 51 people for lunch.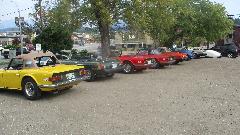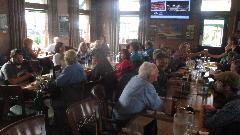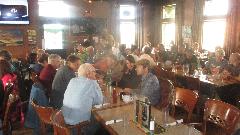 After lunch the gang rolled over to a local park to line up for a photo-op. The stand out rare car today was a TVR Grantura.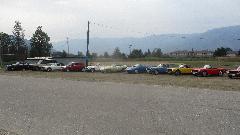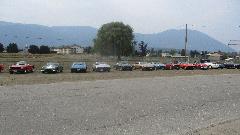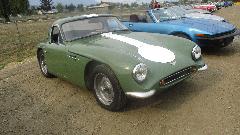 The return trip began on more nice mountain back roads, until the first casualty of the trip stopped a modern Range Rover. Not too serious, ignition light on, not charging, but he can make it home on battery. As the tour ran on cars began dropping out to head home in various directions. Passing the day's starting point we were left following three TR6-s, which sequentially pealed off in three different directions, at which time we made a U-turn and headed back to Finnigan's place in Kamloops.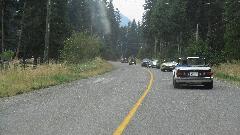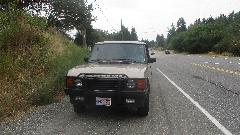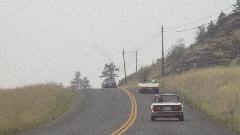 Monday September 18, 2017:
This morning we took a walk around Ken Finnigan's back lot for a peek at some of his hidden treasures he has been accumulating for decades. The two-tone MG ZA Magnette is running and drivable, used to be Ken's daily driver for many years. The Magnette missing a grille and headlight is otherwise pretty much complete and can run, but may need some work to be drivable. The remaining Magnette is missing engine and gearbox, but there may be parts for that. Ken would like to sell these three cars together.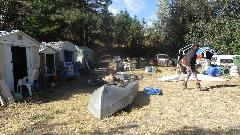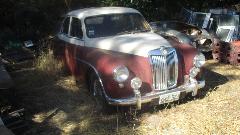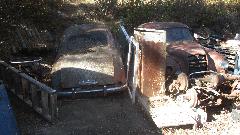 Under the truck cap is an MGA rolling chassis. Under the buckets are four gearboxes, one MGB 3-synchro 4-speed, two MGA mid 1500 style, and one 3-speed side shifter I can't identify (possibly a Riley or Nash Metropolitan). There are some MGA doors, and big Healey brake drums.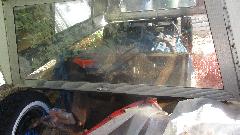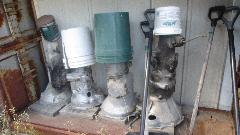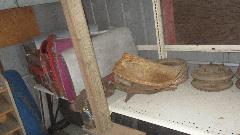 More MGA doors, differentials, shock absorbers, lots of suspension parts, lots of wheels and doors, and a variety of original bumpers that may be good for re-chroming.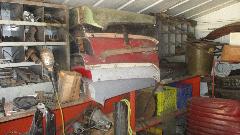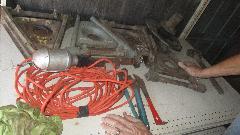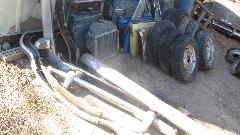 There were lots of miscellaneous parts too numerous to list, a few windscreen frames, and some rare Healey body trim parts. Since I know a little something about air compressors, I had to ask about this one. It is a 2-stage 3-HP industrial model that not only works but will likely outlive all of us. Not sure if that one is for sale, still in use.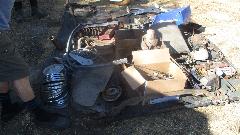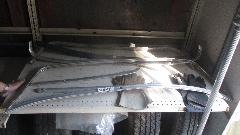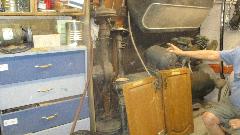 Due to his age and a few health issues Ken is down sizing his operations, so most of what you see in these pictures is available. If interested, contact Ken Finnigan, email: klfinn-at-telus-dot-net, Phone: 250-573-5222.


By mid day we were off and running again, one stop for WiFi work, and one tank of gas farther north and east for a late night stop on Trans-Canada 16E (Yellowknife Highway) a bit shy of the BC/AB provincial border.

Tuesday September 19, 2017: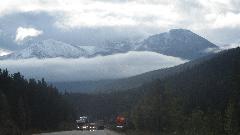 Good morning, such wonderful scenery in the mountains, eastbound on 16E still in British Columbia. Postcard, anyone? This picture looks like a painting. Crossing the provincial line today, and a time zone change, we landed in Hinton, Alberta for lunch and WiFi. Spent half a day catching up on a 5 or 6 day backlog of photos an notes, and a few days worth of email and tech questions. Back on the road at 10-pm, another hour and a half east, stopped 75 miles shy of Edmonton, AB, around midnight.

Wednesday September 20, 2017: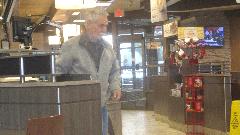 Continued east, landing in Edmonton before lunch. Soon we had a walk-in, say hello to Gary MacMillan in Edmonton, AB. He has an MGA Twin Cam (with 1500 engine) that ran when parked in 1968, now apparently very well buried in its garage.


On appointment we arrived 7-pm at Royal Alberta Museum in Edmonton, AB, for meeting with Edmonton Classic Sports Car Club. About 20 people here, each one called in turn to name their current project. I was a bit surprised to find that nearly everyone had at least one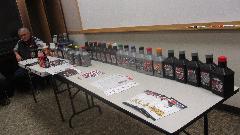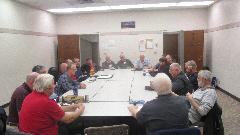 British car. When I asked about the club name, they said it has some non-British cars as well. So were those other members not here, or were some of these guys just not talking about their other non-British cars? Some of each, but these guys just seem to prefer chatting about their British cars. Conclusion is, I'm glad we stopped in to visit this club, even though it doesn't have "MG" or "British" in its name. Aside from normal club business, the MGA guru was asked to do a few minutes about our ventures. The guys anted up the names of half a dozen shops in the area. And there was a programmed presentation by AMSOIL representatives.


Following some chat after the meeting, as we were flipping a coin to decide if we might head south tonight due to impending cold weather and possible snow, we got an invite to stay over with a friend. Well, okay.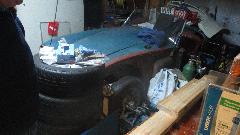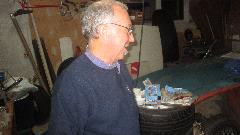 That tips the coin in favor of staying over, and maybe visiting some of the newly listed shops, as opposed to catching them on a return visit in the Spring. So several miles down to the south side of Edmonton we stopped for a visit with Dean Wray. He has an MGA smack in the middle of restoration work. Maybe best to take this up in the morning. In the end, a really late night into the the small hours of the morning catching up photos and notes for the past few days.

Thursday September 21, 2017:
Sometimes things work out okay. Today we have a list of several new shops we didn't know existed the day before. And we were still in the Edmonton area, so off to a fairly early start today.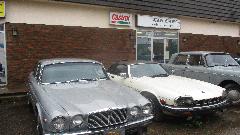 First up was Sovereign Automotive Inc, Jaguar-Daimler service in Edmonton. Say hello to Stuart J. Graham. You may see they do a bit more than just Jaguar and Daimler, as there were an MG and a Triumph in the shop today.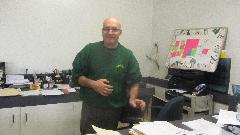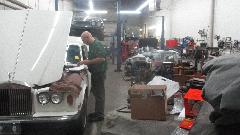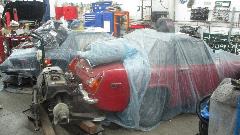 Then on to Miles Import Car Center, and Brit Bits Inc in Edmonton. Hello Ken Miles. Brit Bits is technically a separate business in the same building, handing sales of British car parts. Miles Import is the service shop handling full service and restoration work.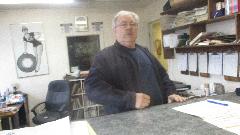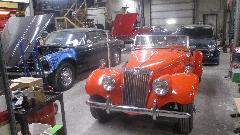 Ford Prefect 1.17-Litre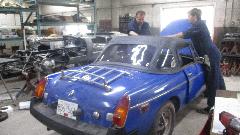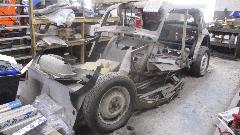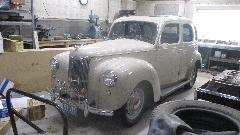 The pink TD shall remain pink, just because it's too good to repaint.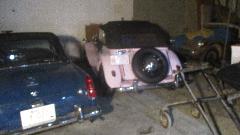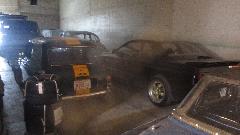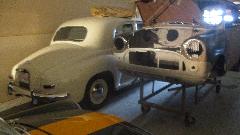 Next up was Sports Car Centre in Edmonton. Having accidentally punched the home address into the GPS, we got to visit the MGB GT first (when no one was home). Back in town. meet Bert van Reil, the handsome bloke with the large mustache.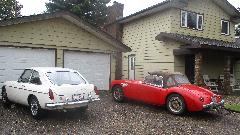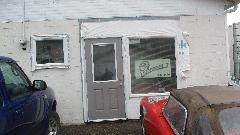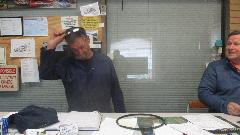 Bert would like to remind us that they are regional distributors for Penrite oils and also Vredestein tires.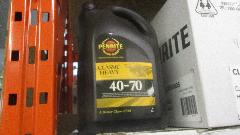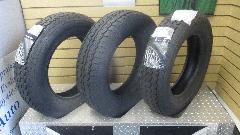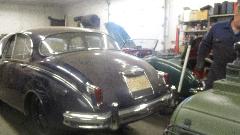 In the shop they are busy servicing and restoring all things British (at least things with wheels).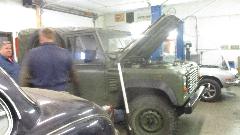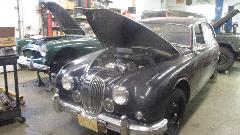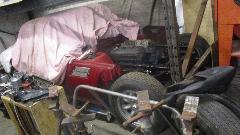 Then we had a longer trip into the country (including some wet and muddy side roads) to visit Bill Muller of Carola Radio (still Edmonton address). Bill is a veteran radio repair expert.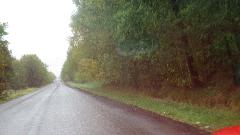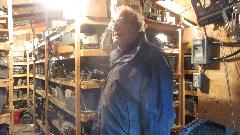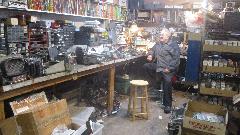 Near as I can tell, he must have at least one of every car radio ever built, thousands of them.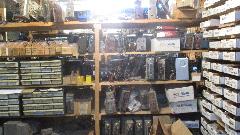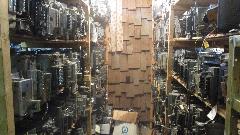 The basement is full, three workshops are full, the delivery truck is full, and a few more storage buildings are full of radios. If you need a vintage radio, or need one repaired, give this guy a call.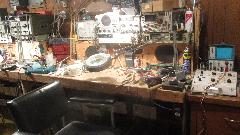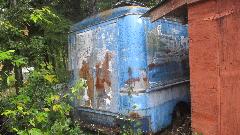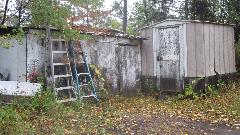 Then some more wet roads getting to Collingwood Motion Ltd. Phil Johnson is a veteran panel beater. Today he was working on an insurance job with nose repair for a very valuable early Jaguar E-type. The Morgan is his personal project, often superseded by (too much) customer work.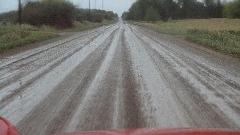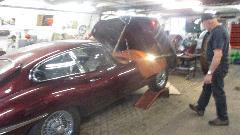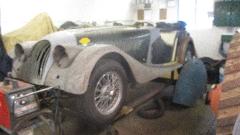 In some storage lockers we found an MGB, MGTD, MGB GT - two TR3, and MGB race car. The Austin Utility van is coming along nicely (maybe slowly), often being used for club tech sessions for sheet metal fitting.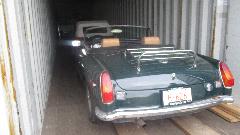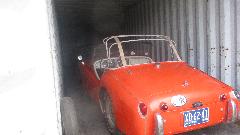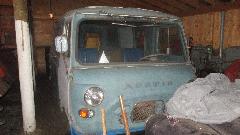 The red fiberglass car is an Israli built Sabra, similar to the one we found at Chequered Flag Racing in Chatsworth, California. The MG ZB Magnette may be farther forward in the service queue.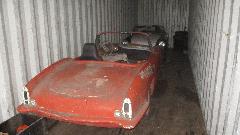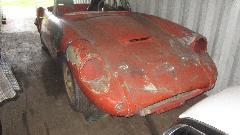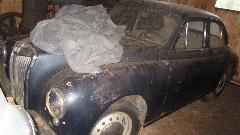 As an aside, Phil also has a rather large collection of antique tractors, steel wheels are favored, rubber tires maybe not considered as antique. The blue one is a Fiat the rusty one Allis-Chalmers, while several more pictured in the shed are just the tip of the iceberg.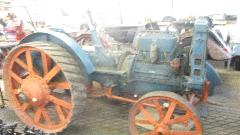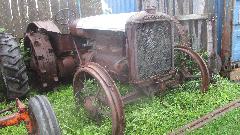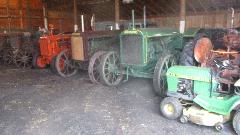 In the evening, on the third try, we missed Scott Lawrence of Spruce Grove, AB (southwest corner of Edmonton, AB). Story is he fixes everything, but loves British cars. Unfortunately, he is a busy guy these days, holding a college tech class aside from his car business. But we did have a good late night telephone interview. Yes, he is still doing some customer work on vintage British cars.

Friday September 22, 2017:
The next day we were heading south, stopping for a bit in Red Deer, AB for a long overdue oil change in the MGA, then on with a vengeance. We were trying to make an appointed time with British Cars International on the northwest rural corner of Calgary, AB. Arriving at 5-pm he was just leaving (having expected us at 3-pm, oops). But he was kind enough to turn around and give us a tour of is shop and warehouse. Did I mention he builds engines? The MG Midget is a personal project with way too much money in it, but it will ultimately be a very fast race car.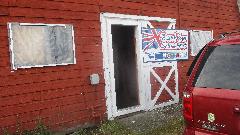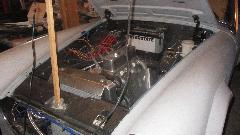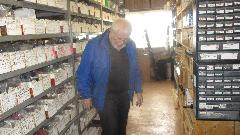 This guy has a decades long collection of British car parts, lots of new old stock parts and some recent reproduction sheet metal panels radiators, you name it he likely has it.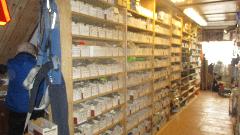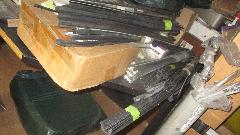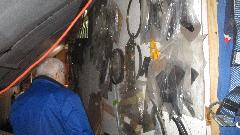 Oh yes, that big red barn? That's full of British car parts too.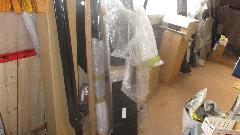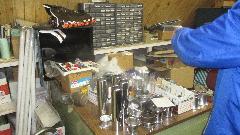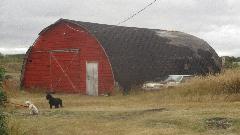 Another bit of luck, after a few tries over several weeks time we finally connected (in the evening) with Duncan MacFarlane in Calgary, BC. His MGA 1600 was running a little rough, and rattling rather loudly.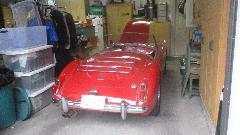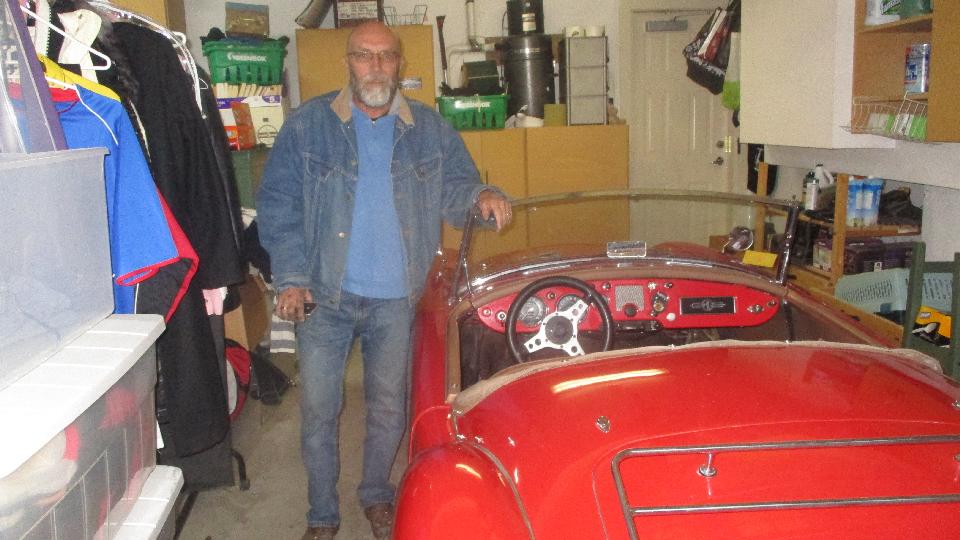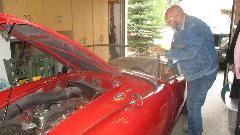 Valve lash was opened up between 1 to 1-1/2 turns for each valve, 4 to 6 times the specification, or in the range of 0.060-0.090 inch clearance. (Wow)! We wound them all down to 0.015 and installed new rubber grommets and cup washers on the valve cover, after which it sounded like eight industrial sewing machines as it should. Put oil in the dashpot dampers and adjusted the carbs, and it runs like a top (insert owner's big grin here). Small rumble at front of engine traced to slightly loose bearings in the water pump, so put one of those on order. Also turn the backward fan blade around and straighten one blade while changing the water pump.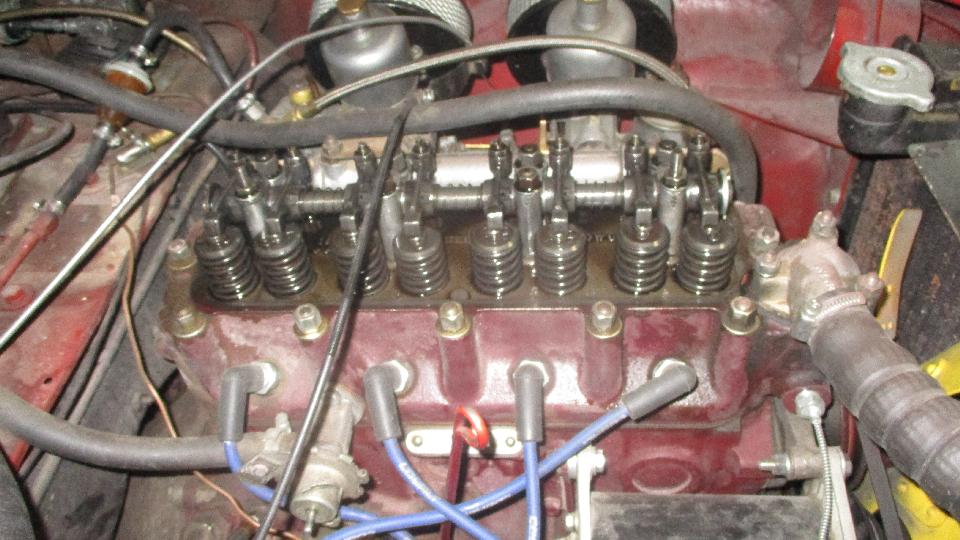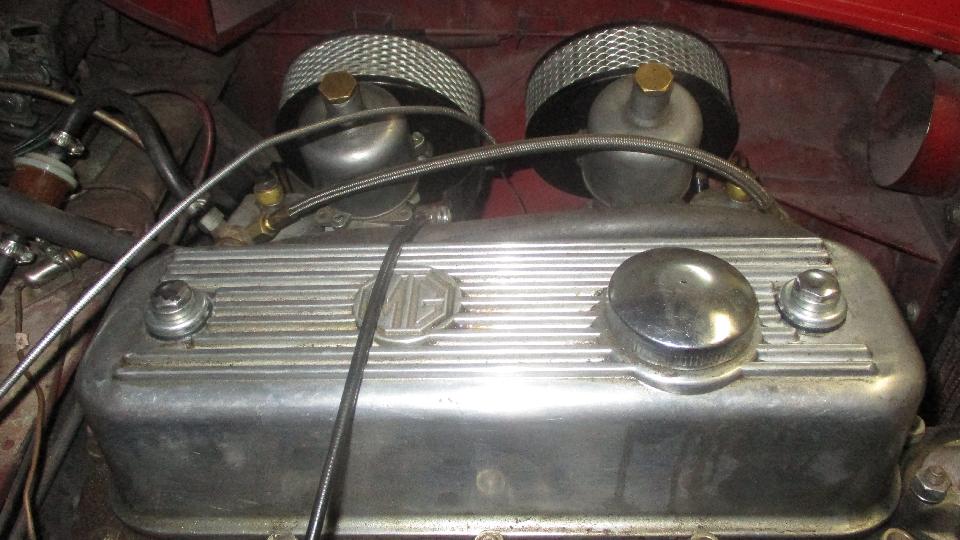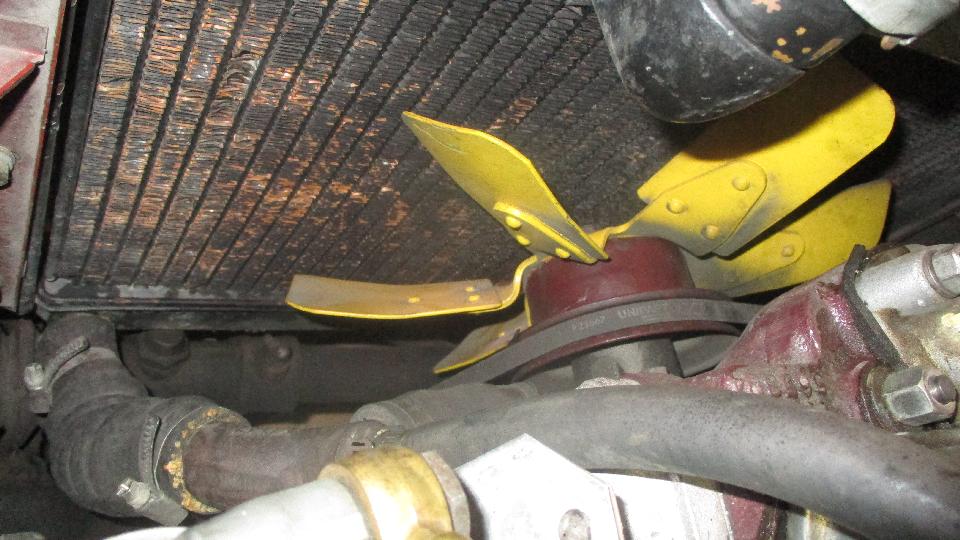 Duncan had some appointment with his wife, so we headed for local pizza joint for dinner. Just ordered food when the phone rang with an invite to return to Doug's place for a night over, which we did a bit later. Getting farther behind schedule, it seemed like a good idea, as opposed to driving a few more hours in late night.

Saturday September 23, 2017:
Today we were off a few hours farther down Canada 1 to visit Vintage British Cables in Medicine Hat, AB. Say hello to Andy Henderson. For us car buffs, the important business here is assembling cables for speedometer and tachometer drive, for which he may be able to provide copies of nearly any drive cable ever made, including gray jacket cables original for MGA.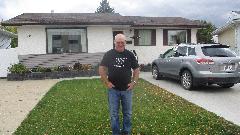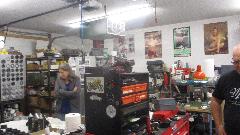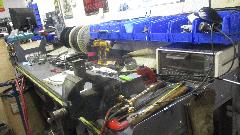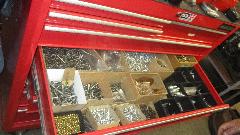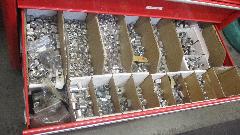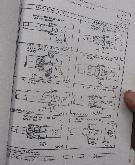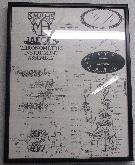 I had a nice primer course on function of chronometric instruments.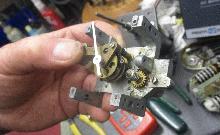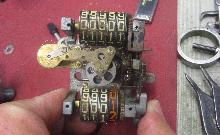 Andy has recently ceased working on Jaeger and Smiths automobile instruments, but does still rebuild motorcycle instruments. And he has a number of his personal toys in another shop space.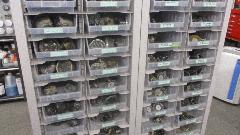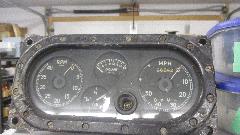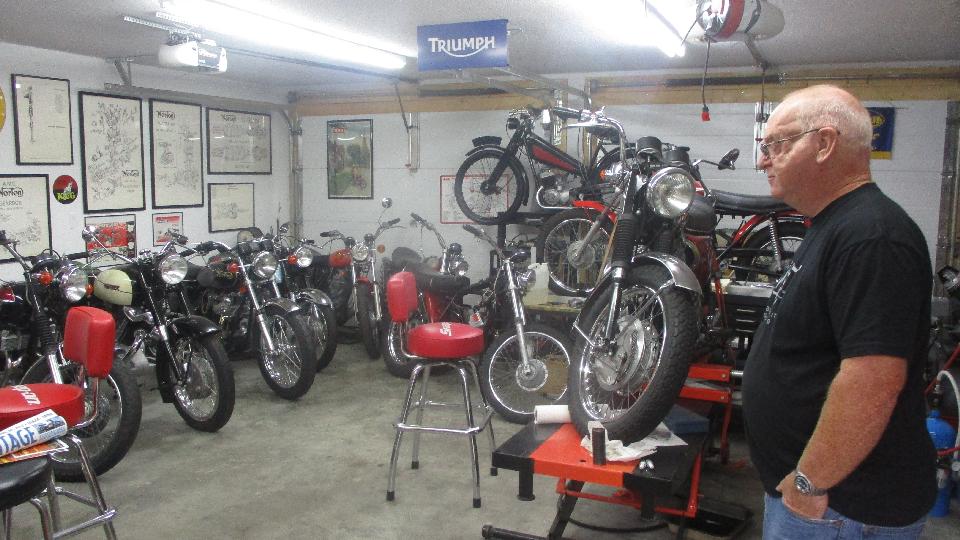 With a bit of daylight left I took the opportunity to borrow a floor jack to pull my MGA wheels and adjust the brakes. Also time to investigate a slow leak in one tire, which tuned out to be leaking around the plug I had installed in one of the Alaska/Nankang tires back on August 6. Fresh plug and ready to roll again.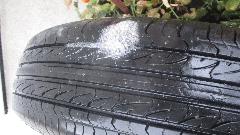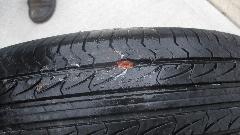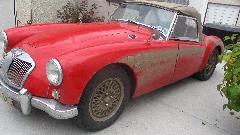 After dinner, head east on Rt-1 again. Albert had rest stops every 30 to 40 miles, but Saskatchewan had none. Four hours up the road we found a visitors center (closed) in Moose Jaw, SK in the small hours of the morning.

Sunday September 24, 2017:
Overslept slightly, so haul ass 42 miles up the expressway, and another 4 miles to the center of Regina, SK, for a breakfast meeting with the Jagnuts club. This has lots of other British cars including a number of MGs. We had a dozen people and lots of interesting chat, followed by some tire kicking in the car park.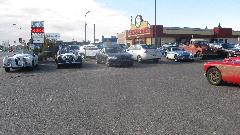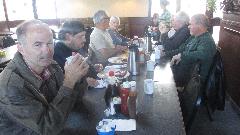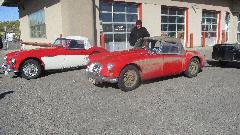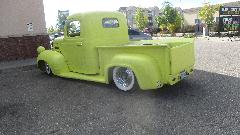 Had to grouse around a bit to find a WiFI spot with a power outlet, then spent the rest of the day catching up a couple days of email and tech questions, and some of the 4-day backlog of photos and notes. Pondering what may be happening back in Chicago where Editor's computer broke and left the club without a September newsletter. Now time to send our Trip report for the October issue. Don't know if he will print two issues at once, or cram two months of news into a larger single issue.

Monday September 25, 2017:
I think we were supposed to have a mid day appointment, but must have lost an email message, so that one evaporated. But we did catch the 3-pm appointment with Gary Michael in Regina, SK. He has an early 1959 MGA with the 15GB engine, original "1600" type wheels, and a couple other toys. Also a couple more friends and local club members dropped in to chat cars for a while.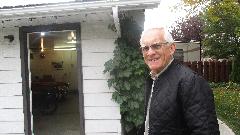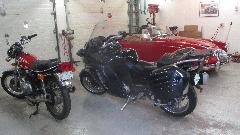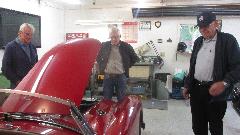 One of the friends had this 1975 MGB that had been chromed and lowered in front. The duck-tail spoiler was a commercial accessory for a short time a few years earlier (apparently a bit of a pain to make it fit). Interesting arrangement for cross flow aluminum cylinder head, dual Weber DCOE40 carburetors, cold air intake, K&N air filter, tubular extractors, aluminum radiator. The electric fan was required when the original mechanical fan didn't fit in the space allowed.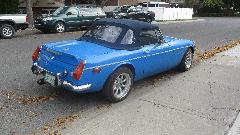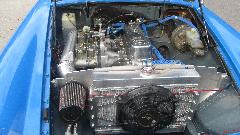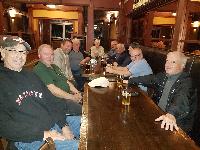 We had an evening meeting with Saskatchewan British Car Club, Southern Division. About a dozen guys here for dinner and extended chat that never turned into a formal business meeting, but was a good time regardless. This resulted in a late night appointment, and two more appointments for the following day. Some consideration of possibly running up to Saskatoon in a day or two to visit the home division of the club and a few car owners. Story there is that the club folks often serve as a local service shop for the vintage cars, which might be a new experience to behold.


After the club meeting we had an invite to stay the night from Bob Burton in Regina, SK. He has (reportedly) 1-1/2 TR8's and 1-1/2 Spitfire's. Unfortunately we were late night checking in, and early checking out the next day, so didn't get to scratch and sniff the cars, and got no pictures. Maybe later?

Tuesday September 26, 2017: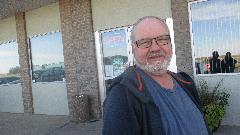 Morning appointment today was with Wayne Chater in White City, SK. He has two MGA, one being a 1500 that in spite of peeling paint is in fairly good structural condition. The other is a Twin Cam with pushrod engine, and structurally pretty bad condition. Some discussion ensued about the possibility of transferring most of the Twin Cam specific parts to the 1500 car to construct a quasi-Twin Cam. That would be a rather heavy undertaking that may not be worth the effort.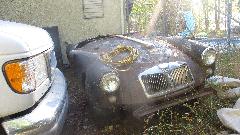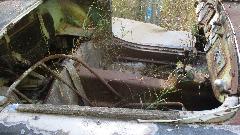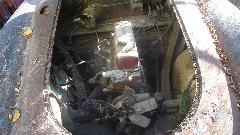 The Twin Cam car on the other hand may be good for sale for restoration (just because it is a Twin Cam).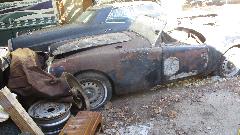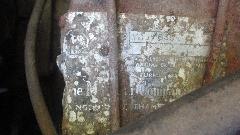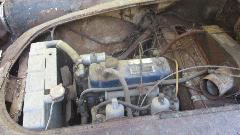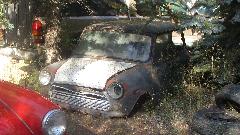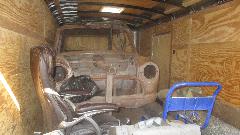 The forlorn Mini parts car was purchased for the front subframe, and needs to go away. The Mini in the box trailer is well on its journey to restoration.
Our little project today was an effort to disassemble an MGA steering column. This was the first step in restoration of the MGA 1500, and it was not going well. The felt bushings had hard dried oil or grease in the felt causing them to bind firmly to the shaft and tube. We cut a pair of hardwood plates with pilot holes to support the tube ends while hammering on opposite end of the shaft. Two pound hammer didn't work. Five pound hammer moved the shaft a quarter inch before it bound up again, but it was far enough to remove the key from the spline joint. Lacquer thinner would not soak into the caked up felt. Looks like the next attempt will involve heat.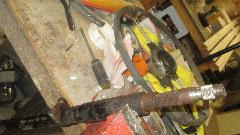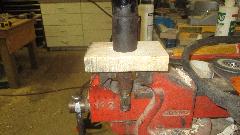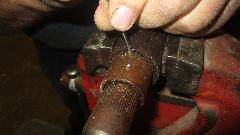 Early afternoon appointment was a stop to see Rafe O'Connor in Regina, SK. He had a 1967 MGB with carburetor problems. Mostly it was running much too lean on both carbs, so a little mixture adjustment and air flow balancing got it running well.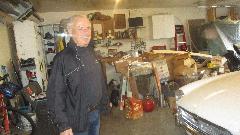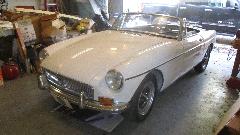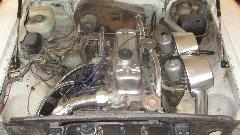 Then to investigate why the electric tachometer didn't work. The car had been converted to negative earth when a modern electronic radio was installed, and the tach hadn't worked since. There was some previous effort to change polarity of the tach, so I looked behind the dash. I immediately found the plastic block and metal clip for the white wire induction loop were missing, and the white wire had been twisted together so the ignition circuit would work. The plastic block with a short wire loop was found, somewhere, but the clip was no where to be found. There are drawings on my web site for the block and clip, so Rafe should be able to make a new clip.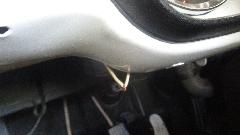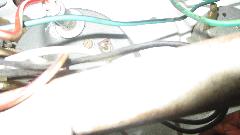 Enough for one day. Rafe had to get back to work, and we had to get back to WiFI. Sitting late night I have finally gotten caught up with five days backlog of photos and notes, so it is good that you are reviewing the efforts. Good night all.

Wednesday September 27, 2017:
Slept late, day off, looking to the east for club events and schedules. no appointments, but we'll find some.

Thursday September 28, 2017:
If nothing else was done today, at last I got the monthly report fired off to the Chicago club. Looks like editor is going to produce a double issue to make up for none last month due to a computer crash. -- Late light travel a few hours east put us just across the provinial line from Saskatchewan into Manitoba (about 2-am)

Friday September 29, 2017:
Prepared for an appointment in Alexander, MB, email and phone calls for two days, no response. Hang out in a WIFi spot most of the day. Passing by the place any way, so we stopped to knock on the door, but no one home. Sent him another email, maybe catch him later. Roll on into Winnipeg, MB late night.

Saturday September 30, 2017: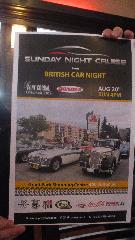 Breakfast meeting with Triumph Drivers Club of Manitoba in Winnipeg, MB. Yes, I know, but there is no MG club here, and no British car club, but the TR club does have other British cars in it, including MGs. Lots of good tech chat anyway. Then they hauled out a poster from a cruise night in town featuring British cars. Picked up names of two shops in the area that we will have to visit come Monday.