The MGA With An Attitude
Body Sill Replacement - RT-601
Project for Winter 2007-2008
First disassembly, doors, seats and trim - 23-24 Nov 07
When I bought this car in 1977 it was a mere 20 years old, not very rusty with 150,000 miles. It had been pranged and pulled out and bondoed and repainted a couple of times, and was pretty well clapped out and used up. At the time I may have been a little short-sited when I proudly determined that I would restore it well enough to last another 20 to 30 years. Well, that was 30 years ago. A full restoration spanned nine years (with lots of delays), finished and back on the road in late 1986. This included stripping to bare metal, a couple coats of brush applied epoxy paint on the entire underbody, and Waxoil inside the box sections.

Eleven years and 124,000 miles later it was laid up for a few months in early spring 1998 to bang out a few dents, R & R outer panels and repaint, getting a new top, tonneau cover and carpet in the process. That was only a skin deep cosmetic make over.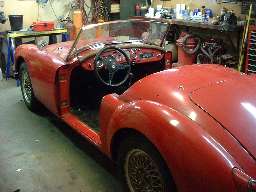 Now another 10 years and 90,000 miles on it is time for a little body restoration work. The frame and floor are in excellent condition needing nothing. The outer body is in reasonable condition, perhaps needing just a little touch up in the lower fender areas. The outer rocker panels appear to be spotless, having been epoxy painted inside many years ago (but appearances can be deceiving). The inner sills have finally turned largely to rust dust and good old Illinois air, having rusted from inside out. Apparently Waxoil is not forever. It is rather hard to complain, figuring the original body has carried it through 50 years and 364,000 miles with very little welding work. But now it is time for some serious cut and weld to replace the inner sills before they get any worse.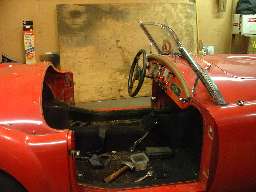 These pictures and pages will follow the work as it progresses. I expect to work on it almost daily doing disassembly, cutting and welding with body in situ. When the inner sills have new sheet metal installed, then the body will come off for complete underbody painting and perhaps a little paint touch up on the frame. The plan is to have it back together with fresh paint and back on the road by April 15, 2008. That's only 4-1/2 months, but I have been here before, have a fair idea how much work is involved, and I will allocate as much time and effort as is necessary. I'm pretty sure it will finish on time, because I'm stubborn and persistent, and I don't intend to make a career out of this "little" body sills project.

So here are the first pictures, just to wet the appetite. Disassembly is well under way with removal of rag top, seats, all interior panels, doors, and most of the cockpit trim rails. Most of the screws came out easy due to generous application of anti-seize on a prior pass. I expect to post more pictures on a weekly basis to follow the work. If all goes well this experience should spawn some more tech pages and tips on body restoration. Stay tuned for the progress reports. (25 Nov 07)

Visitors and extra helping hands are welcome almost any time.
Barney Gaylord - barneymg@mgaguru.com - (630) 946-3841
25W151 Lacey Avenue, Naperville, Illinois 60563

Demolition work is easy. Putting it back together is the tough part.
Click the green arrows to turn pages and follow the progress.