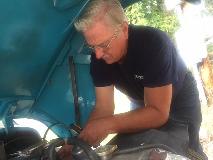 INDEX to All Tech Items On This Site
The links below expand into over 3000 pages on site, plus hundreds of off site links, with picture tours of many of the special operations.
If you would like to see additional tech information on this site, let me know. Most of the information here was created because someone asked for it. I do not intend to repeat information that can be found in the traditional workshop manuals. I try to include any MGA tech information that is unique, not generally found through traditional sources.
This is the Abbreviated MG Tech Index. Click on a topic for an expanded index of those articles, or go to the Fully Expanded MG Tech Index on the next page.