The MGA With An Attitude
CECIL KIMBER ENTHUSIAST AWARD
M.G. Drivers Club of North America - August 11, 2007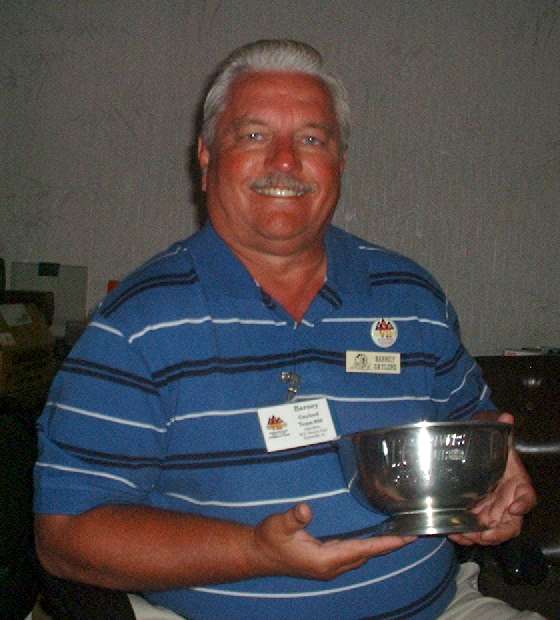 Barney Gaylord with the 2007 Cecil Kimber Enthusiast Award
The grin is from enthusiasm. - The sun tan is from driving the MGA.
I don't pose for a mug shot very often, but this one is special. I've always said if you hang around and make an ass of yourself long enough, sooner or later someone will hand you a trophy. It's just that some trophies are more significant than others, and this one is really sweet. It is largely a reflection of the world wide community of MG enthusiasts who visit this web site, ask questions, prompt me to post more tech pages, and then stand up and cheer.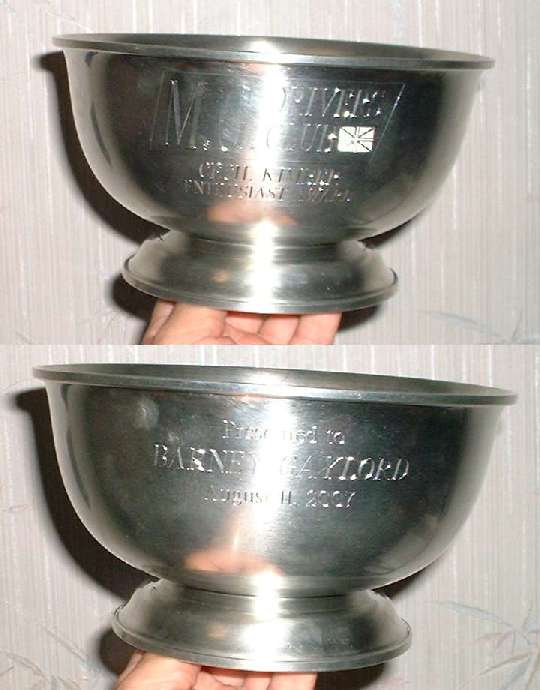 The Cup


The Cecil Kimber Enthusiast Award is presented annually by the M.G. Drivers Club of North America in recognition of, well, spirit and support of the M.G. marque I suppose, but in general, enthusiasm for M.G., and maybe some contribution to the M.G. community at large. This one landed in my hands in a round about manner, and I will forever be in awe and appreciation of the way it happened. In the fall of 2006 a solicitation was issued by M.G. Drivers Club for nominations for the 2007 award. Someone on the MGA BBS picked up on it and suggested that it might be nice to nominate me for this award. Apparently some other people were inclined to agree, and the M.G. Drivers Club was promptly inundated with as many as 200 e-mail nominations in 36 hours, sent from all around the world. I think the rest was a foregone conclusion that it had to happen.

I understand my enthusiasm for one MGA and the love of driving it, but why would so many other people be hooked into my personal addiction? In the mid 90's I was an active participant on the mgs e-mail list, as it seemed like an interesting coalition of MG enthusiasts. Some discussion on that list brought me to take an MGA trip to Alaska in 1997. This web site was started in late 1997 to post pictures from that trip.

Meanwhile I happen to like helping people do a little wrenching to keep MGs on the road. When tech questions might appear on the e-mail list I would occasionally respond with an answer based on my experience through the School of Hard Knocks. When some questions came up more than once it was convenient, and time saving, to post the answer on a web page, so more people might not have to ask the same question. I soon discovered that I might help more people with their MG maintenance and restoration issues through the web site than I ever could by wrenching on one car at a time. On popular demand I came to be the "clerk" to post the growing list of FAQ's. As several years have passed the number of tech pages has grown with the number of questions asked. When time allows I may also do a bit of research to collect more MG related information to post. At some point the web site reached a sort of critical mass, as some visitors began submitting additional information for posting, and the site truly became a result of worldwide cooperation.

At last count there are more than 1300 web pages of MG tech information here. On last check of statistics (July 2007) MGAguru.com was serving 1900 visitors per day and 140,000 page views per month. That's rather amazing, considering there were only 100,000 MGA produced 45 to 50 years earlier. If half of those cars still exist somewhere (optimistically), then on average the web site gets a visit from every MGA owner once a month (or more). Actually it is a smaller number of owners but more visits each month, and lots of visits from non-MGA owners.

I get some feel for where this traffic is coming from by requesting a visitor's geographical location in the web based mail form. As it happens, this is a world wide interest group, and thousands of different people have contributed to its growth through questions, contributions, and visits. So I figure the web site correctly belongs to the worldwide population of MG enthusiasts who participate here, and credit for the recent MG Enthusiast Award should be shared by everyone contributing to the success of this web site. If you are reading this you are a visitor, an MG enthusiast, a contributor to this web site, and partly to credit for the recent Cecil Kimber Enthusiast Award. So congratulate yourself, and hoist a cold one in toast for worldwide MG enthusiasm.