The MGA With An Attitude
PAINT COLORS, NON-STANDARD for MGA - PT-150W
WOODLANDS GREEN
This color gets a special page of its own. Even though it is a non-standard color for MGA, a couple of MGA were actually painted this color by the factory on special order. The color was surely used earlier on MG TC and TD. I thought it was a standard color for Austin Healey at the time, and those cars were assembled in the same building with MGA, so it was an easy reach across the isle to borrow the color (so to speak).


Rutger Booy - <!-rutgerbooy at rutgerbooy.nl-> in the Netherlands wrote:
"I found this picture of Mike Ellman-Brown's first MGA. All his cars were painted Woodlands Green, an MG TC color".

The car was purchased in 1956 by Michael Ellman-Brown, originally registered as JJ88. This MGA is currently being restored.
See Facebook: www.facebook.com/mgaroadster1956

Michael Ellman-Brown also bought MGA Twin Cam YD1/2611, the last Twin Cam, built several months after production was to cease. Finished in the special order, it was also painted Woodlands Green with Green/Beige interior colors. That car is still in the U.K.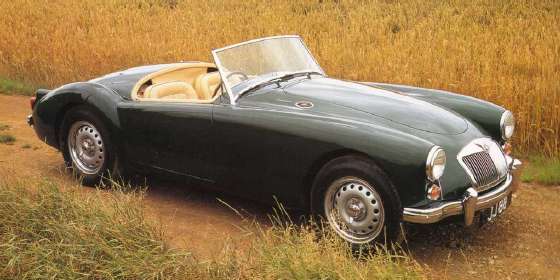 More information about this car on website of the Dutch MGA Register.