The MGA With An Attitude

PAINT COLORS, NON-STANDARD for MGA - PT-150D
DARK COLORS
Dark colors (currently) seem to look rather good on MGA. This includes Dark Green and Red (other pages).

---
Burgandy: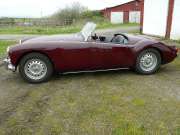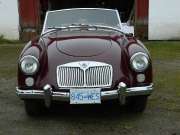 I call it Burgandy. The actual color is "Concept DDC 74021" from PPG Paints, distributed in Canada by Lordco. -- Pics from "Martin" <!-mog57maz at hotmail.com-> in western Canada.

---
Chocolate:

---
Lapis Blue: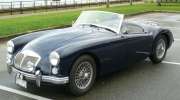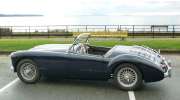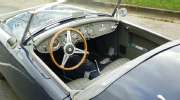 Tony Cox: Dupont/Nason urethane paint, WB1471B, BMW code 173, Year 1983. Lapis Blue. Interior is Grey Trim with Navy Blue carpet.

---
Midnight Blue:


Gil Dupre in Chattanooga, TN, USA

---
Body: Mineral Blue; Wheels: Silver; Seats: Grey/Grey; Panels: Grey; Door panel piping: Grey; Door capping, Dash panel, Parcel rail: Grey; Dash top, Parcel shelf: Blue; Dash trim roll, Door seals: Blue; Roof lining: Off White; Carpeting: Grey; Spare wheel cover: Grey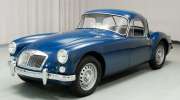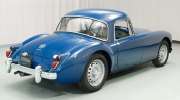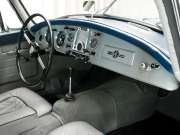 Nice pictures. Too bad it's a non-standard color for a 1600.

---
Body: "Top Secret" Blue; Color code unknown. Wheels: Silver; Seats: Red; Panels: Red; Door panel piping: Red; Convertible top: Blue.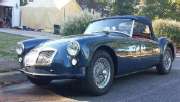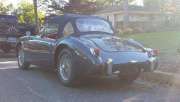 From Lou DiMartino. Commack, NY, USA

---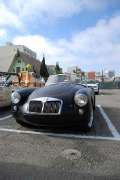 Satin Black:
This is rather rare, but there is an occasional MGA painted Satin Black. Not my cup of tea, but some people may like to hide in the dark (or get lost in the fog). Now if they would just change all of the bright chrome to black chrome they may have something unique (and it could really hide in the dark.