The MGA With An Attitude

PAINT COLORS, NON-STANDARD for MGA - PT-150L
LIGHT COLORS
For some odd reason, light colors seem to have a problem on MGA. One color that has never worked is Bright Yellow. Some of those might be found on the "Poison Colors" page.

---
Alamo Beige: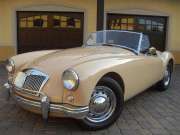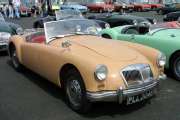 Someone must really like this color to paint a 1500 or a 1600-MK-II Alamo Beige. The one on left is a little too "creamy" to be real Alamo Beige, but it looks nice in the proper setting.

---
Beige:
---
Dove Grey: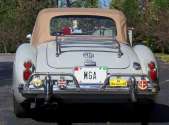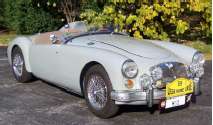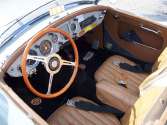 Ted Persons <!-cmipersons at comcast.net-> 1600. Tan top, tonneau and interior is nice, but non-standard. Dove gray 1600 should have red interior with grey top, tonneau and side curtains. You may notice this car also has two different windscreens and a variety of accessories.

---
Gold: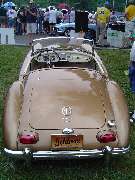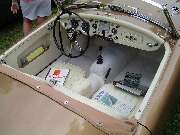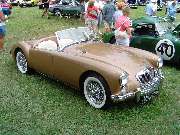 The 100,000th MGA produced with Gold body and White interior.
More information at www.100000thmga.com

---
Island Green: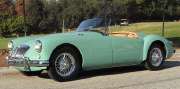 Island Green is a standard 1500 Coupe color, but not for the roadster. It also looks a bit odd with the tan interior.

---
Light Blue: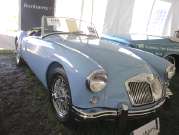 A bit too "creamy" to be Iris Blue, but even that would be incorrect on a 1500.

---
Stone Grey: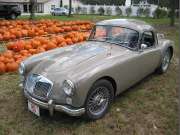 Dave Houser, Brooksville, FL: My 1960 1600 coupe in "Stone 6199". This is a warm gray as I didn't like the Dove Gray original color. I found this in an IPI Color Book that listed this color as British Car Colors from 1961-1966. BMC code BG14.

---
Tangerine: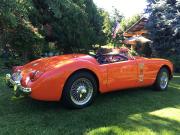 Sam Nott <!-sam at notthole.com-> has this one in Tangerine orange. He called it a "poison" color, but I rather like it. I prefer to call it "bright", ranking right up there with Tyrolite Green when it is new and clean.

---
White:
Most white cars are not exactly white, but some slight off white shade. Refrigerator White is sometimes used to camouflage imperfections in the surface preparation, and it is a rather uncommon color, so it just doesn't look right to the casual eye, especially when you are familiar with the standard color "Old English White".

---
Yellow: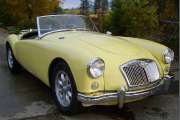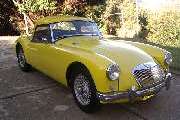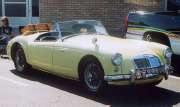 Primrose Yellow
an MGB color

---