The MGA With An Attitude

PAINT COLORS, NON-STANDARD for MGA - PT-150M
METALIC COLORS
---
Dakar: 2005 Audi color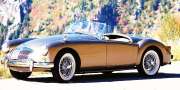 If this really is what the picture looks like, It may qualify as two-tone, metalic, and poision all at the same time. Wierd?

---
Dark blue metalic: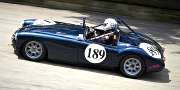 Color unknown, but seems to be similar to Kona Blue on the new GT-500 Shelby Mustangs.

---
Light blue metalic: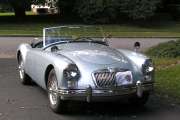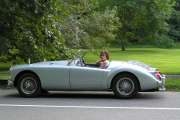 Alex Mullin: <!-acmullinv at gmail.com-> Color unknown, but perhaps an Austin Healey light metalic blue.

---
Healey Blue Metalic: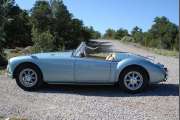 This is an Austin Healey color from a few years after MGA was out of production. I figure metalic paint looks entirely wrong on a vintage MGA, and this one is not in the correct time frame (not period correct). But then we're talking about non-standard colors here, so if you like it, do it.