The MGA With An Attitude

PAINT COLORS, NON-STANDARD for MGA - PT-150R
RED, RED, And More RED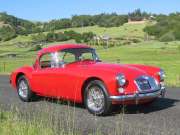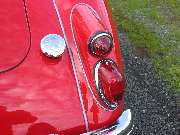 Andy Preston: <!-andypreston at sbcglobal.net-> My 1960 Coupe and my version of Chariot Red; it was the closest stock color I could find when I painted the car. It's actually a 2009 Audi TT color called Brilliant Red".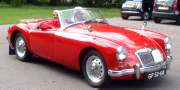 Rutger Booy: - <!-rutgerbooy at rutgerbooy.nl-> My MGA was originally Chariot Red, but in 1979 I had it resprayed in Signal Red, which is a Triumph color. In my opinion it was (still is) a brighter color.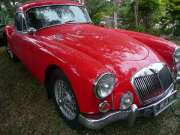 2 pak VW Audi Flash Red
P3g De Beer Bero Mix 2000


Voc 499. - Ian Cowen, Gold Coast, Australia.

Too dark to be Chariot
Red on a 1600. Actual
color is unknown.

---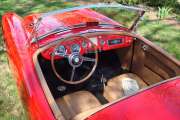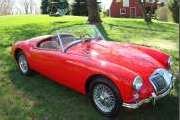 Bill Robinson: <!-billrobinson59 at gmail.com-> My 58 MGA was painted a non original Guard Red which is a Porsche color. I also have non original black leather piping which I felt was a good contrast to the red and something different along with a Rosewood "Lempert" steering wheel.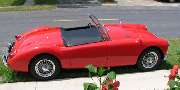 The car was originally Orient Red but I went back with Porsche Guards Red. Parked next to an orient red car the other car looks orange. -- Ken F, New Orleans, USA

---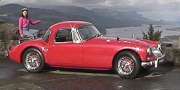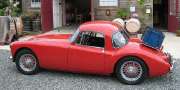 Kenny Snyder, La Center, Washington, USA -
1961 Mack Truck Red.
DuPont, Imron #77968UM - 161 Code 400 - 553U Violet 144.5 grams, 547U Orange 471.5 grams, 557U Fast Red 1710 grams, 558U Bright Red 2953 grams.
Engine bay: Painted identical #50782 PPG DELSTAR.

---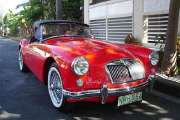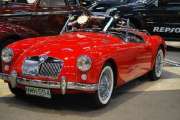 Erik Huyer <!-Erikhuyer at gmail.com-> in Cebu, Philippines. Red with black interior and red piping. The paint color is Anzani Paint, 888 Red.