PAINT COLORS, NON-STANDARD for MGA - PT-150S
STRIPES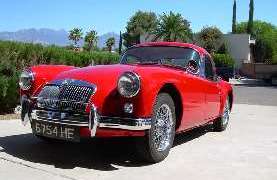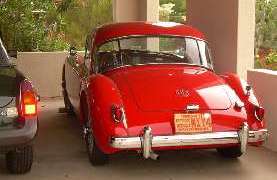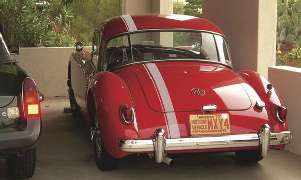 Bob Agar <!-bob7356 a qwest.net -> in Green Valley, Arizona, USA was contemplating adding some stripes to his MGA Coupe (above).

Bryan Frazier in North Carolina, USA did a quick Photoshop of the picture (at right) to add some stripes.

Photos below from Chuck Schaefer in West Chicago, Illinois, USA are real.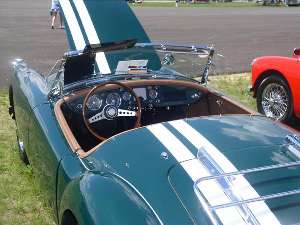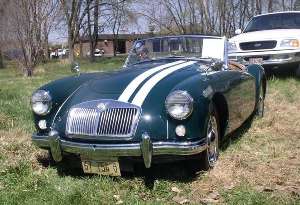 ---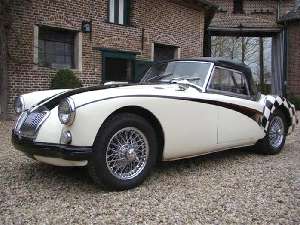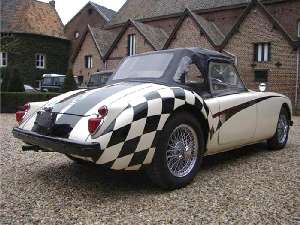 This wasn't looking too bad, until it came to the checkers. A listing from ClassicCars.com. The thin side stripe is in keeping with the proper impression for a light weight roadster. The painted bumpers are a novel idea, about 15 years ahead of its time. Looks like the broad strips on the bonnet continue onto top of the grille.

---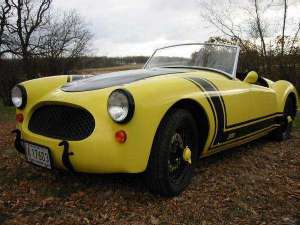 A serious cooling problem, and no budget for chrome? Looks hungry. I was almost convinced that an MGA could be yellow, but yellow accent brake drums and knock-off nuts rub me the wrong way. It will be trouble keeping paint on the KO nuts. The one-piece body can be a future service problem if it ever needs repair. I wonder how they ever assembled the front frame extension. Are those sea horses on the front irons?

---


Pinstripes. Very subtle.


Lower body stripes draw your eyes away from the upper body curves.

---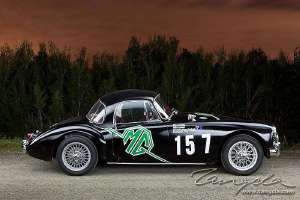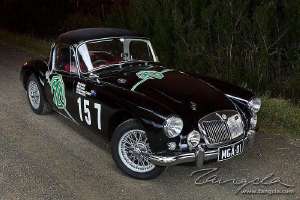 Black in the night, from the galleries of www.tangcla.com
---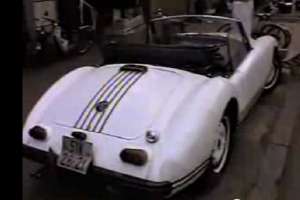 Seen in Vietnam. Grille and bumpers painted black with a variety of black, stripes. There is a YouTube video for this one. Mark Hester <!-markhester at hotmail.com-> copied the video from an old VHS-C tape originally shot by his parents in 1993 when they lived in Vietnam.

---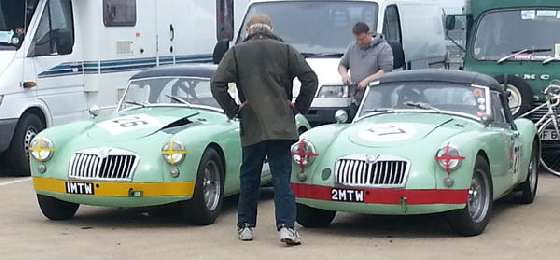 A well known pair in the UK

---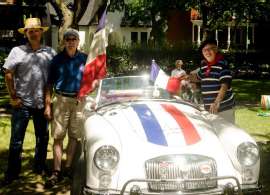 Ron Page <!-ronpage at me.com-> in Canada sends best wishes with French flag stripes on his bonnet (temporarily) at a 14 of July picnic to commemorate "La république de France".



Kenny Howard, better known as Von Dutch,
pin striping an MGA in 1959.


Pin stripes on an MGA,
courtesy of William Bussler <!-kota245 at verizon.net->
Montoursville, PA, USA


The next two were found at NAMGAR GT-40 in Frankenmuth, Michigan, in June 2015. On left, tastefully done complimentary Brown on Old English White. On right, high contrast Yellow on British Racing Green. With a slight knee-jerk reaction, on further reflection, I believe I have seen some Triumph TR4 or TR-250 with similar stripes (or maybe this style stripe just makes it look a bit like a TR).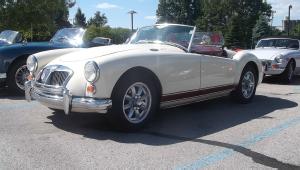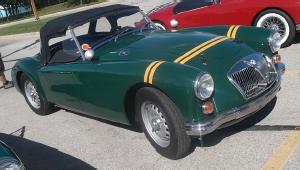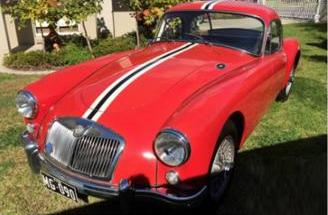 Right, seen on MG-Experience.com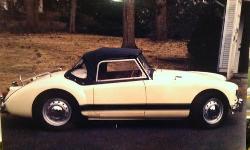 Above, Tom G in Rosemont, PA, USA
1958 MG MGA 1500


Below seen on eBay 1/5/2016.