The MGA With An Attitude
PAINT COLORS, NON-STANDARD for MGA - PT-150T
TWO-TONE
This is a mixed bag of tricks. Apparently MGA happen to look good in single solid colors, and most two-tome paint schemes just don't seem to click quite right. Perhaps it is largely a matter of personal taste, but the two-tone MGAs are a definite minority.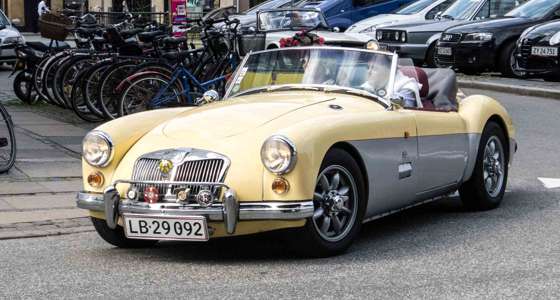 From Denmark, with the mandatory side marker light.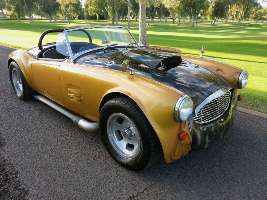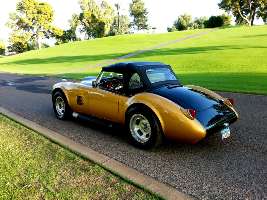 I really didn't want to post this, as I deem one-off modified cars to be irrelevant to the mark as a whole. (Also this one seems to be particularly ugly and maybe a hack job). But it does give some idea what a typical two-tone paint job might look like on an MGA when you paint the fenders and doors a different color.

This one doesn't seem to work. Probably trying to re-draw the styling lines of the MGA is a no-go. Photos from Classic Motors of Washington, D.C.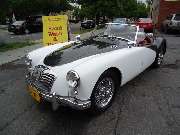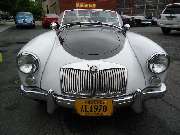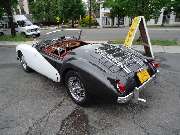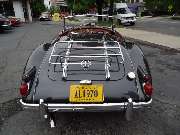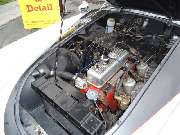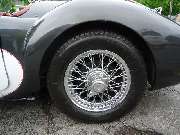 This one is maybe not so bad, but certainly changes the perspective from the side view. Lowering the side height slightly seems to work okay, but cutting off the headlamp in the side view doesn't work.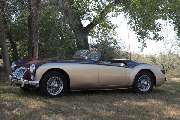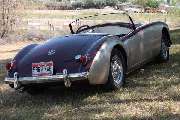 A more traditional color split along the piping lines. Look like it should have police lights and a siren?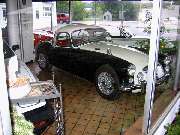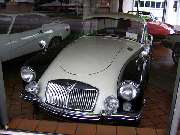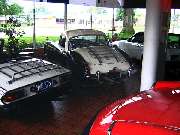 And the roadster version of the same paint scheme, spotted in downtown Lisbon city Portugal. (Photo by Bruce Hopgood in Great White North, QC, Canada). These photos might be slightly misleading, as they blend into the backgound scenery.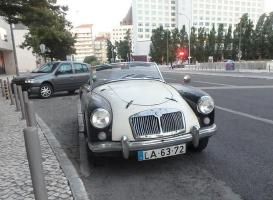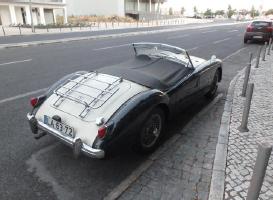 From the front quarter I was almost buying this one, headlight eyebrows and all. But then the rear quarter view just turned off the switch. Taking cues from a big Healey? Maybe it grows on you after while. The colors are nice.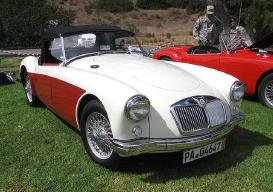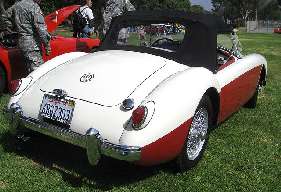 Some factory supported race cars had two tone paint to be easily recognised on the fly.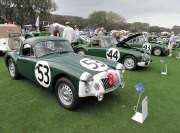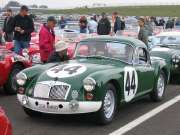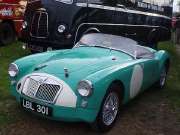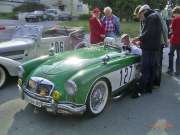 And some modern vintage race cars follow suit (below left).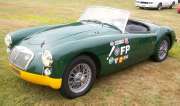 The car on right was seen in 2004 at a hill-climb called Ecce Homo, held every year in Sternberk in Moravia (Czech Republic). I was sort of admiring the paint scheme, until I saw all the added chrome trim.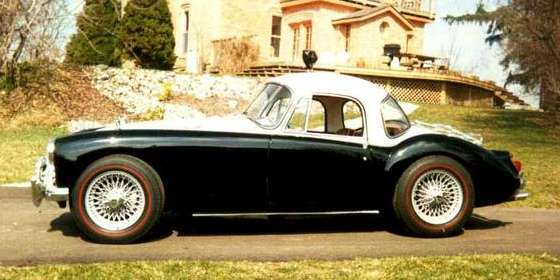 The MGA Coupe can look good with a white top, or split it along the piping lines and continue across the doors at matching height. White roof on a Coupe is fairly common.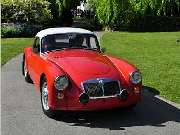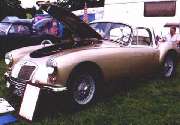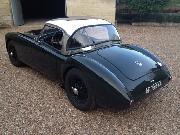 Any roadster with a bolt-on hardtop is easy to make two-tone (as long as the top remains on the car). Picture at right is rather unique with a factory aluminum hardtop stripped bare with the aluminum skin polished to a bright finish. I wonder how long that took to make pretty. Photos below are painted aluminum, vinyl covered fiberglass, and painted fiberglass aftermarket hardtop.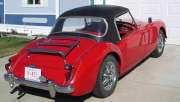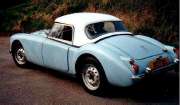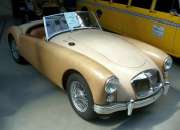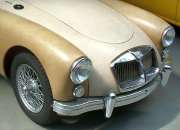 This has to be unique. Light Leather and Medium Leather with Dark Leather interior and piping.

Seems like this one pops up on eBay every year or two. Apparently it gets around some (regularly passed on by disillusioned successive owners).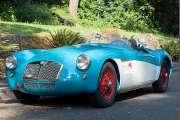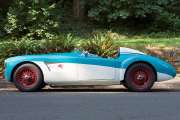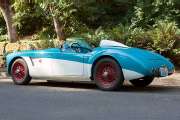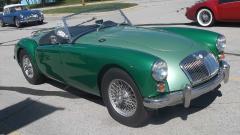 This one in light and dark complimentary colors of metallic green and black accent piping seems particularly pleasing. It was found at NAMGAR GT-40 in Frankenmuth, Michigan, in June 2015.