The MGA With An Attitude
Von Dutch and PIN STRIPING - HS-120
Early Artistry on the MGA
At 08:46 PM 10/31/05 -0800, Gene deRuelle wrote:
"In 1959 I bought the first twincam on the west coast. It was white and I hated white cars, so a friend who owned a body shop painted it a royal metallic blue. A fellow who worked at the body shop back then, decided he wanted to pin stripe it. I told him not to go nuts and to keep it conservative. He did, and the car was beautiful. Here is a picture of that guy, who turned out to be a pretty good friend. His name was Kenny Howard, better known as Von Dutch".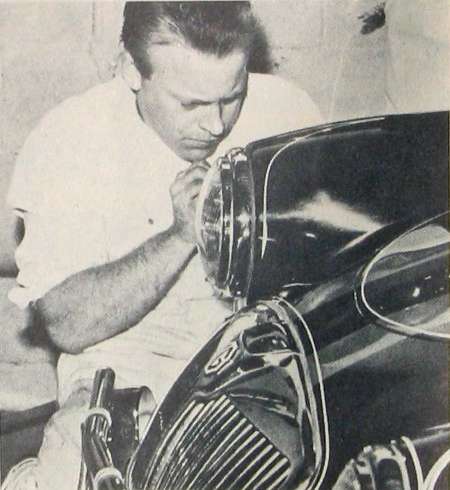 Sports cars felt the master's brush. Here Gene deRuelle's MGA is getting the Dutch treatment. An accureate eye and a steady hand are two of the man's biggest assets in plying his trade. Few other painters have ever shown such remarkable skill.

This photo appeared in a Car and Driver article on Dutch from the mid 60's. As far as Gene knows, this may be the only MGA ever Dutched by Kenney Howard. Unfortunately Gene no longer had any record of the car number.