The MGA With An Attitude

PAINT COLORS in Australia, Nurburg White - PT-142NW
Body: Nurburg White;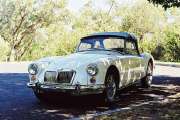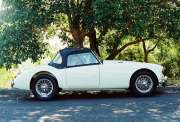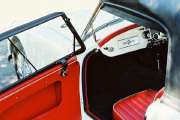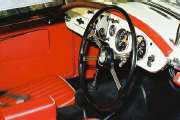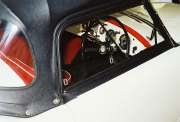 (Photos from Garry Kemm). Notes from Thomas Aczel in Kurrajong Hts, Australia:
"Note the painted dash; normal for the Australian assembled Mk II. Also the exposed wiring to the number plate light, running around the valence panel, again normal Australian MGA assembly practice. Australian assembled MGAs had vinyl, not leather seat trim. As far as I'm aware they all were supplied with black soft tops, no matter what the trim or body colour".

This additional information is provided by David Lloyd <!-david at juggle.com.au-> in Australia:


"My car is an Australian Delivered Nurburg White - Dulux code 02191. Well at least that was it's original colour.


"I contacted Dulux via their website and received a phone call with a follow up email including the original paint formula (see attached). Further to which I was referred to a Dulux shop (3D Inspirations – 1577 Hume Highway, Campbellfield, Victoria 3061 – Phone +61 3 9359 2811) where they were able to mix and provide the paint in a tin or aerosol pack. All 3D Inspirations required was the paint code.


"I had previously removed the rear splash plates that were damaged and upon ripping what remained of the rubber seals off, found the only remaining 'original' paint; an excellent match with the new paint".

Dulux Autosolv -- Code: 02191, Formula: 17062, System: Autosolv
Make: Leyland, Years: 1960-1964, Description: Nurburg White
A Dulux formula to mix 1-litre of paint (weight in grams).

Tinter				Weight (Act.)  Weight (Cum)
S3950  Lacquer White Tinter          795.2          795.2
S3450  Lacquer Reduced Yellow Ochre  172.1          967.3
S3370  Lacquer Reduced Black          41.1        1,008.4
S3380  Lacquer Reduced Green          10.2        1,018.6
S3390  Lacquer Reduced Red Oxide       6.2        1,024.8