The MGA With An Attitude

PAINT COLORS in Australia, Bardiman Grey - PT-142BG
Body: Bardiman Grey (Lark)

Duco (Lacquer) or Dulux (Enamel) code 2238:
Tinter/Setting: 1012(White)/236 - 1021(Permanent Green)/239 - 1019(Reduced Black)/257 - 0300(Reduced Ochre)/300 - 1012(White)/500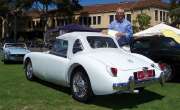 A Berger Duracryl formula. Duracryl was Bergerís trade name for acrylic lacquer. It is no longer available.

Tinter				500ml  1-litre   4-litre
A5  R. S. Red Oxide		  1	  2	  8
A3  Black			  6	 12	 48
A6  R. S. Brilliant Blue	 11	 22	 88
A4  R. S. Yellow Ochre		 32	 64	256
A1  White			511	1022    4088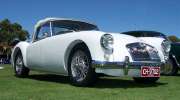 "Here is a pic of an MGA I once owned. On behalf of its present owner I restored this car in 2004. It was originally locally assembled by BMC at its Zetland (NSW - Australia) Plant in 1958. It has always been painted Bardiman Grey". -- Doug Hastie <!-doughastie at bigpond.com->
Apparently the light colored convertible top is an aftermarket change, as it is reported that all Australian CKD cars were originally equipped with black vinyl top.