The MGA With An Attitude

PAINT COLORS for CKD MGA in Australia - PT-142
CKD cars in Australia were all Roadsters, and were painted after local body assembly. They did use some factory standard colors, but there were also a large number of entirely different colors used for the Australian CKD roadsters. MGA Coupes and Twin Cams were originally imported Completely Built Up, so those cars would conform to the standard factory color combinations.
In general, the dash panel was always painted body color (except for a black car with red seats where the dash might be black or red). No Australian CKD cars had vinyl covered dash, so the 1600-MH-II roadsters had the dash painted body color same as the earlier roadsters. Wheels were always silver, and a hardtop (as rare as they were) would usually be black except when painted on special order. Apparently all of the convertible tops were black vinyl, regardless of the other colors, and the seats were always vinyl, not leather.

---
Body: Aintree Green (Chartreuse)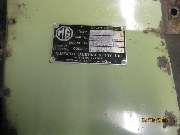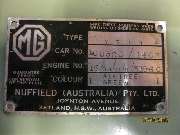 We have an original splash guard that has escaped a few resprays and cleans up fairly well. This original Aintree Green car and ID plate are provided by Chris Blake <!-chris.blake at power.alstom.com-> in Seven Mile Beach, Tasmania, Australia.

---
Body: Alamo Beige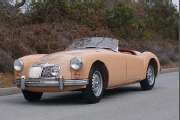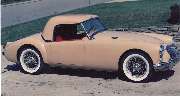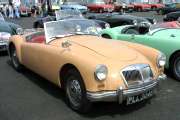 The hardtop (rare in Australia) painted body color is special (normally black from the supplier).
---
Body: Araluen Blue
DULUX Code 09599

---
Body: Ash Green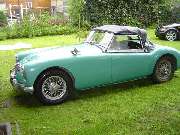 ---
Body: Bardiman Grey (Lark)
Duco (Lacquer) or Dulux (Enamel) code 2238:
Tinter/Setting: 1012(White)/236 - 1021(Permanent Green)/239 - 1019(Reduced Black)/257 - 0300(Reduced Ochre)/300 - 1012(White)/500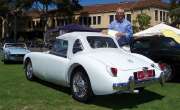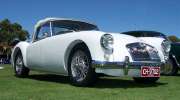 See following page PT-142BG for more information.

---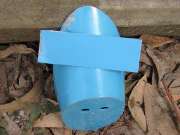 Body: Billeroy Blue (Lightning)
Duco (Lacquer) or Dulux (Enamel) code 2214:
Tinter/Setting: 1012/160 - 1016/252 - 1019/327 - 1014/337 - 1012/500


Original tail lamp plinth in Billeroy Blue
with new paint sample on top.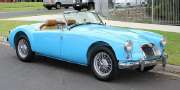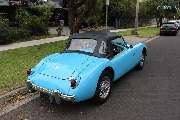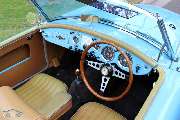 ---
Body: Black
Duco (Lacquer) or Dulux (Enamel) code 2222:
Purchase Ready Mixed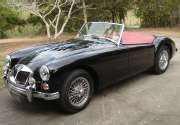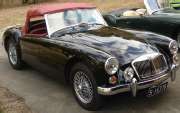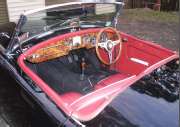 Photos from Thomas Aczel <!-aczfam at tpg.com.au-> in Australia:
"It was fitted by the PO with a walnut dash, which Iíve retained, cause itís grown on me. The steering wheel has since been replaced with a Moto Lita reproduction of the originally offered optional woodrim steering wheel. This was a pale oak colour but an antique furniture restorer has restained it to match the walnut dashboard very well".

---
Body: Black: Momba Black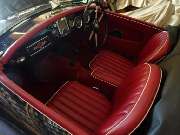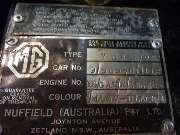 I don't know what makes this color different from "Black", but there's the original Car No. plate with the official factory color name stamp.
"I have a 1960 mga 1600 Mamba black with Red interior Vinyl I bought it with white striping. I don't know if this was changed. Have since fitted red carpet (looked like a cavernous hole in black carpet)". -- Bruce Lamont <!-brucelamont at iprimus.com.au-> in Australia.

---
Body: British Racing Green
DULUX Code 00033

---
Body: BR Green (Racing Green) (New RG)
---
Body: BR Green - darker shade
---
Body: Camden Cream
DULUX Code 09724

---
Body: Carnation Red (Monza Red)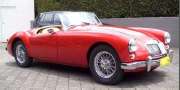 ---
Body: Chariot Red; Dash: Chariot Red; Wheels: Silver; Hardtop: Black;
Seats: Black/Red; Panels & Trim Rolls: Black; Spare wheel cover: Grey; Top & Side Screens: Grey; Tonneau Cover: Grey; Carpeting: Black; Door Seals: Red; Dash (Twin Cam only): Beige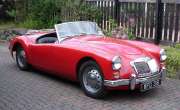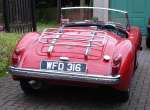 Temporary pictures, too many things wrong here. RF wheel is 1500 type (sorry), and it has Coupe seats and dash, missing door top rail. The paint is a 2k from a German manufacturer called Sandox, but it looks to dark to me (similar to Orient Red). The owner says it was originally a 1500 Coupe which he re-bodied as a 1600 roadster.

---
Body: Cherry Red
DULUX Code 09679

---
Body: Cheviot Fawn
DULUX Code 09677

---
Body: Crocus Yellow
DULUX Code 00322

---
Body: Cumulus Gray
DULUX Code 05777

---
Body: Dove Grey
---
Body: Emgee Red (MG Red)
---
Body: Empire Green
DULUX Code 06266

---
Body: English Grey
DULUX Code 07947

---
Body: Gampian Gray
DULUX Code 00213

---
Body: Glacier Blue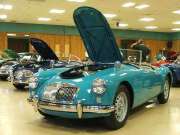 ---
Body: Guan Green (Aust)
Tan trim with white piping on the seats.

---
Body: Inca Yellow
DULUX Code 00346

---
Body: Iris Blue;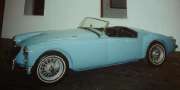 ---
Body: Island Green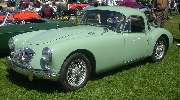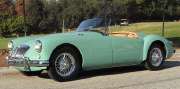 Island Green is a standard 1500 Coupe color. In Australia there were also Island Green roadsters. This one looks a bit odd with the tan interior.

---
Body: Karrim (Royal) Blue
DULUX Code 00041

---
Body: Katoomba Grey
| | |
| --- | --- |
| | Photo at left is a very good representation of the correct color. Photos below show the color as being too "blue". |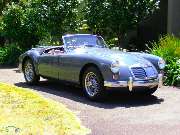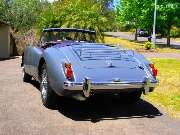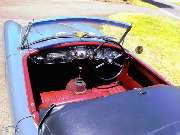 ---
Body: Mineral Blue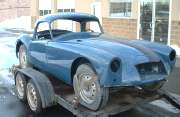 ---
Body: Miran Green (Aust)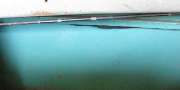 Just the inside of a door, but it is Miran Green.

---
Body: Monza Red (Carnation)
DULUX Code 00041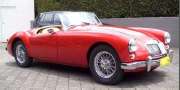 ---
Body: Nurburg White
DULUX Code 02191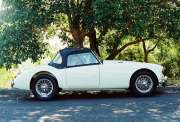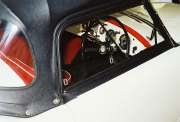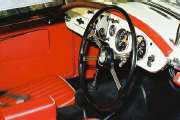 See following page PT-142NW for more information.

---
Body: Old English White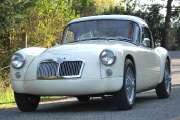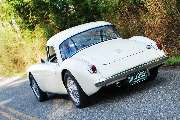 ---
Body: Orchia
DULUX Code 00212

---
Body: Orient Red:
DULUX Code 00345

---
Body: Silverpine Green:
DULUX Code 08232

---
Body: Sky (Monaco) Blue
DULUX Code 09921

---
Body: Spruce Green
DULUX Code 07618

---
Body: Stradbroke Grey
DULUX Code 06292

---
Body: Tyrolite Green