The MGA With An Attitude
V8 Autocross
Playing With The V8's At Their National Convention - May 27, 1999
Thursday afternoon was the big event - a caravan to the local Air Force base, where an autocross course had been laid out, and a runway marked off for a 1/4 mile drag race. The auto-cross course was, as would be expected, a timed event, while the drag race was a speed event. The local Gendarmes were there with radar and laser guns to time the cars as they sped past the 1/4 mile mark. Timing gear was not available to time the runs. Each participant had the opportunity to make as many runs through each event as they desired.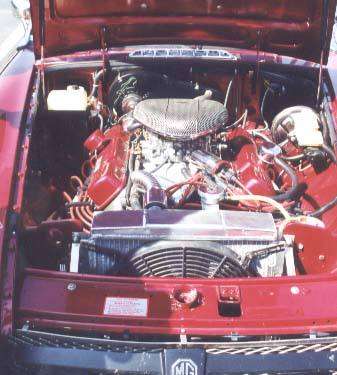 The auto-cross course was laid out by local auto-cross champion Barney Gaylord, ably assisted by MG fanatic Mark Ingram and Triumphisti Greg Pretolati. Barney made the first run, showing the rest of the crowd the proper line through the course. For the most part, the street prepared MGV8s, running street tires, were no match for Barney's auto-cross prepared MGA on racing tires, but it soon became apparant that a challenge had been issued. The Rallying cry for the V8ers became "beat Barney! beat Barney!" Our hero Bill Yobi, after a heroic effort, just managed to squeak by and best Barney by a mere 0.001 second! 30.317 seconds. [But of course Barmey only needed two runs.] Tim Duhamel trailed Barney by just 0.209 seconds for third place. Longest time of the day was turned in by our fearless leader Kurt Schley when his car stalled on the course. He still managed a restart and a very respectable time of 1:18.046! The lone Triumph participating, a TR4 driven by Greg Petrolati, ran a best time of 33.283.

After the autocross, we moved over to the drag strip for speed runs. Top speed of the day was turned in by Dale Spooner in his Ford 302 powered B, with a run of 102 mph. This is with an automatic transmission and a 2.79:1 rear axle! Imagine the speeds he could have turned with a axle ratio better suited for drag racing! Speeds for the other MGV8s ranged from a low of 82 to a high of 94 mph (Glen Towery and Bill Yobi tied for second place). The lone Triumph, a TR6 driven by Dan Masters, turned in two back to back runs of 73 mph, matching speeds obtained by road testers when the cars were new. The four cylinder MGs, as one would expect, were a bit slower, Barney's MGA running 66mph, and Carl Floyd in his stock MGB running a 65.

Thursday evening, it was back to the motel for a fresh-up, and then we were of to an ancient roadhouse, the Moon Glo, for dinner. In existance since the 30s, the Moon Glo has a unique atmosphere, fitting to the occasion. Burgers were the specialty, but "cook-it-yourself" steaks were an option, one that many conventioners chose. It takes two hands to handle a whopper? Nothing compared to what it took to handle one of those gargantuan slabs of beef!

Back to the motel, where the comaraderie and BS continued on into the night.

Rick Ingram, St. Joseph, IL