The MGA With An Attitude


Tales of the Crypt
Halloween Rally - Again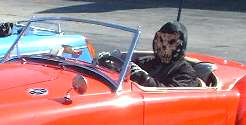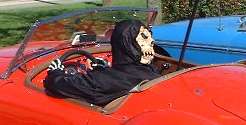 The Grim Reaper goes Rallying
Chicagoland MG Club Halloween Rally - October 26, 2008.


This is always jolly good fun, only needing to look good from the shoulders up. Running solo (no navigator) on a gimmick rally, I stuffed the question and answer sheet in the door pocket with intention of enjoying the tour while trying to follow the prescribed rally route. The route was supposed to be about 34 miles around a suburban area with only a few miles extra allowed for back tracking. Ten miles on I ran into cold pelting wind driven rain and conceded to stop and put the top up (before the route instructions got too wet). At 14 miles the clutch pedal broke at the top end where the clevis pin drives the master cylinder pushrod. After a quick inspection I dropped the clevis and pushrod into the door pocket and boldly forged on. It isn't easy driving a stick shift around town in traffic with no clutch, but it was also definitely not the first time, so I managed to keep going and stay out of trouble for the next 25 miles to find the end meeting point.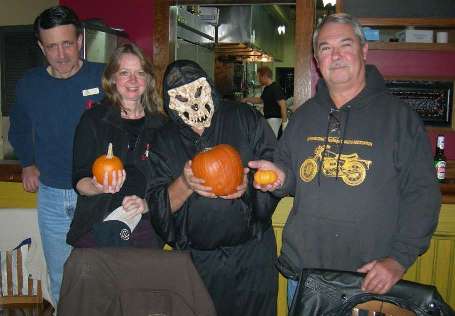 By day's end I had posted a few extra miles, mostly going around the block a few times at the end trying to spot the restaurant and finding a place to park. As fate would have it, in spite of not answering any of the rally questions I seem to have won the rally when others ran up large penalties for accumulating excess mileage. After a casual dinner a couple other rally cars insisted on following me 25 miles home, just in case I had trouble driving home with no clutch. Oh ye of little faith.

The clutch fix was easy the next day. I had to remove the master cylinder pushrods, pedal excluder and pedals. Then I used the electric arc stick welder to rebuild steel material on top end of the clutch pedal, ground it back to original dimensions, and re-drilled the hole for the clevis pin. Simple reassembly got it back on the road in less then two hours. See photos and notes on the pedal repair at MG Tech HT-110