The MGA With An Attitude
WORKS COMPETITION CARS - VT-104_EX182

EX182 - "Special Parts for Series M.G.A. for Le Mans 1955"
The project log includes 68 entries. Entries #38 to #41 are four chassis (dated prior to Le Mans 1955). #42 to #45 are four engines type BP 15 GB (dated after Le Mans 1955). The chassis were welded at Abingdon and were fitted with all aluminum bodies with undertrays, close ratio gearbox, 3.7:1 final drive ratio, and 6.00 x 15 rear tires. Jim Cox was responsible for building the engines.



The prototype MGA at the factory in Abingdon
EX-182 - Built for Le Mans 1955 - Redesign from EX175.

These cars are most important in the history of MGA because they are the immediate pre-production MGA racing cars built specifically to run in the 1955 Le Mans race. This was intended to be the show case and publicity for the new MGA model. These race cars were originally intended to run in the Production class at Le Mans. When the production date slipped a little they were re-registered in the Prototype class, which allowed latitude for some additional modifications.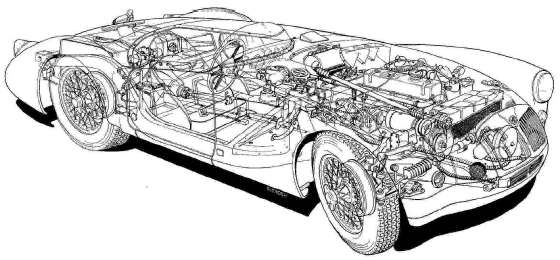 Four EX182 cars were built in 1955, three (in Racing Green) were registered for Le Mans, two to run, one in reserve which probably would (and finally did) race, and the fourth (oddly enough in Red paint) for testing.

#41 - LBL301 - Jonnie Lockett & Ken Miles - finished 12th, 248 laps, 86.17 mph
Car EX182/38 - Engine EX182/43
#42 - LBL302 - Dick Jacobs & Joe Flynn - crashed at 2-1/2 hours on lap 28
Car EX182/39 - Engine EX182/42
#64 - LBL303 - Ted Lund & Hans Waeffler - finished 17th, 230 laps, 81.97 mph
Car EX182/40 - Engine EX182/44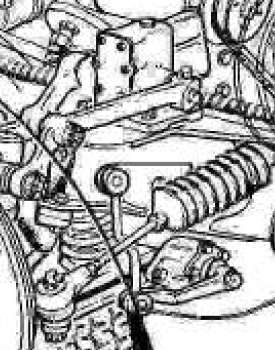 Andrex dampers fitted for Le Mans

#P - LBL304 - Practice car
Car EX182/41 - Engine EX182/45
Only 21 cars finished out of 60 starters.

Addendum August 2007:
At 11:15 AM 8/17/2007 -0600, Steve Dixon wrote:
>> "Recent research shows that the destroyed Jacobs/Flynn car #42 but originally #41 was EX182/39 (reg# LBL 302) and that 182/38 (reg# LBL 301) was the Miles/Lockett car #41 but originally #40 that finished the race in 12th place. This contradicts the comment, for so long believed to be true, that Jacobs had 182/38. This confusion, now firmly laid to rest, arose because the two cars went to Le Mans as LBL 301/EX182/38/race #40 (Lockett/Miles) and LBL 302/EX182/39/race #41 (Jacobs/Flynn) but at scrutineering had to be changed at the request of the organizers following some adjustment of numbers to lower-numbered cars. It was always thought that the team left #41 with that number and changed #40 to #42. This would have been the simple expedient but the organizers had chassis numbers in the entered order so both cars had to be given a new number. So we now know that Ex 182/38 survived albeit to be damaged later that year at Dundrod and to disappear for ever although its chassis plate did turn up on the Goguen car years later."
Steve Dixon is the current keeper of MJB 167, the 1956 Mille Miglia/RAC Rally/Alpine Rally & 1957 Liege-Rome rally car now rebuilt, and of SRX 210 the Le Mans twin-cam car, and prior keeper of MBL 867.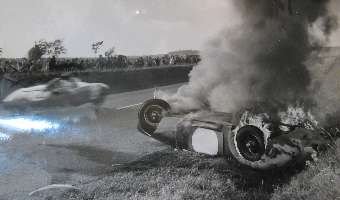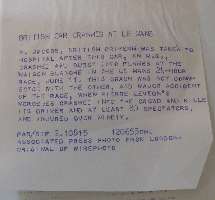 Photo from the Dick Jacobs Auction of his car burning at Le Mans.
This shows the destruction of one of the four alloy bodies.
For initial production the first six cars were used for development. When the first two were inadvertently given the same chassis number 10101, the first one was changed to EX182/42, giving a fifth EX182 car (registered as LJB205).
- LJB205
Car EX182/42 - (built from erroneously marked duplicate 10101)
Being a steel bodied roadster, an undertray and some aluminum body parts were used, and it was built up to racing and rally specification. This car was (presumably) used to replace the EX182/39 car which crashed at Le Mans. Date of the first production MGA is 16 May 1955.

There was speculation that a 6th aluminum body produced may have later been used for the famous SRX210 Twin Cam MGA built in 1959, and later modified to be a Fastback Coupe. But it now appears that SRX210 was ultimately built on the chassis of EX182/40, including the aluminum body being passed down from the original Le Mans car and modified a couple of times in 1958-1959.

Dundrod, September 1955 - Ulster Tourist Trophy Race. Three EX182 cars were entered each with a different engine. One was a 1500cc Le Mans pushrod engine. One was a 1500cc Morris twin cam engine developed by Addie Maher (the only public showing of this engine). One was a 1500cc Austin twin cam engine (later to be enlarged to 1600cc for the production model in 1958). Prior to the race the Austin twin cam engine was removed, sent back to Longbridge, and never seen again. At that time LBL303 had a conspicuous bulge on the bonnet which may have been necessary to clear the increased height of that twin cam engine (which had a 66 degree included valve angle).

#36 - LBL302 - retired after 8 laps with a fractured alloy fuel tank (from Le Mans).
- LBL301 - twin cam engined car fitted with small low level head lights, retired about half way with a bad misfire.
#35 - LBL303 - finished 4th in class after three Porsches.

1957 - two Le Mans cars loaned to the Fitzwilliam Racing Team, both fitted with disc brakes.
EX182/40 (LBL303)
EX182/41 (now LBL301)

os - The Sports Car of the Year 1955 - 9:42 Video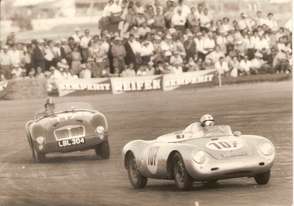 In June 1958 another car bearing the registration LBL304 and carrying the chassis number EX 182/41 appeared. The build sheet still exists, and shows that a new Twin Cam chassis was used, together with an aluminum body. This was a completely new aluminum body (6 were originally produced) on a new low Twin Cam chassis, so not a lot in common with the original EX182/41, except that it was a factory produced reincarnation under the same factory EX program.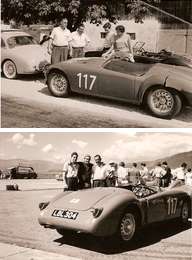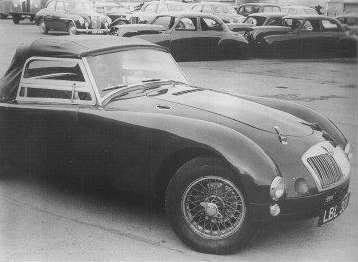 At right, a sister car with rally weather gear and wire wheels, possibly LBL301.

1958 Gaisberg Hillclimb and road race [in Austria near Salzburg and Zeltweg].
EX 182/41 - fitted with new Twin Cam chassis, engine and wheels, low light front end (similar to LBL301 at Dunrod), now registered as LBL304.
EX 182 is in the entry list of that race, printed as: 'MGA-EX/128 Sport'. Entered by J.H.Keller AG, driver Dr. H.Zweifel, CH. This may have been a DNF as there is no mention in the results. No other MG is in the entry list. This information is out of the book '75 Jahre Gaisbergrennen 1929/2004'.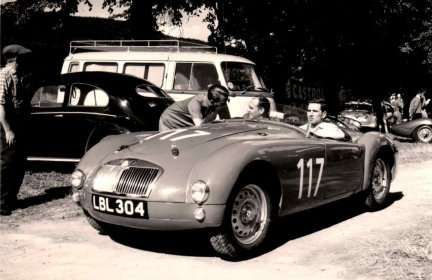 LBL304 Twin Cam in 1958, previously LBL302 Le Mans 1955 before rework.
Factory developments next project was the special bodied Twin Cam EX 186.
Addendum August 2007:
There is now considerable evidence that the car shown above, participating in the 1958 Gaisberg Hillclimb, etc, may actually have been EX182-40 (rather than 41), and that this car was later to be reconstructed again to become SRX 210.

In September 2005 one of the EX182 cars, presumably EX182/38, was procured stateside. Assuming this car is ultimately verified, it will take its position as the oldest known surviving MGA (even though it is a pre-production car). For more information on the history, recovery, and restoration of this car, see Works Competition Cars - VT-104_EX182/38.


LBL303 Twin Cam on track, most likely during the 1957 racing season
(since this was a factory owned "works" car).

Photo above was supplied by Amanda Fitzwilliam, daughter of Richard W Fitzwilliam, famous from Fitzwilliam Racing Team. He also had a son Robin W Fitzwilliam who is still active on bbs. Can anyone identify this track. In 1957 EX-182 cars were appearing at Mille Miglia, Nurburgring, Goodwood, Rheims, Crystal Palace, and Silverstone.

There is (or was) a fair amount of history about the EX182 cars here:
www.mgcars.org.uk/mgccmga/history/history1.shtml

Car number 1" EX 182 - reg. LBL 301 - recovered - 1:15 YouTube video