The MGA With An Attitude
WORKS COMPETITION CARS - VT-104_EX182/38
In September 2005 one of the EX182 cars, presumably EX182/38, was procured stateside. Assuming this car is ultimately verified, it will take its position as the oldest known surviving MGA (even though it is a pre-production car).

Jeremy Savage has this to say:

14 Sept 2005 - EX182/38, recently recovered from long term storage of 25+ years. Car is somewhat tatty, but with unique wonderful original pieces, to be fully mechanically and cosmetically restored to 1955 Le Mans specifications. Detailed restoration to be carried out as soon as the information needed to do so is fully assembled, so that we can give this car what it deserves. Car formerly thought to be the Ted Lund car. All evidence now shows that it is the Miles/Lockett car. Any assistance in the form of period pictures, personal accounts, or verified information would be extemely helpful in restoring the car. Email to Jeremy Savage, Rhode Island, USA

15 Sept 2005 - The accelerator is custom rigged, to enable the driver to role his/her foot over off the break on a downshift (heel-toeing), the left side of the pedal shows immense wear from this sort of driving:-). The seats, although they appear to be recovered, are not your typical MGA seats, but are the racing seats from the Le Mans EX182 cars (very neat to sit in that drivers seat). The seats are designed to adjust, as I hear Miles was a very tall man. The cover to access the battery is custom made, and different from that which you would see on a normal MGA. The tranny tunnel is aluminum and custom. .... the car came from the widow of Jerry Goguen, in NH (stateside), and it had been in storage for a long long time. I have some pics we took of the car coming out of the garage and into the trailer, very special moment:-).

The following pictures are supplied by Jeremy Savage, September 2005:


Coming out of the garage.


Outside of garage, Jeremy Savage (15) - Father (the owner) - Justin Savage.


Going into trailer.

15 Sept 2005 - From Frank Graham, New Jersey, USA:

Robin Barker of the Twin Cam owners group has historical info on this car going back to the late 60's when Gord Whatley acquired it in a very sorry state in Canada and restored it before selling it to Gerry a few years later in the late 70s. This car has always been something of a question mark since it had already been rebodied with a production steel shell before Gord acquired it, and it also appears to have a production chassis under it. OTOH, there are a lot of other very authentic bits that were on it. One possibility is that it is EX182 that was lent to the FitzWilliams team, who wrecked it in '57 and returned it to the factory. No one knows what happened to that car but they may well have rebodied it at the factory and passed it on to BMC Canada. - Frank

17 Sept 2005 - From Jeremy Savage:

This morning we registered the domain name Ex182.com, and I expect to have some general info and pictures posted at the end of this week. I am interested in possibly setting up a forum there dedicated to the car and questions. Thoughts and Suggestions!

The above link to EX182.com is dead as last known, but there is record of it in the Wayback Machine here:
<!-A href="http://web.archive.org/web/20080115171954/http://ex182.com" target=new>http://web.archive.org/web/20080115171954/http://ex182.com
This page archive is from January 2008. Unfortunately this does not retain any other useful information.


For more information on the early days of the EX-182 cars, see
Works Competition Cars - EX-182

There is a fair amount of history about the EX182 cars here:
www.mgcars.org.uk/mgccmga/history/history1.shtml

---
EX182/38 as seen at MG2006 in Gatlinburg, TN, in June 2006
Photo courtesy of Matt Kemper - click for larger picture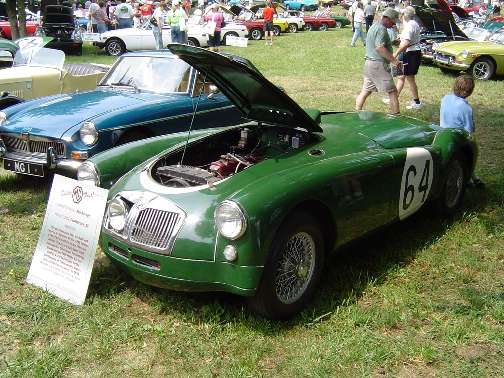 ---
Later in 2006 this car was shipped to the UK for total restoration by Bob West. It was subsequently restored to the specification of the Fitzwilliam racing team.

The following pictures are from Goodwood on 20 Sept 08, compliments of Mark Hester: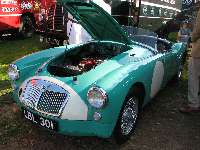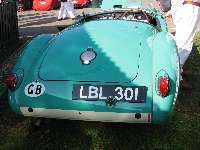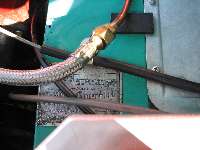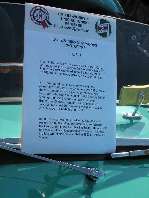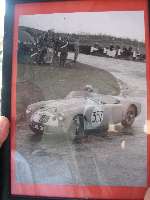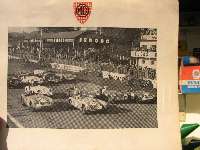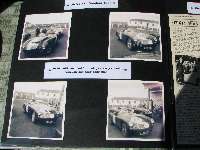 ---
The following pictures are from Supercars.net web site, photos taken at
2008 Mille Miglia. Click for links to larger pictures on the Supercars.net web site.