The MGA With An Attitude
HISTORY Around the MGA, a more personal look - HS-101
Pre-history of the MG goes back to the Morris Car Company that grew out of a bicycle manufacturing company and was formed by William Morris in 1913 in Cowley in the UK. William Morris subsequently opened a separate sales and service facility in Oxford which he named "Morris Garage". When he open a second location (and more later) the name changed to "Morris Garages". Cecil Kimber (born 1888) joined the company as Sales Manager in 1921 and was promoted to General Manager in 1922. Kimber soon began customizing Morris cars to have a wider variety of models to sell. The first modified cars were rebodied Morris cars using coachwork from Carbodies of Coventry and were built in premises in Alfred Lane, Oxford. The car commonly called Old Number One was not the first (by a few years).

One day in 1923 C.K. was chatting about needing a logo for the company stationary and advertising, so his company accountant Edmund Lee started fiddling with a pencil and straight edge and soon had a sketch of the "MG" letters inside of an octagon in art deco style. C.K. took one look at it and said, "I like it. This will forever be the logo for the M.G. Car Company". And so it was, even though "The M.G. Car Company, Ltd." did not yet officially exist. The MG logo first appeared on some sales literature in 1923. A couple years later was incorporated into a badge on a car (omitting the periods).

A reference to MG with the octagon badge appears in an Oxford newspaper from November 1923. The earliest model that might un-officially be called an MG was the 1924 MG 14/28 consisted of a new sporting body on a Morris Oxford chassis. This car model continued through several versions following the updates to the Morris. Demand soon caused a move to larger premises in Bainton Road in September 1925 sharing space with the Morris radiator works. Continuing expansion meant another move in 1927 to a separate factory in Edmund Road, Cowley, Oxford, near the main Morris factory and for the first time it was possible to include a production line.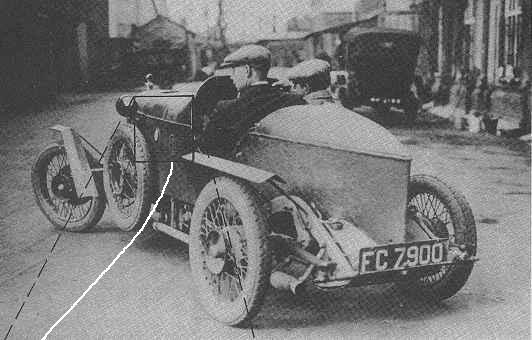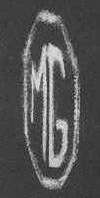 Kimber ultimately won approval to build a true sports car. The first one was built specifically for entry into the Lands End Rally in early 1925, in which the car took top honors. It was initially painted gray and had the MG octagon symbol painted on the side. In retrospect Cecil Kimber himself dubbed this one the first MG he ever built. But still there was no M.G. Car Company.

In 1928 the company had become large enough to warrant an identity separate from the original Morris Garages, so the M.G. Car Company, Limited was established in March of that year to take over the business of making and selling MG cars. The M.G. Car Company and Morris Garages were two separate business, both in business at the same time. The "MG" octagon logo was to become the official company logo for the new M.G. Car Company, Ltd.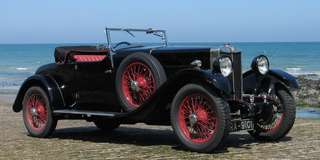 The first car which can truly be described as a new MG, rather than a modified Morris was the MG 18/80 of 1928 which had a purpose designed chassis and the first appearance of the traditional vertical MG grille. In October 1928 for the first time a stand was taken at the London Motor Show. Space again soon ran out and a search for a permanent home led to the lease of part an old leather factory in Abingdon, Oxfordshire in 1929, gradually taking over more space until production ended there in 1980. The managing director from 1930 to 1941 was Cecil Kimber.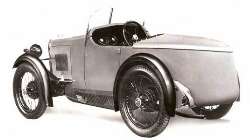 A smaller car was launched in 1929 with the first of a long line of Midgets starting with the M-Type based on a 1928 Morris Minor chassis. There were of course many more Midget models to follow.

In 1935, MG was sold by Morris to Morris Motors Limited, and at this time MG's competition activities ceased. Over the next 18 months, the product range was completely altered to re-align it with Morris and Wolseley. Cecil Kimber remained as General Manager until 1941 when he fell out with Lord Nuffield over procuring wartime work. Kimber died in 1945 in a freak railway accident.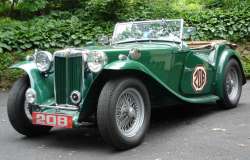 MG established a name for itself in the early days of the sport of international automobile racing. Beginning before and continuing after World War II, MG produced a line of cars known as the T-Series Midgets which, post-war, were exported worldwide, achieving better than expected success. These included the MG TC, MG TD, and MG TF, all of which were based on the pre-war MG TB, with various degrees of updating.

MG was absorbed into the British Motor Corporation (BMC) in 1952. Long-time service manager John Thornley took over as General Manager until his retirement in 1969. Under BMC, several MG models were no more than badge-engineered versions of other marques, with the main exception being the small MG sports cars.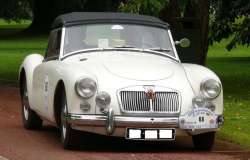 MG released the MGA in 1955. Much more will be mentioned about this model in other articles on this site. Front suspension and steering for the MGA was derived from the predecessor models MG TD and TF. Drive train of the MGA was adapted from the predecessor model saloon (sedan) MG ZB. Dash instruments were mostly pre-existing parts with only a few minor modifications. The MGA frame, body and interior were all new for the new model in 1955, although body styling queues were evolving a few years earlier in some works competition cars and factory prototypes. The MGA with separate body on frame construction was in production from 1955 to 1962.

MG also began producing the MG Midget in 1961. The Midget was a re-badged and slightly restyled (new nose and tail) second-generation Austin-Healey Sprite.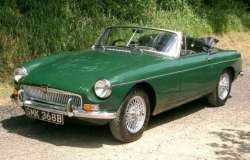 MGA was followed by MGB starting production in 1962. The significant change for the MGB model was unit-body construction with roll-up windows, changing the side curtain Roadster into a Tourer model. I could never understand why they would overload a perfectly good light roadster by installing roll-up windows, but it was a sign of the times as more consumers would prefer a touring car over a competition sport model. Thereafter most MGB used for serious racing would have the side windows removed for lightening. Otherwise the early MGB Tourer strikes me as a variant of the MGA Roadster with new body styling and unit-body construction (and slightly larger engine bore). The MGB continued to evolve in production, including MGB GT (hardtop) in 1965, the MGC (6-cylinder) model 1967-1969, and later, briefly, MGB GT V8. The factory was finally closed in 1980.

Although the MG Car Company Ltd. as such became dormant (by name only), the MG factory at Abingdon survived as an operational unit into the British Leyland era. In the late 1970s it became part of British Leyland's Jaguar Rover Triumph subsidiary. From time to time the Abingdon factory also produced other makes of car for BMC/BL, such as Riley (1949-1957), Austin-Healey (1957-1971), some Morris Minors (1960-1964) and Vanden Plas 1500s (1979-1980). On the other hand, MG saloon cars from 1959 onwards were manufactured at Cowley (and later Longbridge) rather than Abingdon. With the discontinuation of the MG Midget and MGB models in 1979-81, the factory was closed, and the Abingdon property disposed of.

For follow-up MG sports cars there were notably a brief competitive history with a mid-engined six-cylinder version of the Metro (changed to Rover only model in 1990),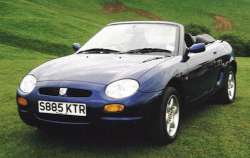 and the MG RV8 in 1992 (small production). The all-new MGF mid-engine car went on sale in 1995, becoming the first mass-produced "real" MG sports car since the MGB ceased production in 1980. For the North American market, anything that happened with MG after 1980 is generally irrelevant, because there have been no new MG cars available for purchase in North America since 1980.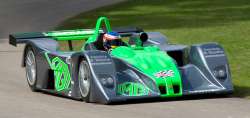 In May 2000, BMW sold off the Rover group after a six-year ownership to the Phoenix Consortium, who rebranded it MG Rover Group. The new group included just the MG and Rover models. The new company took a shot at creative advertising by commissioning a new sports racer named MG-Lola EX-257 to be built by Lola for endurance racing starting with Le Mans in 2001. This model finally got into the hands of some privateers and was run for a time in the North American Le Mans series.

The MG range was expanded in the summer of 2001 with the introduction of three Rover-based sports models. The MG ZR was based on the Rover 25, the MG ZS on the Rover 45, and the MG ZT/ZT-T on the Rover 75. The MG Rover Group purchased Qvale, which had taken over development of the De Tomaso Bigua. This car, renamed the Qvale Mangusta and already approved for sale in the United States, formed the basis of the MG XPower SV, an "extreme" V8-engined sports car. It was revealed in 2002 and went on sale in 2004.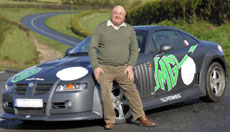 April 2008 - Riley keeps the MG name alive with the MG X-Power sports car. A New MG is being sold in North America NOW (in 2008). A handful are already here with more to come. This is the only car with the MG name currently in production. More information from The Birmingham Post.net.

The MG name continues in use today, having undergone a few changes of ownership through BMW (a German company), MG Rover (back in the UK), Nanjing Automobile Corp (a Chinese company declaring "MG" now means "Modern Gentleman"), and currently (2009) being owned by a Shanghai Automotive Industry Corporation (SIAC, another Chinese company). In 2009 SIAC has run a production lot of 500 MGF-TF cars through an assembly line at Longbridge. They were held up a long time pending quality improvements but finally went on sale in the UK. If MG sales ever come back to North America it will probably be so dramatically different as to be totally unrelated to our beloved pre 1980 MG sports cars.