The MGA With An Attitude
INTERIOR ILLUMINATION (Dome Light) - ET-236
Someone wanted an interior light (Dome Lamp) in their MGA Coupe (or bolt-on hardtop). Okay, here's a quickie. You have three conditions so you need a three position switch. Use a Double Pole Double Throw switch with center off position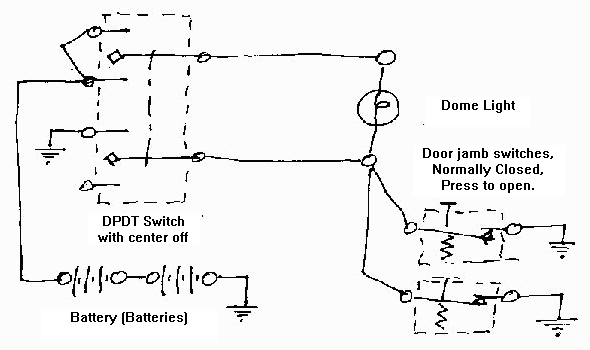 1. -- Switch up supplies both power and ground for the lamp to have it on when doors are closed.
2. -- Switch in center position disconnects power to be off when doors are open (or closed).
3. -- Switch down provides power only, so the door switches can operate the lamp by grounding it.

The more common dome lamp may have a 3-position slide switch built in to provide the same function, so you wouldn't need a dash switch.