The MGA With An Attitude
SOLID STATE VOLTAGE REGULATOR (2) - ET-232
Oh, you didn't like the last one? Well here's a better idea for a solid state voltage regulator for your generator (about twice the price but still reasonable).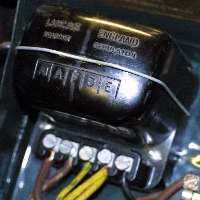 At 12:05 PM 6/12/05 -0400, Robert K. Jeffers wrote:
>"Yes I do make solid-state conversions of Lucas regulators. I can do 5 post, 9 post, and I have done one for a recreation of a MGA Sebring race car being built in Fla. They fit in the Lucas cases so that they appear original. I can make them either positive or negative ground. They will have current limiting to protect the dynamo (generator) from burning itself out and temperature compensation for cold/hot weather voltage compensation. All in all very up to date, modern performance but within the limits of the dynamo installed.
>
>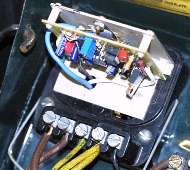 To proceed I need a regulator to modify and info as to the generator it will be used with, so I know where to set the current limit. Also positive or negative ground. The price is $80 plus $5 shipping. The regulator need not operate, or even have it's original relays, it does need a base that is suitable for buffing to make it look better. At this time I have no way to refinish the terminals, or the fuse holders on a 9 post.
>
>If this sounds like something of interest to you, email me and you can ship your regulator carcass to:


Wilton Auto Electric

Web Site: www.wiltonae.com


10 Stoney Brook Drive


Wilton N.H. 03086-5155

Put a note in the package confirming your order and giving me a return address to ship your regulator back to. Turn around is about 1 week.

Regards,
Bob -- "Robert K. Jeffers" - <bob@wiltonae.com> - (603) 654-9852

Regret to say that Robert Jeffers has passed away in July 2013. Wilton Auto Electric is now closed, and the solid state voltage regulator is no longer available.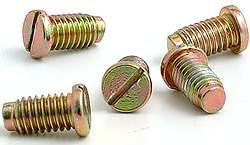 Additional foot note: The screw threads for the terminal screws in the fuse box and voltage regulator are 1/4-26 BSF threads. If you need replacement screws I suggest you find a junk fuse block or junk regulator. The screws are obviously still made, somewhere in the world, as replacement regulators and fuse boxes are still being supplied. I just have no idea where to buy the screws new in the USA

Addendum:
On 11/5/2008, Ron Cromar wrote:
"If you look at the link below, Holden in the UK sell these screws quite cheaply in packs of five." - www.holden.co.uk - part no. 080.040



Addendum: 6/23/2011
Moss Motors bow sells a replacement set screw. It has non-original head shape, but it is functional. - www.mossmotors.com - part number 142-005.