The MGA With An Attitude
WIPERS TWO SPEED With A Toggle Switch -- ET-218A
MGA Two Speed Wiper Motor Conversion - by Dominic Clancy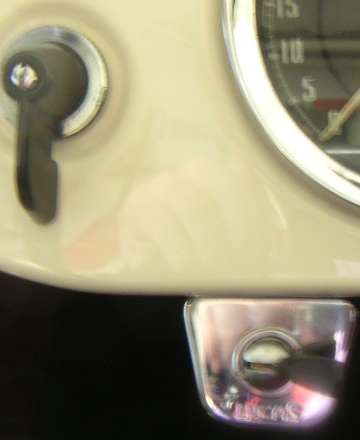 At 02:05 PM 5/22/06, Dominic Clancy wrote:
"Here's the picture showing how I have mounted the wiper switch. Normally you could mount it in the dash, but I have a gauge for the Judson, so in mine there is no neat place in the dash for another switch. The bracket is mounted using the screw for the dash support."

At 11:45 PM 5/23/06, Dominic Clancy wrote:
"All the parts came from Brown and Gammons.:

At 02:57 AM 5/24/06, Dominic Clancy wrote:
"It's a standard B or Midget wiper switch, nothing special.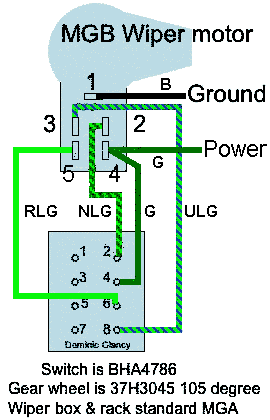 The old wiring loom is just blanked off using heat shrink to insulate the ends, so that it could easily be returned to normal. It was easier to make a custom loom out of the car than patch into the existing one. The colours reflect the wiring colours I had available in the cellar when I made the loom."

At 11:01 AM 5/23/06, Dominic Clancy wrote:
>"I have a 105 degree gear in the B motor, which works just fine. Then I kept the entire A rack and cable system."

At right is a diagram for the wiring connections using the late model MGB wiper motor and the standard 3-position toggle switch (with special switching pattern) from the 1968 to 1971 MGB. Wire colors are from the MGB. The Black and Green wires (ground and power) are already in the MGA harness at the wiper motor.

The original black/white wire in the MGA harness running between the motor and switch is not used here. However, that black/white could be used in place of one of the striped wires shown in this diagram. The green wire on the switch could also be picked up behind the dash (fuel gauge "B" terminal), so you could do this with only two new wires from motor to switch.