The MGA With An Attitude
BULB HOLDER Substitute Plastic Socket -- ET-215
Dateline: November 26, 2006: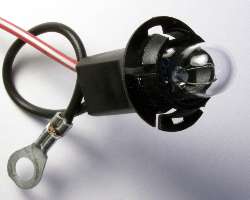 The news is out of the bag. Some new replacement wiring harnesses now have plastic lamp holders for dash lights. Thanks to Pat Harris for the photo. The strange part is, these are for wedge base bulbs, so now you will have to stock another part number of light bulb for spares and keep another note for another modification to your car. And of course I hope you are not a concours enthusiast.

Original screw base incandescent bulbs were a meager 2.2 watts.
Available wedge base bulb numbers are:


     
Trade Design             Avg. Life
 No.  Volts  Watts  Amps  CP  Hours
 161   14   2.66   0.19   1   4000 -- (very long life)
 158   14   3.36   0.24   2   3000
 194   14   3.78   0.27   2   2500 -- Glove box, License plate, 
                                      Side marker, Instrument 
                                      illumination, Door courtesy.
 192   14   4.62   0.33   3   2000 -- Reading lights.
 168   14   4.90   0.35   3   1500 -- (shorter life) Ash tray, 
                                      Warning lights, 
                                      License plate side lights.
The plastic sockets do not ground on the mounting bracket or instrument case,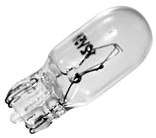 so they will have two wires. For the ignition warning lamp two wires is standard. The other seven dash lamps in the MGA are (were) originally all single wire with a grounding metal shell. The new replacement harness will have a black pigtail wire with a ring lug for grounding these sockets on the instrument mounting brackets, at least the remaining five instrument bulbs. I'm not sure yet about the turn signal indicator lamp, which could ground on the dash lower bracket screw.

The map light socket was originally powered by a single short red wire connected to the map lamp switch and grounding on the dash panel. A new pastic socket with the extra black wire could ground on the dash lower bracket screw. However, current report is that this socket may not be included with a new harness, and an original style screw base metal socket may be the order of the day for this spot. That's another shame, because then you need two different bulb styles for these previously similar applications.