The MGA With An Attitude
Generator REAR PLATE Modification - DC-201
At 20:33:35 UK time on 10 November 2005, JP Jim, Minnesota, USA wrote:
"At the same time as adding the super charger, replace the back of the generator with that of one from an early Ford tractor. As it turns out, the generators are the same, except that the Lucus generator used on the Ford tractors used a ball bearing instead of the bushing used on the MG generator. This is an important change due to the loads put on the generator because of the belt from the super charger."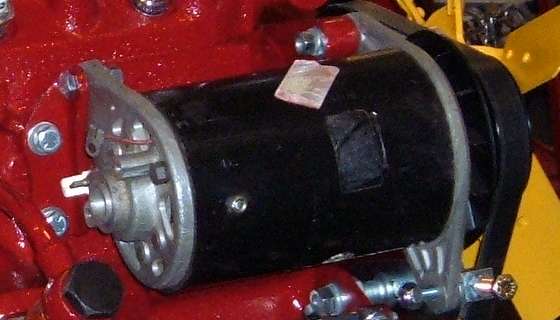 Thanks to Brian McCullough for the picture.

At 4:56:36 UK time on 11 November 2005, Frank Graham, New Jersey, USA wrote:
"The factory competition MGA pushrod engines used ball bearing generators. I think the only production use of these was on a Lotus but I don't recall which model at the moment. I'm unaware of a Lucas number for the Ford tractor, unless it was used after the 60s and is not in the Lucas master catalog."

Source: http://www.kirks-auto.com/ItemsDesc&Pix/GeneratorHeavyDuty.html