The MGA With An Attitude
Streetside Classic Cars
Concord, North Carolina
(March 2, 2017)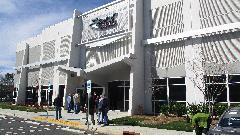 Thursday, March 2, 2017:
Start the day with a visit to Streetside Classic Cars (Sales/Consignment) in Concord (Charlotte area), NC. This place is the largest of five locations in Charlotte NC, Dallas-Fort Worth TX, Atlanta GA, Tampa FL, Nashville TN. Imagine 250 classic cars in inventory, and 15% inventory turn-over per month (just at this location). Go ahead and drool. There must be something here for everyone.