The MGA With An Attitude


MGA Guru Is GOING MOBILE - (August 18-26, 2014)
Engine Repair, VA and NC


Monday, August 18, 2014:
We had just run the long bridge/tunnel just prior to Virginia Beach and Norfolk. It was our intention to motor right on through Norfolk and not stop until well on the west side out of the greater city area. Not so lucky. First a tunnel was closed for maintenance, so we were re-routed from I-264 to I-64. A short distance later (about 9 PM) the engine made a couple of odd noises and changed to running on three cylinders, just as we were entering a tunnel. Signs read "Keep Speed Up In Tunnel" (with 55 MPH speed limit). Lucky it was about 9:30 PM with not too much traffic, so we switched on 4-way flashers and slowed down to about 45 MPH (2400 RPM). Engine was at that point running relatively quiet on three cylinders, slightly out of balance. Been there and done that at least once before. My best "estimate" (educated guess) was that the top of one piston was broken loose and stuck in top of the cylinder while the rest of the piston was still attached to the connecting rod.

More signs said "Keep Speed Up On Upgrade". When we had made our way out of the tunnel we slowed it down to about 30 MPH (1600 RPM) in the right lane. Just then the engine made a couple more nasty noises and began rattling, which I trust was the connecting rod and wrist pin tapping around in the cylinder after the rest of the piston had disintegrated. We managed to nurse it on a bit farther to an exit with some civil amenities (WiFi and hotel). On investigation, the top of #4 piston was indeed stuck in top of cylinder, and there was some water in the oil. (Rats)! SOS message was posted to the BBS before 10-pm, and we received a few responses before we retired for the night.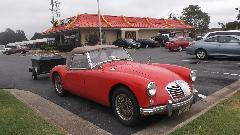 Tuesday, August 19, 2014:
The car made it across the street to a motel last night, and back across the street to McD's this morning. The engine still runs on three cylinders, but it seems prudent not to drive it farther with water in the oil. Response to our SOS is copious and gratifying. By late afternoon John Tershack is bringing a trailer to us. We will be going south to John's place in Kill Devil Hills, North Carolina. Thanks to everyone who has responded.


The MGA fits nicely on a 16-foot flat bed along with the little trailer. Man this is embarrassing, having to be towed once every 100,000 miles or so, for a car that nearly always gets where its going under its own power. John's truck was in the shop for brake repairs today so he borrowed his neighbor's truck. I wonder how many people I will have to thank by the time this episode is finished.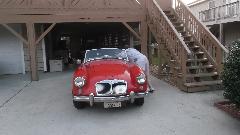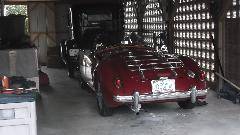 John has his own assortment of toys. Will have to move one of those out to allow my MGA to rest in the shade. John makes this look easy, so we presume he has done it before (not that his car ever needs a push).

Wednesday, August 20, 2014:
What do you get when you mix a gallon of hot 50/50 coolant with a gallon of hot 20W50 oil and let it cool? Thick emulsified scum. The debris in the sump is only the remains of an aluminum piston, an easy replacement part. The con-rod with no piston attached made quite a racket before it was parked. When I saw this I knew immediately what was to follow. The con-rod at first appeared to be not damaged, and the bearing looks almost like new after 107,000 miles in 14 years.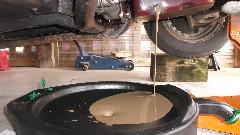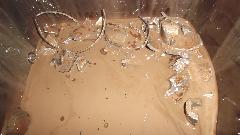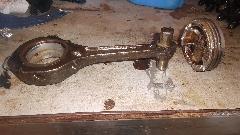 #4 cylinder is badly scored and will need to be sleeved. One of the score marks has coolant slowly dripping from the water jacket, so it will be a wet liner installation. Simple enough repair, but the trick here is finding a machine shop that can do the work without too much delay. There will be lots of phone calls tomorrow. We already know about Abacus. Will call them for sure, but suspect there may be a long waiting line there. I'm bull headed enough to drive a rental car a long distance for service and parts if necessary. Any other suggestions for a machine shop in or near Norfolk, VA?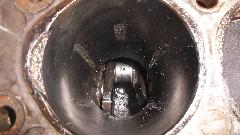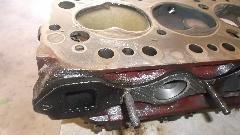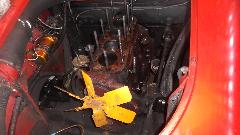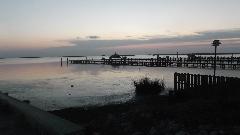 The good news is, the cylinder head is unscathed. I poured coolant into the combustion chamber, and it didn't lose a drop for 20 minutes. The rest of the engine is two bolts away from lift out, and no more than two hours away from a bare block.

Time to enjoy sunset at the dock, just to let you know that I'm not worried (yet).

Thursday, August 21, 2014:


Late night and early morning phone calls landed a willing machine shop in Chesapeake,VA. Diligently trying to beat the weekend with the machining work required. All about critical path planning and best use of the time and resources available. No time to take pictures. Morning job was final lift of engine from chassis, total disassembly to bare block, and cleaning of the block (and myself). Then picked up a rental car (about 1:30-PM and made a dash from Kill Devil Hills NC to Petersburg, VA, to pick up parts at Moss Motors before 4:30 PM closing (151 miles).


Navigator reading route instructions. On first long stretch of road navigator was reading Moss catalog and writing while I was dictating a parts order (including a cylinder liner). Add a 5-minute fuel stop.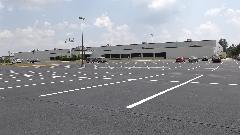 On next long stretch of road we called in the order to Moss. Needing to be there by 4:30 PM closing time for pickup, proceeding at warp speed. Apparently Virginia State Patrol does not like warp speed, so add a 10 minute delay for a citation. Final cell call to Moss at 4:20 was routed through California, being relayed to Moss VA. Arriving 4:32 PM, find door locked, but attendant with big smile letting us in anyway, being well forewarned of our situation. Unfortunately parts order was not processed yet, but was poked and picked and brought to front desk in short order, add another 15 minute delay,


High tailing it out of Moss at 4:55 PM heading back south. No way to make Chesapeake shop before 6-PM closing time. Cell call to shop about 5:45 with a cheery attitude and twist of the mustache. Shop owner will take a beer break at the convenience store, and will wait for our arrival. Arriving at shop 6:28 PM with smiles and greetings and other amenities, dropping off the block and liner and a few other parts in preparation for next morning machining work (we hope). 86 miles.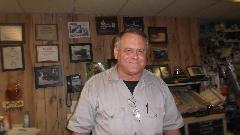 "Do you have the main bearing caps"? Say WHAT? "Need those for hold down fixturing during cylinder honing". Oops. New one on me. So we will return at 8 AM with bearing caps in hand (and some other sly plans for tomorrow). The friendly fellow at right is supposed to be our savior for the machine work. Meet Bernie Wargo of Wargo Auto Service in Chesapeake, VA. More about this later.


Back in Kill Devil Hills after dark, 65 miles, time for pizza (breakfast?) and soda and rest and chat, and later at night the day's WiFi work.

Friday, August 22, 2014:
Up early to transport main bearing caps from Kill Devil Hills to Chesapeake for 8 AM opening of machine shop (65 miles). Hang out at local McD's for a while, but get call from the shop with report of issues with the engine. The sleeve needs to be thicker to be used as a wet liner, Also #3 bore is slightly out of round, probably caused by the beating in #4, so needs to be re-bored. May or may not clean up at 0.040 o/s. Quick call to Moss in Petersburg. They have 0.060 o/s pistons, none in 0.040 o/s, so solved that issue. Moss does not have thicker liners.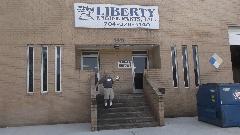 Shop calls around and finds the thicker liners in warehouse in Charlotte, NC. Shipping schedule is a problem, would not arrive before Monday noon (if lucky), could not be installed until Tuesday, I have the solution. Sleeve will be here Monday early, because I will drive to Charlotte to pick it up today. Giddy-up rental car. Five hour drive to Charlotte (327miles), and six hours back to Kill Devil Hills (363 miles) by 10:30 PM. This is expedited delivery for serious. Guess where we are going tomorrow?

Saturday, August 23, 2014: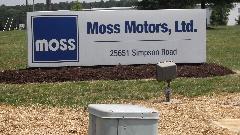 Yup. Another trip to Moss Motors in Petersburg, VA. Early morning this time, three hour drive in the rental car, arrive 9:15 AM. Return 0.030 pistons, cylinder liner, and unneeded cam bearings. Pick up 0.060 pistons, and some additional bits for other issues, like one outer front wheel bearing plus gaskets and seals for rear axle (to change differential later). Then another three hours back to Kill Devil Hills (302 miles). A little more WiFi time, but I think I need to catch up on some sleep about now.

Sunday, August 24, 2014:
This is very strange, having a day off with nothing to do. Rather like waiting for paint to dry. Chance to catch up with a couple of tech pages.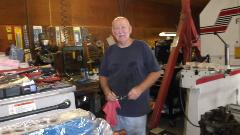 Monday, August 25, 2014:
Early morning trip to shop in Chesapeake,VA (65 miles), drop off thick liner and larger pistons (and a new camshaft), 8 AM sharp. Hang at McD's for a few hours catching up on WiFi and a note to the club in Chicago. Call from shop at 10:50 AM, job is finished, and now the real rush begins. Return to shop, pay bill, pick up parts. At right, machinist with the magic touch.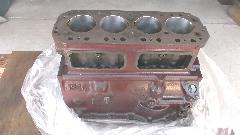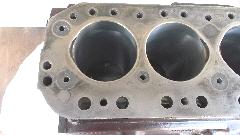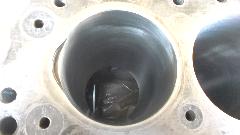 Return to Kill Devil Hills, unload, and turn in rental car, having added nearly 1500 miles on the rental car in 4 days. 2 PM, begin reassembly of the engine.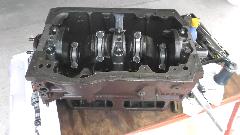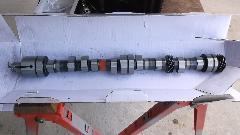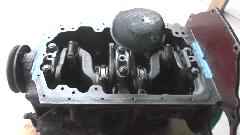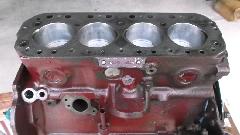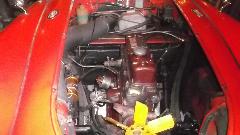 I took this opportunity to also install a new stock grind camshaft and new tappets, as the engine has 100,000 miles, and I didn't think the old cam would go another 100,000 miles. Midnight, engine is assembled and bolted into car, still not fully dressed.

Tuesday, August 26, 2014:
4 AM, now we're fully dressed. Oil and water installed, but not primed, spark plugs out. 60 seconds cranking brings oil pressure to 40 psi, using the 100,000 mile oil pump, crankshaft and all crankshaft bearings! Why? Because I am who I am, and I don't throw away good parts.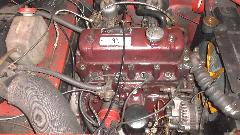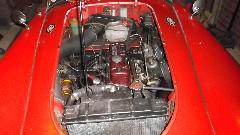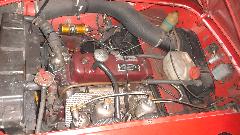 Spark plugs in, ignition on, and it fires right up, kick it up to 2500 rpm fast idle. Too much noise for 4 AM, so kill it and return later.

Our gracious hosts have early appointments today, so we pack and run by 7 AM. I must say that John and Leslie have the patience of a saint and huge hearts to match. It must have been somewhat trying at times, putting us up for a week and putting up with us for a week. The initial engine run-in, 2500 rpm for 20 minutes,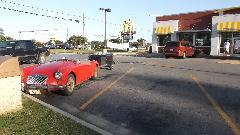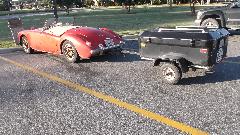 happens as we cruise casually northward on US-158 along the Outer Banks, Sitting 22 miles north in Grandy, NC, we spent some time on WiFi posting photos and notes for the past two days. The car was screaming "Wash Me!", but was being ignored for a while. Cylinder had re-torque and final tune-up can wait for another day.