These were actually 1600-MK-II cars with 1600 engines. No 1622 engined cars were entered, as that would have put them in larger engine class.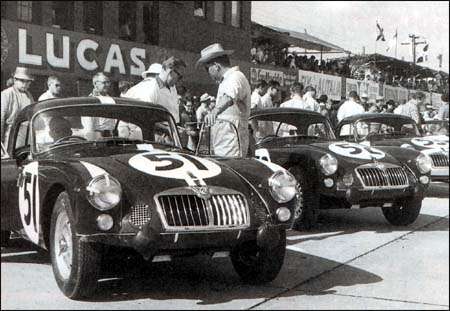 MGA lineup at Sebring in 1962.

---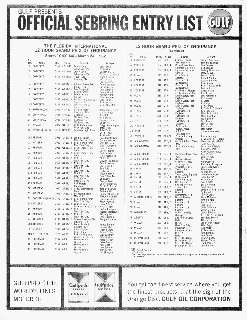 #51 on the cover of Autoweek, January 21, 1980

---
An excerpt from MGA newsletter of the MGCC, December 1999, written by Piers Hubbard:

1962 saw the last entry of MGAs in the Sebring Grand Prix of Endurance. Again these were 1600 Coupe "DeLuxe" Mk-1 cars as the Mk-2 would have put them into the larger engined class. Three cars were sent after a shake down at Silverstone. They ran bumperless and with alternate slats removed from their Mk 1 grilles. Chassis 106073 (Car No 51) was to be driven by Jack Sears and Andrew Hedges, 106074 (No 52) by Bob Olthoff and Sir John Whitmore and 106075 ( Car No 53) by Jim Parkinson and Jack Flaherty. This car had a white front valance. Morell was the reserve driver for No 52. The writing was on the wall however, as the GT category now contained Porsches and TVRs as well as the Sunbeam Alpines. The result still showed the reliability of the MGAs, as they were the only team to finish intact, but came 4th, 5th and 6th in class in the order 52, 53 and 51. Car 52 covered 172 laps, one less than the second place car the previous year. They were beaten by two Porsches and an Alpine, the winning Porsche completing 188 laps with Dan Gurney as one of the drivers.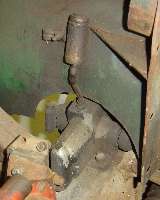 This is a picture of an add-on fluid reservoir and breather on the Armstrong front shock absorber of 106074 (No 52). With vigorous damping action the fluid will heat up and expand, which could push fluid past the shaft seals. A top vent may prevent pressure changes inside, which could reduce the tendency to leak. The added fluid capacity might help if the shocks leak significantly.

---
On 2/2/2017, Edward Vandyk <!-Edward at vandyk.co.uk-> in the UH wrote:
"The cars show in the production records as Coupes and, of course, the production records contain no note of the VIN prefix which is simply extrapolated from the records when you ask Gaydon for an Heritage Certificate. The cars should be GHD2 cars. All three of the cars actually have GHN2 VIN prefixes on their physical VIN plate, of which at least is obviously original".

---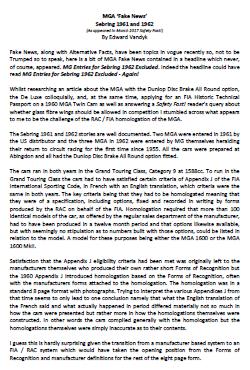 Addendum, May 10, 2017:

MGA 'Fake News'
Sebring 1961 and 1962
By Edward Vandyk
(As appeared in March 2017 Safety Fast!)
(Posted here with permission of the author.)

An interesting article on how the 1962 Sebring MGA's got FIA homologation for the 1962 Sebring race when they perhaps should not have qualified for homologation. Also how the 1961 homologation papers may have been revised after the fact.

"Oh what a tangled web we weave, ...."
(Find more information on #51, #52, #53 cars in the following pages).