The MGA With An Attitude
WORKS COMPETITION CARS - VT-104H

1962 Sebring MGA - MK I Coupe Deluxe cars. Three cars were built and all three survive today. - These were 1600-MK-II cars with 1600 engines. No 1622 engined cars were entered, as that would have put them in larger engine class.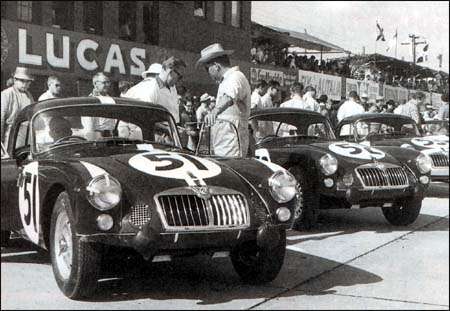 MGA lineup at Sebring in 1962.

---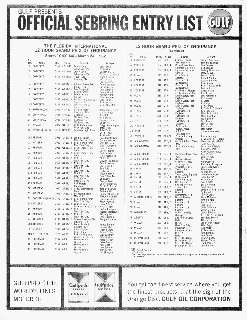 #51 on the cover of Autoweek, January 21, 1980
Car #51 is currently (in 2006) owned by John Kelly and will appear at NAMGAR GT 27 in Charlottesville, VA in July 2006. John says he raced the car until it broke a ring and has been parked ever since. The car is in exactly the same state since the 1980 photo above. It also appears in the survivors series book, and that photo was taken just after he purchased the car from a friend. He mentioned that he may restore the car for sale.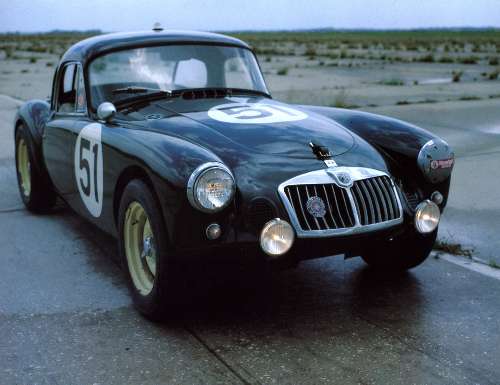 Photo from a "Survivor Series" book called Postwar MG & Morgan

Addendum February 2012:
From an old message on the mgatwincan group, on Monday, September 27, 1999, Frank Graham <!-frankgraham ar msn.com-> wrote:
"I believe it is GHD2 106075, and at the time of the Autoweek photo, the car was owned by Emery Jaas. He didn't know that it was a Sebring car when he bought it and proceeded to discard a lot of items, including the Microcell racing seats as he rebuilt it for racing. The original works engine was already long gone. '61 and '62 cars ran 1600 pushrod engines not twin cams. The '62 cars are particularly curious since they have MKII chassis numbers but had 1600 engines. Emery originally painted it yellow, but later, when he discovered what it was, he repainted it BRG (although the color used is much too dark). He sold the car in the mid 80's to John Kelly who still has it. Emery once told me in a phone conversation that he really didn't know what number his car had been in the race but picked #51 since that was the highest placed car.
GHD2 106073 is owned by Hugh Burruss of Virginia. According to information from John Kelly, the third '62 car [GHD2 106073] was raced in amateur events in Florida in the mid '60's and in an on track incident had it's fuel tank ruptured and was destroyed by fire (unconfirmed)".


Addendum September 2013:
On 9/6/2013, Jim Plowden <!-jimp_99 at yahoo.com - 310-391-3999-> in Los Angeles, California, USA wrote:
"I have purchased the 1962 MGA Sebring Coupe #51 which you wrote about in your article. While I have a good deal of experience with this car, I am lacking a lot detail on restoration of the car. I am hoping that you might be able to put me in contact with the owners of #52 and #53.


Addendum September 2015:
On 9/20/2015, Robert Busch <!-amazonbusch at hotmail.com-> IN Gainesville, \Florida wrote:
"I bought the #51 Sebring MGA after the 1962 sebring race. I raced it in SCCA races, but with the fiberglass fenders was in F-Modified class. I installed metal fenders and was allwed to race in F-Production, which I did, until it broke a crankshaft durning a race at Oscola, Forida. Having a new family and little money I sold the car, I don't remember to whom. I did include an extra set of wheels and Dunlop tires. I am so happy to see it restored and running, next best thing to owning it. Enjoy it, I sure did". -- Bob Busch.

On 9/21/2015, Jim Plowden. <!-jimp_99 at yahoo.com- 310-291-4756> wrote:
"I have a 35+ year history with the car, and it was always a mystery as to what happened to the three Sebring cars immediately after the race. I was told all three were sold to a used sports car dealer on SW 8th Street in Miami following the race. Emery Vass said he bought the MGA in 1968, from John/Jack Howard. Emery is still alive (94) and has given me a lot of history on the car as well as John Kelly who I have known since he bought the car. Jim Parkinson, who was one of the Sebring drivers, lives about 100 miles from me and we have talked numerous times, but he knew nothing about the cars after the race".

---
Car #52 seen here at MG2006 in Gatlinburg, TN, in June 2006.
Photo compliments of Matt Kemper.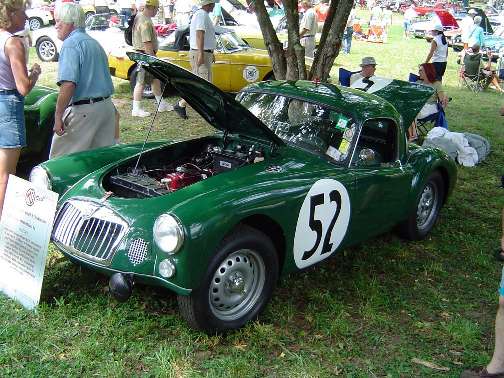 Click for a 3min 50sec excerpt from a video documentary - No. 52: A Sebring Icon - Showing the final completion and first start of #52 after restoration by Bruce Woodson of Richmond, VA.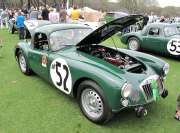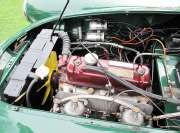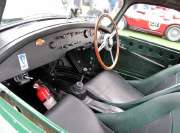 The following photos were taken at Moss Motors east facility in Petersburg, VA, on May 27, 2014.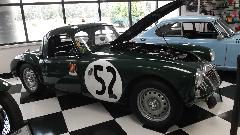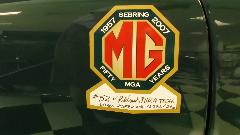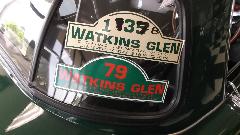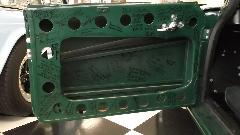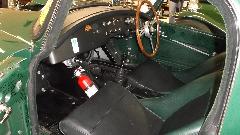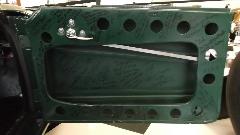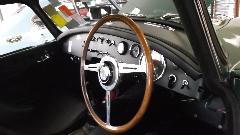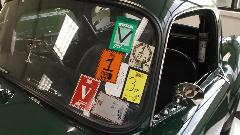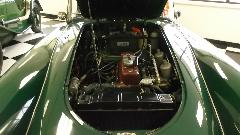 ---
Car #53 appears in a picture in Piers & Roger's 2005 year book P 78, GHD2 - 106074. This recent photo is compliments of current owner John Wright in Pennsylvania.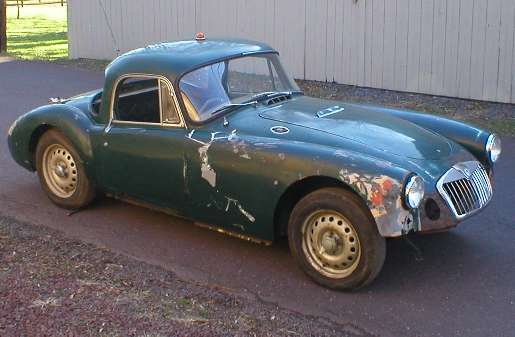 In 2011 car #53 is undergoing restoration work at Motorcar Garage in Maple Shade, NJ, USA. You can check out their Photo Gallery as the work progresses.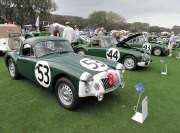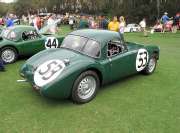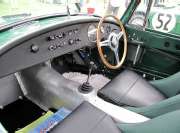 As seen at Amelia Island Concours de'Elegance 2012


The shortened valance panel was developed so the pit crew could get a
lifting jack under the front frame to lift both front wheels at the same time.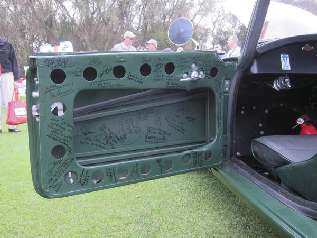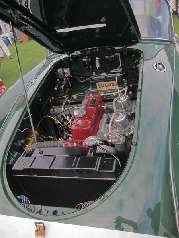 Photos from Amelia Island Concours, March 2012,


compliments of Paul M in New Jersey, USA, via the MG Experience BBS.

---
An excerpt from MGA newsletter of the MGCC, December 1999, written by Piers Hubbard:

1962 saw the last entry of MGAs in the Sebring Grand Prix of Endurance. Again these were 1600 Coupe DeLuxe Mk-1 cars as the Mk22 would have put them into the larger engined class. Three cars were sent after a shake down at Silverstone. They ran bumperless and with alternate slats removed from their Mk 1 grilles. Chassis 106073 (Car No 51) was to be driven by Jack Sears and Andrew Hedges, 106074 (No 52) by Bob Olthoff and Sir John Whitmore and 106075 ( Car No 53) by Jim Parkinson and Jack Flaherty. This car had a white front valance. Morell was the reserve driver for No 52. The writing was on the wall however, as the GT category now contained Porsches and TVRs as well as the Sunbeam Alpines. The result still showed the reliability of the MGAs, as they were the only team to finish intact, but came 4th, 5th and 6th in class in the order 52, 53 and 51. Car 52 covered 172 laps, one less than the second place car the previous year. They were beaten by two Porsches and an Alpine, the winning Porsche completing 188 laps with Dan Gurney as one of the drivers.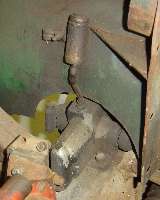 This is a picture of an add-on fluid reservoir and breather on the Armstrong front shock absorber of 106074 (No 52). With vigorous damping action the fluid will heat up and expand, which could push fluid past the shaft seals. A top vent may prevent pressure changes inside, which could reduce the tendency to leak. The added fluid capacity might help if the shocks leak significantly.

---
On 2/2/2017, Edward Vandyk <!-Edward at vandyk.co.uk-> in the UH wrote:
"The cars show in the production records as Coupes and, of course, the production records contain no note of the VIN prefix which is simply extrapolated from the records when you ask Gaydon for an Heritage Certificate. The cars should be GHD2 cars. All three of the cars actually have GHN2 VIN prefixes on their physical VIN plate, of which at least is obviously original".