The MGA With An Attitude
THE FIRST (Production) MGA TWIN CAM, YD1 501 - - TC-106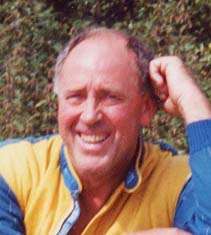 From: Roy McCarthy, Banstead, Surrey, England
- - <roy[at]mccarthymotorsport.co.uk>
MGA Twin Cam - YD1 501 -- Body: 61007
Engine: 16GG/103 - 16/G/U/165 - and
then & still AEH37R RH1009A

The car is Quite unique as I am sure most of you will appreciate. This is the first Twin Cam car off the production line on 24th May 1958. The car appeared in Autocar and was Road tested on 18th July 1958 and was pictured in numerous magazines at the time. -- Roy

Roy McCarthy passed away in 2010. As of December 2011 his wife still owns this car.

Also see: Autocar Road Tests the first MGA Twin Cam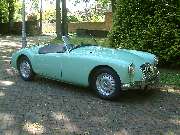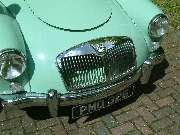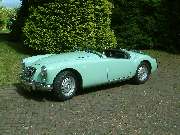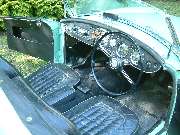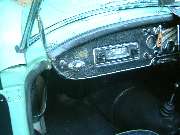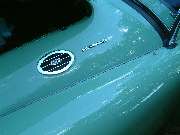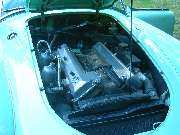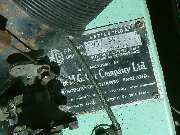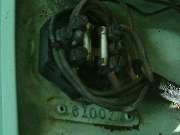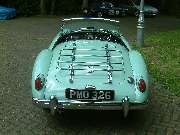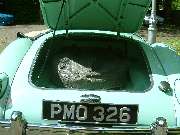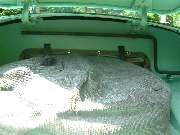 It was used as a factory car for the first year by Wilson McComb and during this time there were three factory engines the last one AEH37R RH1009A is still there. The original beige log book gives three previous owners since 1959, first in 1960, second in 1963 third in 1964 until 1980 and then myself from 1980 until now. The car was actually used on the road from 1958 to 1966 some 8 years during which time it only traveled 15,000 miles.

In 1966 the third owner (just two years after he purchased it) tried to maneuver a corner a bit too fast and gracefully slide into a telegraph pole. Thereafter he parked the car in his garage until I acquired it in 1980. (I have owned a body shop/crash repair business since 1968.) The damage was in fact not too bad. The car was repaired and resprayed by me in 1984 back to its original colour of Ash Green as the previous owner had decided he wanted it silver blue. In 1985 it was taken to the MGCC International meeting at Silverstone where it was shown for the first time since I had purchased it and has since then remained under cover.

It will again be at Silverstone for the 50th Anniversary MGA celebrations in July 2005.

I have been an active racing member of the MGCC since 1970.
Roy McCarthy

---
At 06:38 PM 5/9/05 +0100, Pamela McCarthy wrote:
"We have owned it for 20 odd years and not really known its importance until the last few years as its got older and older. Roy is definitely an MG nut but more on the racing side than the collecting. This car just slipped into his hands by accident, if you will excuse the pun, when the previous owner couldn't afford the cost of mending it back in 1966."

Also see: Autocar Road Tests the first MGA Twin Cam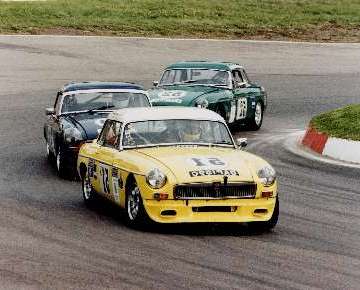 The McCarthys and cars they like to race. Left to right, oldest Son Russell, then Pam then Roy then youngest son (by 11 months) Spencer. All three "boys" race and win very often. Dad just still manages to beat the boys but for how much longer we are not sure. Attached another photo to see how long we have all been involved (and how old we now are!!).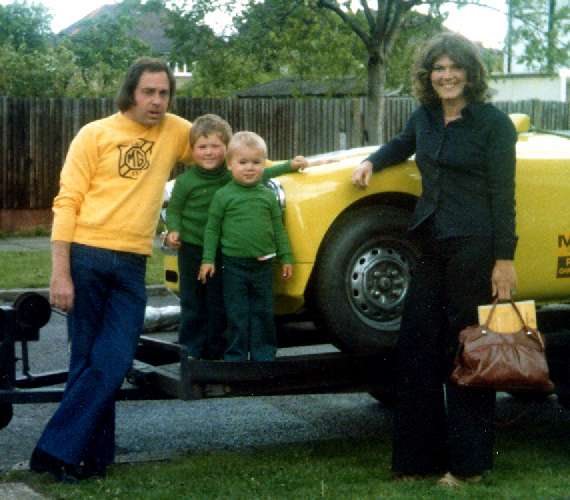 The McCarthys, circa 1979