The MGA With An Attitude
MGA Aftermarket Hardtops - TT-123G
"Honeybourne Mouldings hardtop"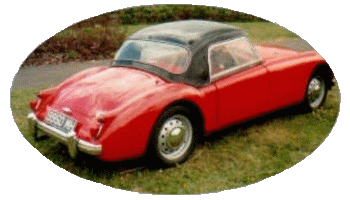 This fiberglass hardtop is manufactured in the UK and is still on the market today for a reasonable price. Check the Honeybourne Mouldings web site.

Word is they manufacture for Moss UK and all in Europe. They also make hardtops for several other vintage British cars.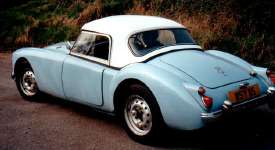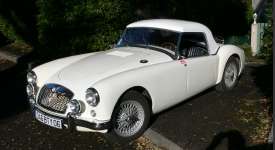 ---
At 01:53 PM 2/4/2009 +0000, Shelley from Honeybourne wrote:


Item
Price in UK
Export Price
Without VAT
MGA Hardtop
£325
£282.61
(Prices in BPS - February 2009 - subject to change.)
[ See BD-251 for additional fiberglass body panels ]

All our items are made to order which takes approx 2 - 3 weeks from date of order. We can arrange shipping via sea although our USA customers usually find it easier to arrange their own transport with UPS. If I can be of any further assistance please do not hesitate to contact me.

Regards,
Shelley - sales@honeybournemouldings.co.uk

---
Addendum August 2011:
Price is currently £355 (aprox £295 or $480-USD for export without VAT).

On 14 August 2011, Neil Ferguson in Victoria, Australia, wrote:
"I bought one of these 'Honeybourne' units 3 years ago and had it shipped to Oz. They looked good in the picture. It still hangs on my garage wall. They are very poorly made, fittings cheap and nasty and it did not fit. When I say the latter I mean REALLY did not fit. Shape and dimensions were nowhere close and when I appealed for help they told me I had to take all the seals and perspex out and retrim it to suit. I know MGAs vary in shape somewhat but this was something else. Awful and to be avoided. I will get around to it sometime but it will be a major piece of work".