The MGA With An Attitude
Tool for Removing Drain Plug
from gearbox and differential -- TS-204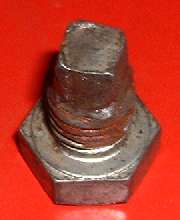 At 01:13 PM 3/7/04 -0800, Dave Plantz wrote:
>" I was wondering if you might know how to remove the rear end oil drain plug."

Apparently there were at least two different square hole patterns used during MGA production. For one of them you can use a 3/8" square socket drive (if the plug is not too tight). The other is just a bit larger, so the 3/8" square drive will not work, and the 1/2" square drive will still not fit into the hole.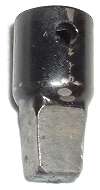 My first solution for this problem is to start with a short 5/8" hex head bolt, and grind the end down to a slightly tapered square to match the opening in the drain plug. You can then wrench it out with a 15/16" socket.

My second pass was to start with a cheap 3/8" to 1/2" socket drive adapter, and grind the output end down to fit the drain plug.




Here's one from Steve Gyles in in Kirkham, UK. It's square bar stock with a ground end.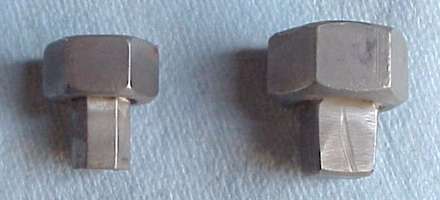 Here's a similar ploy from Jim Ferguson in North Carolina, USA. Weld on a hex nut for easier wrenching. The hex drive is for a 5-speed gearbox.

---


A commercial version of a Universal Drain Plug Wrench might look like this one from Halfords.
Or the vintage wrench below from Herbrand USA, tool #193.




There were also Universal Wrenches made with a large spherical ball on both ends with a variety of female drive holes, commonly called a Dogbone Wench (below). These are popular today in bicycle tool kits (8 wrenches in one), and they have made a recent comeback at Harbor Freight. The drain plug version would have some slightly tapered square and hex holes to fit pipe plugs.




If you were a tool collector and wanted to go nuts and vintage at the same time you could look for this adjustable male and female square drive wrench from 1941, still in the Blackhawk tool catalog in 1953. Photo and notes from "Alloy Artifacts" web site. http://www.alloy-artifacts.com/totw_blackhawk_151.html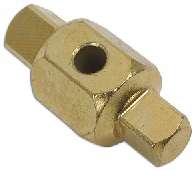 The one at left was found on eBay in the UK in October 2010 for £1.99. The ends are 3/8-inch and 11-mm square, and the 11-mm end works well.

On Apr 5, 2016, Rob Zucca <!-Cavaddict at hotmail.com-> in Camarillo, CA, USA wrote: "OK....so I made one at lunch time today... 5/8 bar stock and a turned oak handle". (Below).