The MGA With An Attitude
MGA TIRE TYPES AND SIZES - TI-101
Original and otherwise.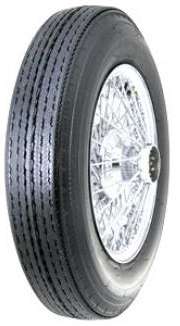 Question:
>".... I have a '62 Mark II. I have bias-ply Dunlop gold seal (4 ply) size 15-6.00. ...."

Original tires were Dunlop Gold Seal bias ply. A bit later you could get Dunlop Road Speed tires on the MGA. Closest similar tire available today (January 2011) is the Dunlop RS5, available from vintage tire suppliers in 590H15 size. If you ever come across an original set in really good condition some show type originality oriented person will pay big bucks for them. See:
Universal Vintage Tire Co. - Hershey, PA, USA
Longstone Classic Tyres - Doncaster, South Yorkshire, UK

Original tire size was 5.60-15, so your current tires are about 4/10 inch wider. These widths are about like metric sizes 145 and 155 respectively, but with a taller profile, so larger in diameter. The old bias ply tires were basically 100 series, or about as tall as they were wide (or nearly round in cross section when you think about it).

The most common metric radials for these cars are 80 series profile, sidewall 80% as tall as the tire is wide. Unless otherwise labeled on the tire, radial tire profile will be 80 series by default (occasionally 84), and the speed rating will be "S" (106 mph 10-minute run) by default. So when you see 165R15 on a tire it means the same thing as 165-80SR15.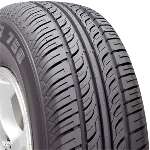 If you want your odometer to run true, the nearest metric tire side to match the diameter of the original 5.60 tires would be 165R15. These tires are about two sizes wider than the original tires, about equivalent to a 6.50 tire in width. Also with a more squat profile they have a wider tread. A 155R15 tire has the appearance of being much closer to the original tire size, but is still a bit wider, and smaller in diameter so it will read out more miles and higher speed on your speedometer. The 165R15 will get your speedometer and odometer nearly spot on. Also, the 165 size is about the widest tire recommended for our 4" wide rims.

The 155R15 and 165R15 tire sizes were common on VW Beetles, and so are still commonly available today, although with not a wide selection to choose from. The 165's may be easier to find and lower priced because of the volume of sales, and will make your car handle better as well. 165's are very common an MGAs these days, although some show car types still prefer the 155 size for appearance sake, even though it doesn't look anything like the original 5.60 tires. In years past I have taken a distinct liking to Dunlop SP4 tires, which were superseded by Dunlop SP20a/s 165R15. Much better grip and handling than the more expensive Michelin eqiuvalent, longer tread life than the more expensive Pirelli equivalent, a very nice price, and generally good availability. You may have to ask for them and wait for delivery, because they are not always stocked locally. Apparently the SP20 tires were discontinued after the Dunlop buyout by Goodyear.

My current favorite (at time of writing) is a new tire in 2002, the Kumho Euro Metric 771. The tread wear rating is a bit lower that the Dunlop tires, but adhesion to the road is better, and since I'm an enthusiastic driver, I like these tires even better than the Dunlops. These were available through Tire Rack for a very attractive introductory price of $29. Availability changes with time, and tire models eventually get discontinued. Whatever tires you buy, settle for nothing less than "A" Traction rating on the sidewalls. Don't worry too much about the Treadware rating numbers, as they are not comparable between different manufacturers. Also, tires with the highest tread wear ratings usually don't stick to the pavement very well.

Addendum August 2004:
Apparently the Kumho "Euro Metric 771" has been discontinued, at least in the 165-15 size. But today I find Kumho "Power Star 758" in 165-80-15 size from Tire Rack. This one has UTOG rating "400 A B". With the high tread wear rating I don't know how good the grip will be, but at least it has an "A" traction rating. Since I have had good experience with Kumho tires, I think I would give this one a try. If anyone buys a set of these I would appreciate a user report.

Addendum December 2010:
Follow up report: I bought Kumho "Power Star 758" tires in October 2008. Now having accrued 18,000 miles on this set. I am very happy with these tires, as they do every bit as well as the prior set of "Euro Metric 771". The 758's may well be better than the 771's, but it's hard to tell when comparing new tires against old tires, or trying to recall what the prior set was like when new. I can tell you there is a HUGE difference in grip (a significant reduction of grip) as tires get older. But that's a separate topic for the following web page.

Addendum May 2011:
Kumho "Power Star 758" is now out of production (word from Kumho), but tires are still available from stock at http://onlinetires.com (mail order) and http://www.discounttire.com (local shops).

"The tire says tubeless, but I suppose it's wise to guess there are tubes as they're mounted on 72 spoke Dayton chromed wires."

Generally good assumption, although Dayton has been known to offer a tubeless option for their wire wheels. They do this by adding a thick coat of silicone sealant over the spoke nipples inside the rim. Also, original tires were not tubeless, because these cars predate the general availability of tubeless tires. So the tires you have would be at least a little newer than the car. Now as an addendum (and exception) to this last comment, in later years of production there was a tubeless tire option for the MGA with steel disk wheels, but I think it was still a bias ply tire.

Addendum, May 17,2014:
In a few years time a lot of tire supplies can change. Do a web search for 168-80-15 tires. Current common models are Nankang and Nexen with good tires for reasonable prices. "Classic" brand is more rare, but I think they have good reviews. Vredestine is very good, but also very expensive. Michelin is now expensive and okay but not great. Bias ply tires and wide whitewalls are only for show cars, not for vigorous driving.

Addendum, March 28, 2016:
I was advised some time ago by "someone who should know" that Nankang tires were "less than desirable" (to put it mildly). In October 2014, on advice from same person, I bought Nexen tires. These lasted 17 months, 55,000 miles. They might have gone farther, but had a wheel bearing problem (fixed now) that ate some of the tread life. Just installed another set of Nexen. They have UTOG rating 320AB. Happy with the handling and wear life.

Addendum Friday, July 28, 2017: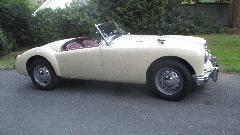 First user report on Firestone F-560 radial tires (165-80-15 size). Aside from anything else, they are apparently not round, wanting to be shaved to be round before use. Also the sidewalls are soft, feeling a bit mushy to drive.