The MGA With An Attitude
At the Hop
Front Sway Bar, AUTOCROSS VIDEO - FS-101B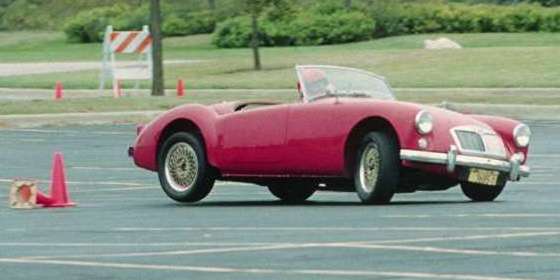 Three Wheel Autocross - Catching Air Again.
(Photo compliments of Kim Tonry)

Here is confirmation that the 3/4-inch front anti-sway bar still isn't enough when running the sticky race tires. Notice the inside rear tire lifting off the pavement while the inside front tire is still firmly planted. The photo above was taken at the Chicagoland MG Club September 9, 2000 Siemans MG Autocross in Hoffman Estates, IL. The photo below with similar stance seen from the other side was taken at a Windy City Miata Club autocross at Zion Benton H.S. in Zion, IL, a few months earlier.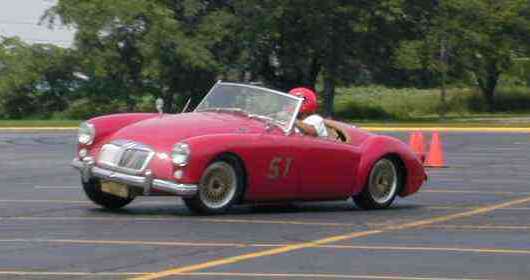 This is pretty fast on race tires. See timing results at the Windy City Miata Club web site.
Below is a similar picture taken at another Windy City Miata Club autocross on August 25, 2007 at Maywood Park (horse race track, parking lot) in Melrose Park, IL. This time the car has the much stiffer 7/8-inch front sway bar installed, which keeps the inside rear tire on the pavement. Notice the flatter body stance, less compression of the driver side suspension front and rear, and nearly (but not quite) lifting the inside front tire. This one is running the (cheap) high profile narrow street radial tires showing considerable compression of the front tire (carrying nearly half the weight of the car at this point) but less roll-over onto the sidewalls. For the curious, tire pressure is 30-32 psi front and 4 to 7 psi less at rear, (but never less than 25 psi) with either tire type. I favor quickest lap times with disregard to short term tire wear patterns.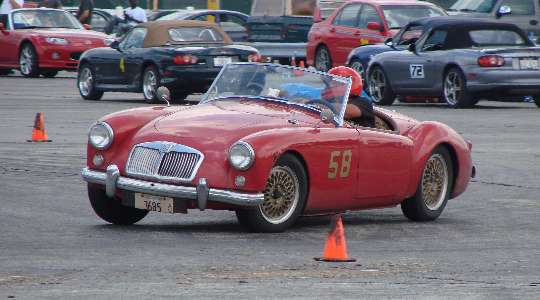 Click for larger picture -- (Photo compliments of Ferry Tanza)
Fairly well back in the pack this time, running on street tires.
See timing results at the Windy City Miata Club web site.



Now click here to see how well the sway bar works!
8 MB *.mp4 video file above 640x480 px - or - 3.5 MB flash video below 320x240 px
Windy City Miata Club autocross 25Aug07


P.S.
If you are so inclined, I have posted a blow by blow description of what is happening in the video. See article COMP_110 in the Competition section.