The MGA With An Attitude
Steering wheel, MOTA-LITA Leather Rim - SR-104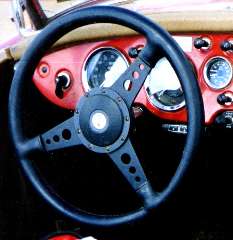 This is almost more trivia than tech, but it is certainly not trivial. This is the Moto-Lita steering wheel that has played such a significant roll in the evolution of the MGA with an attitude.

While on the upward slope of the learning curve for autocrossing, one day the car acquired a set of sticky race tires. The increased adhesion to the pavement promptly resulted in the occupant(s) being thrashed around in the cockpit somewhat during harsh maneuvers at speed. This made it more difficult for the driver to maintain a good grip on the thin original type steering wheel, and the flexible wire spokes were an additional detriment.

The first reaction was the urge to install dual shoulder harness safety belts to hold the driver in position. But by the SCCA rule book, this is specifically not allowed in an open car unless it has a safety roll-over bar. Installing a competition spec roll bar in the MGA would require punching five large holes through the steel body tonneau behind the seats (two of those into the trunk space), which was almost tolerable. But it would also inhibit use of the original convertible top, which was not acceptable for a car used more for sport and touring on the open roads. So a roll bar was not a reasonable option, and the shoulder harness was therefore not to be installed.

Another accessory that might have helped would be a cheap and simple Autocross Belt. This is a temporary installation strap the wraps around the driver's chest and the seat back to help secure the driver in the seat. See Solotime for details (bottom of page). I did procure one, and tried it once, but was not terribly enamored with the results. It would provide some lateral restraint, but no forward restraint. The MGA seat articulated backrest has no latch to prevent it from moving forward, and such modification of the seat would not be allowed in Stock class. Aside from being of questionable value, the legality of this device for SCCA Solo II in an open car was not clearly specified in the rule book. End result was that the Autocross Belt was to remain in the trailer.

But the rule book did allow a change of steering wheel in Stock class, with the only restriction being that the size had to be within one inch of original diameter. The original MGA steering wheel is 16-1/2 inches outside diameter. This Moto-Lita wheel is advertised as 15 inch diameter, but in fact it is 15-1/2 inch diameter overall including the padded leather cover, so it just qualifies. Just as important, the solid aluminum spokes are very stiff. This new steering wheel gave the MGA a real boost in attitude. With the driver having something solid to hang onto, and a nice grip to boot, there was much less thrashing about, and the need for more upper body restraint was significantly diminished. Cancel all plans for the possible installation of a roll bar.

Thereafter the competition record speaks volumes, producing a large stack of trophies and a few annual championship awards in Central Illinois Region of SCCA for both autocross and TSD road rally. This involved a combination of several things, sticky tires, suspension tweaking with a large front anti-sway bar, and LOTS of seat time. But the stronger steering wheel did play a large and essential roll in achieving these results.

This steering wheel model is the Moto-Lita Leather Rimmed Wheel, 15" 3-Spoke Black/Drilled. It was purchased through Moss Motors Ltd in the mid 1990's. This particular Mota-Lita model may no longer be available through Moss, but a "similar" (with some reservations) and less expensive Tourist Trophy model is current available. Don't forget that these wheels require an additional hub adapter and center plate kit. In summer 2005 this wheel was found available through Little British Car Company.

The high quality Moto-Lita wheel is manufactured by Moto-Lita (makers of hand crafted steering wheels since the 1950's). They make many different steering wheels, including some very nice wood rim wheels with very "vintage" appearance, virtually identical to those made in the 1950's and 1960's. Coincidentally, their other trading name is Aviation Leathercraft (same location), and they hold the license for the Irvin sheepskin flying jacket used by Bomber Command during WW2, all made to the original spec. That site is www.flying-jacket.com. They also make a very nice leather driving jacket (hope you're sitting down when you see the price).