The MGA With An Attitude
The Historic 100,000th MGA - RT-503
100,000th MGA - 1962 1600-MK-II - Fred Skomp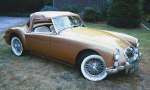 The historic 100,000th MGA with gold metallic paint, white leather interior, white lambís wool carpet, special insignia.

os On display during the 1962 New York Auto Show
os Before restoration in 1999 - After restoration in 2004
os Hemmings article "Solid Gold" about the history and restoration of the car

---
As seen at MG2006 in Gatlinburg, TN, in June 2006.
Photos courtesy of Matt Kemper. - Click for larger pictures.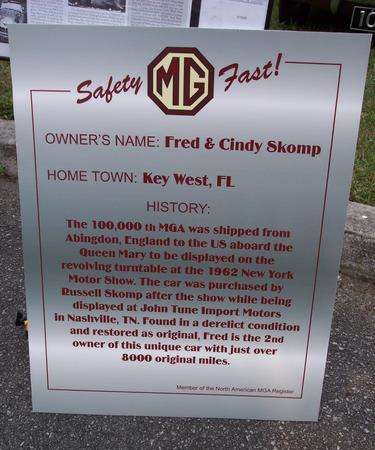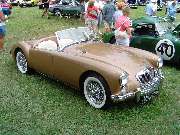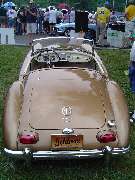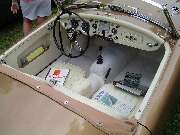 Good that "100,000" has lost the unfortunate shag carpeting
and now has close sheared lambs wool as original.

---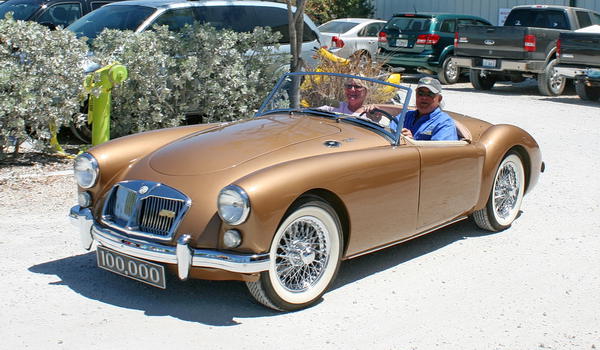 Fred and Cindy Skomp at the Last Sunset MGA Meeting in Key West 2009

---
Addendum January 2012:
On 1/16/2012, Mike Elliott <!-missbones at aol.com-> wrote:
"I went to the Moss Motors warehouse in Petersburg Va last Friday to pick up a part. They have the gold 100,000th MGA sitting there by itself in a large room off their sales room. They said it would be there a while longer then get shipped to Florida and then may end up in a museum in England".

---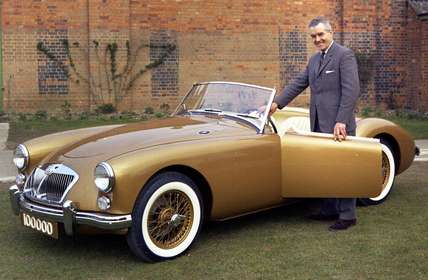 1962 MGA 1600-Mk-II roadster with MG designer Syd Enever
You can purchase a larger reprint of this picture at Motorgraphs.com.


This is a picture of the then new car before it left England for publicity display in North America. Interesting that is has gold painted wire wheels. I suppose it looks better in modern chrome wire wheels, although not period correct. Remember that the factory never put chrome wheels on any MGA.
---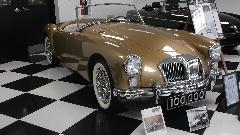 These potos were taken at in the showroom of Moss Motors east
facility in Perersburg, VA, on May 27, 2014.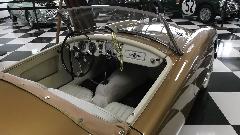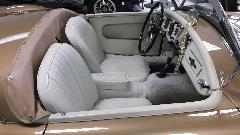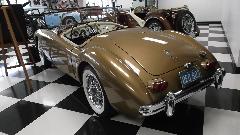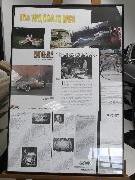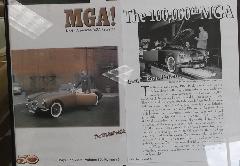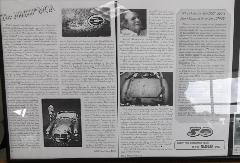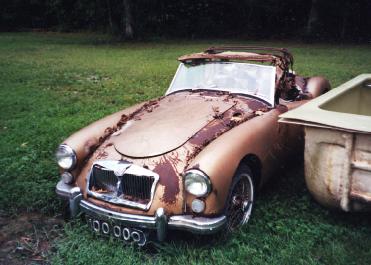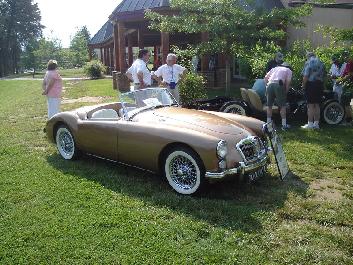 As found in Tennessee -- The restored car at GT38 in Ashville, NC in June 2013.

---
A year after end of production, this photo and note appeared in Safety Fast magazine, July 1963 edition.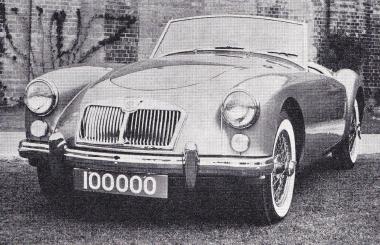 The 100,000th 'MGA' to be built at Abingdon was turned out with a special gold paint finish for exhibition at the New York Motor Show. It was a 1600 Mark II, with recessed front grille and 1622-cc engine. The large side-lights were common to all models after the 1500; they incorporated separate flasher lamps