The MGA With An Attitude
REAR HUB BEARING, Cross Reference List -- RA-112
Original BMC part number 2K7477, rear wheel bearing for MGA (all) and early MGB through 1967. At least a dozen manufacturers use the generic part numbers LDJ40 or 4208.

Generic dimensions (in inches) for the rear hub bearing are:
ID=1.5748" (40.0-mm) -- OD=3.1496" (80.0-mm) -- W=0.9055" (23.0-mm)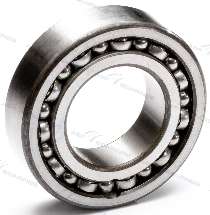 Bearing, rear hub, MGA all models
2K7477              BMC, British Leyland, Rover
GHB127; GHK1133     BMC alternate numbers
GHB127              Brown & Gammons
GHB127              Moss Motors UK
127-600             Moss Motors USA
GHB127              Unipart
5-765               Victoria British


4208                AHLBERG, CBF, County, FAG, France. INA, 
4208                KOYO, KZ, L&S, NORMA HOFF, NIS, NSK, 
4208                NTN, RBF, RHP, SKF, SNR, SRO, STEYR 
	
B3030               BAPGEON
9191016             CHRYSLER
P92124              CHRYSLER
60135               Continental Motors
140DR               FAG
1525643             FORD
A720X1225HA         FORD
ERB37               FORD
140DR               FAG, HOFFMANN
100577              Klockner-Humboldt-Deutz
N5092               LANDINI
87-51180-0900       MANBUSS
420                 NSF
41-97               R&M
LDJ40               R&M, RANSOMES 
LKJ40               RHP
5AA                 RIV

Applications:
Austin Healey 1953-1956;
MG, MGA, All;
MG, MGB, 1962-1967

---
On 11/27/2017, Mark Hester <!-markhester at hotmail.com-> wrote:
"I just brought this from eBay, as I don't like the plastic insert one's Moss are currently selling. For the Twin Cam, rear disc run out is a problem, as it knocks back the pads and also wears the rear nuts which are now rocking horse poo to find".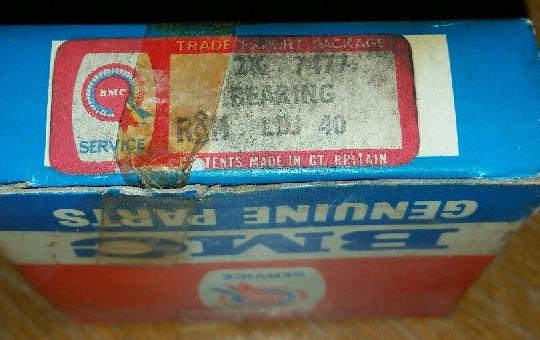 There are a lot of variations (options) for bearings, including bronze, steel or plastic ball retainers, and various combinations of side shields and seals. Original bearings had metal ball retainers and are definitely open bearings so oil can flow through them when the bearings are runing in oil bath from the differential. Side shields and seals are not recommended (although they do not necessarily harm the bearing).

There may be a difference in the grade of precision. Bearings that are tighter (less internal clearance) are intended for high precision and low speed applications. Bearings that run looser are intended for much higher speed applications, but are not so precise for shaft location. For aftermarket bearings one should pay attention to the grade level, as looser bearings may be common (being cheaper) but not so good for mid speed automotive wheel bearings.