The MGA With An Attitude
Lyle Jacobson, MGA V8 - PP-501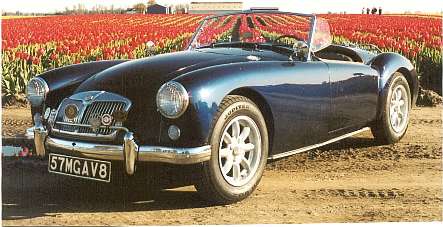 Engine: 1962 Buick 215 ci, 9.00 to 1 comp. ratio, ported Buick heads, stock Rochester 4 bbl carb. High lift cam. One piece main oil seal. High volume oil pump with enlarged oil passages in the engine block. Modified oil pan to hold 5 1/2 qt of oil. Adjustable swing away oil filter adapter. Double roller timing chain, short shaft water pump. Custom made air cleaner to clear under the hood.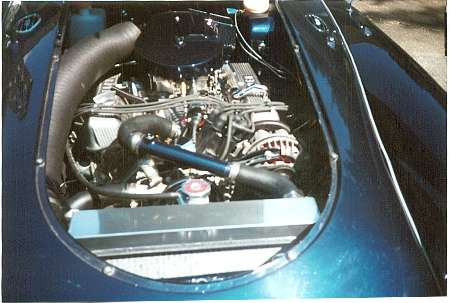 Ignition: Pertronix Ignitor, 40,000 volt Flame Thrower coil.
Exhaust: Block hugger headers with high temperature coating. 2" duals, glass packs with resonator tips, and cross over pipe.
Cooling: Ron Davis Alloy radiator. 20" H X 19" W X 3" T. Electric puller fan 3000 CFM.
VDO gauges.
Drive train: Borg-Warner T-5 with .63 overdrive. Stock MGB 3.9 rear end. 70 mph is about 2700 rpm
Brakes: Front and rear stock MGB with stock MGB dual master cylinder.
Suspension: Front and back stock MGB.
Stock MGA fuel tank centered in car for dual exhaust.
Steering: Stock MGA steering column shortened, and three extra u joints and two bearings added. Steering rack rolled down to clear headers.
Chassis Mods: Remove the round cross member that runs under the stock clutch housing. After the engine is in it's final location, relocate and weld back in.
Remove the cross bar at the front of the heater shelf. Remove the diagonal supports that run from the shock mounting area to the heater shelf. Shorten these to clear the headers, and weld back in.
Modify the inner fenders to clear the headers, and allow better air flow. Cut out 2 to 3 inches of sheet metal at the bottom of the inner fenders, by the headers. This allows for better air flow when the car is going over 35 MPH, but won't help much in stop and go traffic.
Cut the front frame extension ass'y, and widen to clear the bottom of the radiator.
Cut the radiator duct panel forward ( I cut mine 4 1/2") to clear the radiator and the electric puller fan.
Cut the floorboard brackets near the tunnel, fab, relocate and weld in new brackets when fitting up the engine and tranny. Widen the stock tunnel to clear the tranny.
Roll the steering rack down towards the rear of the car. Cut a notch in the frame cross member, and weld in a piece of sheet metal to fill in the notch.

More pictures when in process
E-mail to owner <Lyle Jacobson>