The MGA With An Attitude
LEATHER WASHER for the Turn Signal Switch - TS-101A
When your pneumatic time control turn signal switch fails to provide adequate time delay, chances are the leather washer inside is worn or has dried and hardened. The previous page TS-101 shows how to revive an old leather washer to restore time delay operation of the switch. If the leather washer is missing or beyond repair, you can make a replacement part.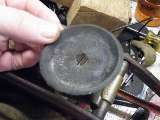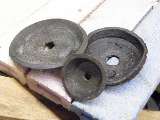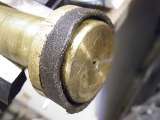 This leather washer has a small hole through the center. To make one you have to find some decent leather that is not too thick (or too thin) i.e. nice and manageable. Cut a disc that is approximately half an inch larger all round than the diameter of the cylinder bore. Make a central hole – as neat a fit as possible – for the securing screw (or rivet) to pass through. Leave this new washer to soak in tepid water for a good hour, or even overnight. Then put the wet washer onto the piston and fix it firmly in place with its screw or rivet. Around the washer place a jubilee clip (water hose clamp) and tighten it until it is the same diameter as the pump barrel. Push the edges of the washer with a screw driver against the inner edge of the clip to get rid of any creases. Leave the new washer in place to dry naturally – overnight if necessary. When dry, pare away any excess bits of leather from around the rim of the clip. You will need a really sharp blade to do this, and try to keep the edge equal all the way round. Give the washer a good oiling after removing the clip, and insert the piston back into its bore. An additional dab of silicone grease may give the leather longer service life (without maintenance), as the silicone grease will stay pliable and will not dry out.

Photos above are from vintagepumps.co.uk. Bill Axten there may be able to make a leather washer for you if you provide the working dimensions.