The MGA With An Attitude
GRILLE BADGE for MGA - BD-102GB
On 22 October 2007 at 21:30:07 UK time, James Johanski wrote:
"Is this an MGA Grille badge? It is 2 1/8" across and looks to be enamel. Says J Fray Bham on the back. See the pictures. What makes me wonder is that the back has a pin on it to hold vertical alignment. My original grill badge does not have this pin. Anyone know?"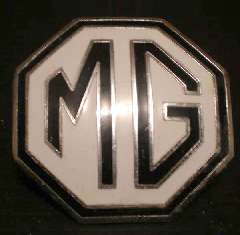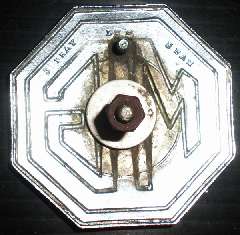 Concours original grille badge, but not quite right for MGA.

This grille badge is almost perfect for MGA. The MGA badge has the threaded center stud for mounting, but not the offset pin. I post these pictures because it is an excellent example of an original MGA badge, except for the offset pin. If you would cut off the extra pin it would work perfectly for the MGA.

An interesting detail is on the back with raised lettering "J FRAY LTD BHAM". This is the name of the badge manufacturer. This name appeared on badges for early production MGA but was apparently deleted for later production. The early badges with the name seem to be highly valued, even though the name is hidden when the badge is installed. Perhaps there are some avid badge collectors out there bidding up the prices. J Frey Ltd had (and still has) businesses all over the UK. "BHAM" or B'HAM" apparently refers to Birmingham, England.

Addendum, January 22, 2014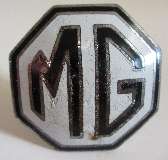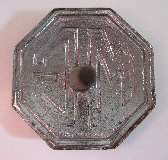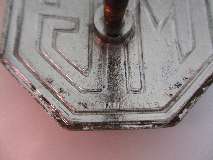 Photos from Peter van Kester <!-petervankester at zonnet.nl-> in Holland. This may be an original grille badge from an model MGA. On the back it says "MING INSTRUMENTS B'HAM". It is not yet known if it may predate or postdate the J Frey badge, or if it might be an aftermarket part.

Addendum, Deember 27, 2016
On 12/27/2016, Richard Rocco <!-rmrocco at icloud.com-> wrote:
"Put in a new badge on the front grille of a 1959 MGA roadster (HAD43 61732, manufactured January 13, 1959). The new badge was from Moss (201-035, Classic Gold Authentic Reproduction)".

Image on left is original vs new. Image on right is the back of the original with the raised letters, "J Fray Ltd Bham". Apparently the "authentic reproduction" is not exactly as original.